Introduction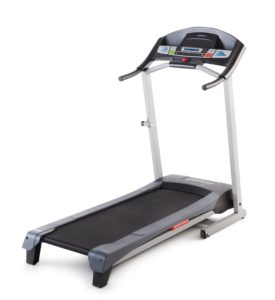 If you are looking for a low-cost treadmill for your home, there are now lots of affordable machines that you can buy online and in stores.
However in this article I want to review the Weslo Cadence G 5.9 Treadmill in particular because although this model is several years old now, it is consistently one of the top-selling treadmills on the market.
Of course it is not in the same league as many of the gym-standard machines, but it does seem to have enough features and enough workout options to enable people to get a decent workout in the comfort of their own home, whether it's walking or running.
Features And Benefits
6 personal trainer workouts
2 manual incline settings
Comfort Cell Cushioning to prevent injuries
2.25 HP Impulse motor
0-10 MPH speed settings
blue tinted LCD display
track speed, time, distance, calories and pulse
ideal for fitness and weight loss
can be folded away when not being used
suitable for anyone up to 275 pounds
Product Dimensions / Weight
This particular treadmill has a footprint (in inches) of 64.5 (L) x 29 (W) x 55.5 (H) and has a total weight of around 119 pounds. If you don't like the idea of this machine taking up a lot of space in your home, it can easily be folded into an upright position when it is not being used.
The actual running track on this treadmill is 16 (W) x 50 (L), which is a little narrow compared to some of the more expensive machines, but should still be more than big enough to accommodate most people without any problems (unless you have an exceptionally wide frame or a wide running action).
Positives
The first thing to say about this Weslo treadmill is that it has 6 individual workout programs that you can use in order to vary your routines.
It can be hard to know how fast you should be walking / running and what incline setting you should be using to achieve your goals, for example, but these programs will eliminate any guesswork because they have all been devised by personal trainers, and are guaranteed to deliver a really effective workout whichever one you choose.
If you want to mix up your routines even more and make them a little harder, there are two incline settings that you can use to increase the intensity.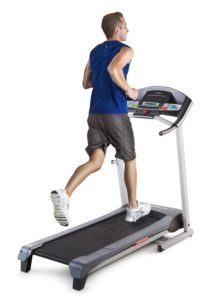 With regards to the speed settings, you will find that you can adjust the speed from 0-10 MPH (in 0.1 increments), which should be more than sufficient for most people. These speed settings can either be adjusted manually or automatically if you use one of the pre-set programs.
Another really nice feature of this low-cost treadmill is that it uses Comfort Cell Cushioning, which basically means that it is more comfortable to use and is a lot easier on your joints.
It is also worth mentioning the LCD display that comes with this Weslo Cadence G 5.9 Treadmill because this is a blue-tinted display that is fairly easy to read and will indicate key data such as time, speed, distance, calories and pulse (taken from the thumb pulse sensor on the dashboard).
Finally, you will find that this machine can be folded in an upright position fairly easily once you have finished using it, which is not always the case with many of the more expensive machines, and is strong enough to support anyone up to 275 pounds, according to the user manual.
Negatives
As is the case with any low-cost cardio machine, there are a few issues that are worth highlighting.
For a start, there are only two incline settings that you can use. So you can't really vary the intensity a great deal, and you might find that the higher incline position is not enough to really push yourself if you are already fairly fit or a good standard runner, for example.
Another slight issue is that the running track is fairly narrow with a width of 16 inches, but as I mentioned above, unless you have a very wide running action, this shouldn't really be a problem.
It could also be argued that the actual display could be a bit bigger, and it would be nice if it included all of the data on one screen instead of scrolling through them one by one.
Finally, a few people have commented that there is a little bit of noise when walking or running on this machine, but it is still said to be reasonably quiet.
Final Thoughts
Whilst the Weslo Cadence G 5.9 Treadmill is not necessarily a top-end treadmill for professional or semi-professional runners, this machine is still ideal for many people who simply want to get fit and lose weight at home, including seniors.
That's because it includes 6 effective workout programs that have all been created by personal trainers, and has 2 basic incline settings that will allow you to get a slightly more intense workout.
There is also the option to adjust the speed in 0.1 increments from 0-10 MPH, making it suitable for both runners and walkers.
Furthermore, it also has a cushioned running track, so you are far less likely to experience any pain in your knees and ankles whilst using this machine.
So although it would be nice if this machine had a few more incline settings and possibly a larger LCD display, it is still easy to see why this is consistently one of the most popular treadmills in this price range.