Introduction
The Concept 2 rowers are rightly regarded as being some of the best rowing machines on the market, but the WaterRower rowing machines are equally as good in many respects.
Indeed in some ways they are even better because the WaterRowers obviously have a water tank and a flywheel at the front that provide the same sounds and the same kind of resistance as you would get if you were rowing on water.
There are actually quite a few of these machines that you can buy nowadays, but in this article I want to review the most popular one – the WaterRower Natural Rowing Machine.
Features And Benefits
handcrafted from solid ash wood
includes water tank and flywheel
self regulating resistance
realistic rowing motion and feel
smooth and quiet in operation
comes with Series 4 performance monitor
track time, distance, intensity, stroke rate, pulse, etc
can be stored in upright position
suitable for users up to 1000 pounds
Product Dimensions / Weight
This particular rower weighs 66.5 pounds without water and 103.5 pounds when filled with 17 litres of water. When fully assembled it has dimensions (in inches) of 82.25 (L) x 22.25 (W) x 20 (H), according to the official WaterRower website.
Therefore it is a large, sturdy machine, and is actually one of the strongest rowing machines on the market because it has a weight capacity of up to 1000 pounds.
Positives
I should start off by mentioning the frame because this Natural Rowing Machine is made from solid ash wood that is strong and durable and absorbs sound and vibrations really well. Plus if you are concerned about the environmental impact of a wooden rower, you will be pleased to know that it is harvested from replenishable forests.
In addition, it is finished with stained honey oak and danish oil to help it keep its color and appearance, and subsequently looks like a nice piece of furniture rather than a fitness machine. It can even be stored upright if you don't want it to take up too much room in your home.
Despite its wooden frame, it is not a gimmick, however. This is a serious rowing machine that compares favorably with the Concept 2 machines and the other commercial-grade machines that are available.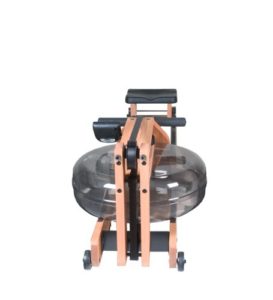 That's because the water tank has two paddles that control the resistance. So if you want to increase the resistance, for example, you simply need to increase the intensity of your rowing stroke. There is no need to mess around with a resistance knob, as you would on many other machines.
This Natural Rowing Machine makes a pleasant whooshing sound with every stroke, as if you were rowing on water, but is still very quiet. The rowing motion is also exceptionally smooth, which helps to deliver a good workout experience.
Another positive feature of this machine is that it doesn't have any moving parts that are prone to wear and tear. Therefore it should last several years without any problems.
There are not a lot of extra features included with this machine, but it does come with a Series 4 performance monitor that will display key performance data such as time, distance, stroke rate and intensity, and if you connect it to a pulse monitor, it will also display your heart rate as well.
Finally, it should be pointed out that this is a strong and sturdy machine, and is in fact one of the toughest and most durable rowers you can buy because it has a weight capacity of up to 1000 pounds.
Negatives
One of the biggest drawbacks of this WaterRower Natural Rowing Machine is the price because the wooden frame and the craftsmanship comes at a cost, and you will generally find that this machine is a similar price to the Concept 2 rowers.
Apart from this, some people have complained that the S4 performance monitor is a little basic for such an expensive machine, and can be difficult to read in dark conditions because it is not backlit.
A few people have also complained that the foot rests can catch shoes with wider heels, which is not ideal, but it should be pointed out that this machine has a huge number of positive customer reviews, and most people seem to absolutely love this machine.
Final Thoughts
If you are looking to buy a gym quality rowing machine that will work your whole body and give you a smooth, quiet and realistic feeling workout, then the WaterRower Natural Rowing Machine will certainly satisfy all of these criteria.
Indeed if you shut your eyes whilst using this machine, you could easily think that you were rowing on a river or a lake because of the sound and feel of this machine.
It is not perfect because the monitor is a little basic and the foot rests could be improved upon, but in every other respect it is up there with the best rowers on the market, including the Concept 2 rowers.
→ Click here to buy the WaterRower Natural Rowing Machine