Introduction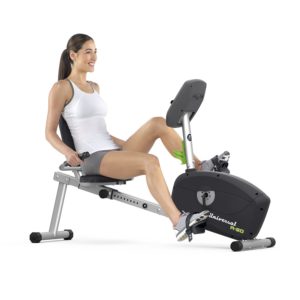 Recumbent exercise bikes used to be very expensive but they are becoming more and more affordable for home users.
It is now the case that anyone who has any kind of mobility problems or back complaints can keep fit and lose weight in the comfort of their own home without having to spend a small fortune in the process.
To demonstrate this point, I want to review one of the more affordable models that has recently gone on sale – the Universal R20 Recumbent Bike – which is an updated version of the popular Schwinn A20 Bike.
Features And Benefits
8 levels of resistance
7 workout programs
comes with large LCD display
track time, speed, distance, calories, etc
includes grip heart rate sensors
can be powered by AC adaptor or batteries
fully adjustable ergonomic seat
sturdy steel step-over frame
perimeter weighted flywheel
built-in speakers and media tray
provides smooth and consistent ride
suitable for anyone up to 275 pounds
Product Dimensions / Weight
This particular exercise bike has exact dimensions in inches of 61 (L) x 19 (W) x 40.5 (H), so although it is quite long, it is not particularly wide. Therefore it is ideal if you want to use it in quite a small room, for example.
As with most recumbent bikes, it is quite cumbersome to move around, however, with a total weight of around 71 pounds.
Positives
As is to be expected with a bike in this price range, this Universal R20 bike is quite a basic looking machine.
Nevertheless it does have a sturdy steel frame that can easily accommodate anyone up to 275 pounds. So it should last quite a long time without any issues, and is covered by a 2-year warranty on the frame (and a 6-month warranty on parts) should anything go wrong with this machine.
The design of the frame also makes it very easy to get on and off, which is an important factor for anyone with mobility problems.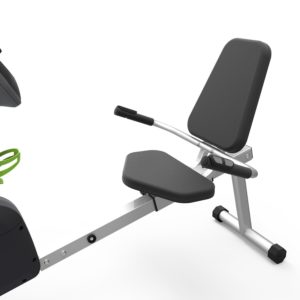 The ergonomically designed seat can be adjusted to find the most comfortable riding position (and to accommodate people of all heights), and there are oversized foot pedals to accommodate feet of all shapes and sizes.
In addition, it has some decent workout options with 8 levels of magnetic resistance and 7 workout programs. You can control the resistance yourself if you so wish, or you can use the preset workouts that will adjust the resistance automatically.
The ride is said to be smooth and consistent thanks to the high speed high inertia perimeter weighted flywheel, and the machine itself is fairly quiet.
If you want to track your performance, there is a decent sized LCD display that will display time, speed, distance, calories, RPM and pulse (using the grip pulse sensors). This console also includes a media tray for your phone or tablet, and houses some built-in speakers should you wish to listen to your favorite music whilst you work out.
Finally, it is worth mentioning that this Universal R20 machine can be powered by AC adaptor or batteries. So you don't have to keep buying new batteries all the time if you choose to plug it into the mains.
Negatives
Unfortunately there are a few drawbacks that you should be aware of before buying this Universal R20 Recumbent Bike.
For a start, although you have the option of using 4 D batteries or an AC adaptor to power the console, neither are included with this machine for some bizarre reason. So you will have to buy these separately before you can start using this bike.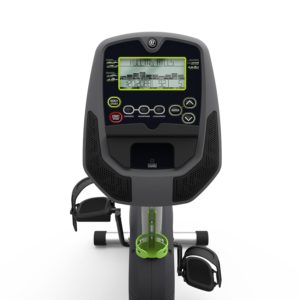 In addition, although the display provides you with some useful performance data, it is not easy to read in darker conditions and can be quite hard to read because it is not a backlit display.
With regards to the other features, the speakers that are built into the console are not particularly good quality according to some users, and the water bottle holder is a fairly cheap afterthought.
Finally, it is worth pointing out that this Universal R20 machine is essentially an updated version of the Schwinn A20 Recumbent Bike (Schwinn and Universal are both part of the Nautilus group) and shares many of the same features.
However the makers of this product don't appear to have corrected some of the drawbacks of this previous model, such as the low quality speakers and the hard to read display, for instance, or made any noticeable improvements, which is a missed opportunity.
Final Thoughts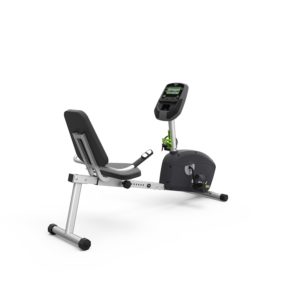 The Universal R20 Recumbent Bike is a very basic machine, which is why it is one of the most affordable bikes on the market.
Nevertheless it is not a bad choice if you are on a tight budget because it is strong and sturdy and has a decent range of resistance, with the addition of 7 workout programs to add variation to your workouts. It is also smooth and quiet in operation, and is fairly comfortable to use.
Just bear in mind that the speakers are not particularly good, and you will have to buy 4 D batteries or an AC adaptor separately before you can use this machine.