Introduction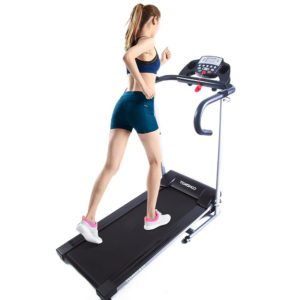 If you are looking to buy a motorized treadmill for your home, you cannot really expect to find a top quality machine with lots of incline settings, workout programs and extra features for a few hundred dollars.
Nevertheless it is still possible to buy a running machine that will help you get fit and lose weight without spending a small fortune because the Weslo Cadence 5.9 Treadmill and the Sunny Health & Fitness treadmills are good quality machines for people on a budget.
Another newcomer to the market that also looks fairly promising is the Tomshoo 500W Folding Motorized Treadmill, which is the model I want to review in this article.
Features And Benefits
quiet 500W motor
speed settings from 1-10 KM/H
multi-function LED display
track time, speed, distance and calories
soft foam handrail
convenient transport wheels
magnetic emergency stop safety feature
can be folded away when not being used
strong and durable steel frame
suitable for users up to 250 pounds
available in 3 different colors
Product Dimensions / Weight
The exact dimensions (in inches) of this low-cost treadmill from Tomshoo are 49.2 (L) x 46.5 (H) x 24 (W) when it is fully assembled, and when it is folded away for storage it measures 49.2 (L) x 26.8 (H) x 24 (W).
The actual running track is 39.4 (L) x 13.4 (W) and the whole machine has a total weight of around 27.5 kg (60.6 pounds).
Positives
One of the key features of this Tomshoo 500W treadmill is that it is small and compact and easy to fold away when it is not being used. So it is ideal if you live in a small apartment where you have limited space, for example.
Indeed as mentioned above, it only weighs 27.5 kg and comes with its own transport wheels, so even if you don't want to keep folding it away all the time, it is still very easy to move around if you need to.
It should be pointed out that this is not a flimsy machine that is likely to fall apart after a few months because despite its small size, it still has a strong and durable steel frame that can accommodate any users up to 250 pounds.
The running track on this machine may not be as big as the ones that you are used to using at your local gym, for example, because it is only 39.4 x 13.4 inches, but this should still be sufficient for most people to use comfortably as long as you don't have a particularly wide or a particularly long running action.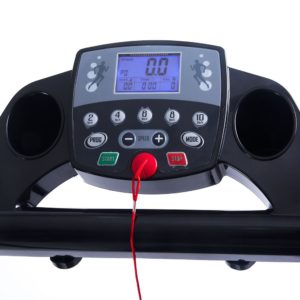 This Tomshoo machine is powered by a 500W motor that is quiet in operation so that you won't disturb other people when you are working out, and there are speed settings from 1-10 KM/H that make it suitable for walking or light running.
In addition, it has a soft foam handrail for extra comfort when you choose to hold on to the handles, and there is also a magnetic safety device that you can attach to your shorts to automatically stop the motor and prevent any further injuries if you happen to fall off the machine.
Finally, this low-cost entry-level treadmill has an LED display that indicates time, speed, distance and calories to help you monitor your performance during your workouts, and a console that enables you to change the speed settings quickly and easily.
Negatives
One of the main product flaws is that the running track is quite small compared to other entry-level machines, so it may not be suitable for taller men, for example, who have longer strides. Furthermore, a few people have complained that the belt doesn't always stay in the middle, which is not exactly ideal.
Another potential issue is that it doesn't have any incline settings that you can use to make your workouts a lot more challenging. So whilst the running track has a very slight incline, you cannot adjust the incline upwards or downwards. All you can do is adjust the speed if you want to make your workouts easier or harder.
Talking of which, the maximum speed setting of 10 KM/H is not as high as some of the more expensive treadmills that have a more powerful motor. So although it is more than adequate for walkers and light runners, it is not really suitable for elite runners.
One final point to make is that there are no workout programs included with this machine, and no pulse sensors either. As a result, the display is fairly basic and will only indicate the very basics – time, speed, distance and calories.
Final Thoughts
Overall the Tomshoo 500W Folding Electric Treadmill is not a bad little machine because it has a solid steel frame that can support users up to 250 pounds, and can be folded away when it is not being used.
Plus it is available in a choice of three different colors (black, silver or orange) so that you can match it to the interior of your home, and has enough speed settings to be used for walking or light running workouts.
→ Click here to buy the Tomshoo 500W Folding Treadmill
However for the same kind of price, you could buy yourself a machine that has a more powerful motor, a few incline settings to make your workouts more challenging and a small selection of workout programs that will add some variety to your workouts, such as this Weslo machine, for example.