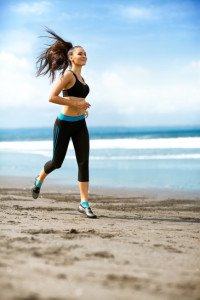 Exercising is not only hugely beneficial from a health point of view, but it can also be hugely addictive and a lot of fun as well.
As a consequence of this, a lot of people find that they really miss their regular workouts when they go on holiday, particularly if they find themselves eating and drinking far too much, and spending many lazy days lounging on a beach.
So in this article I want to share with you some of the best places to exercise whilst you are on holiday so that you can still keep in shape, and avoid returning home fat and bloated:
Gym
Of course the best option is to simply find a gym in the town or city that you are staying. You are pretty much guaranteed to find a gym wherever you happen to stay, and although you probably won't be there long enough to justify paying a 1-month membership fee, you will often be able to pay a daily rate whenever you want to use the facilities.
Hotel
Another good option, and one that is overlooked by a lot of holidaymakers, is to seek out some of the top 4 and 5-star hotels online and see which ones have their own gyms.
Although these gyms have their drawbacks, they are often cleaned and maintained to the highest standards and will often have some excellent facilities, such as a sauna and a swimming pool, that you can gain access to when you use the gym.
In many cases you don't have to be staying at the hotel to use their gym. You can simply pay a daily rate or buy a monthly pass, for example.
Swimming Pool
One of the best and most enjoyable ways to stay fit whilst on holiday is to go swimming because this works many different muscle groups and offers a great cardio workout.
You can either use your own hotel's swimming pool if they have one, or you can use another hotel's pool. In many instances just ordering a meal or a few drinks at one of these hotels will grant you full access to their pool.
Beach
Another option is to head to the beach because you can of course swim in the sea for free (if the current is not too strong). You can also walk or run along the beach, which is another highly effective form of exercise because the sand will obviously provide more resistance than a flat surface.
Park
If you are not taking a beach holiday, another excellent place to work out is the park because these will usually be big enough to walk or run around. Plus you will get to admire the beautiful scenery as you do so.
School Playground
If you are looking to maintain and build muscle mass whilst on holiday, but don't necessarily want to join a gym, you should try to find a school playground that has some metal bars because these are ideal for dips and pull-ups, for example.
These will obviously be empty in the evening when the children are at home, and will provide a great little bodyweight workout. If you can't find any where you are staying, you might find some of these bars in your local park.