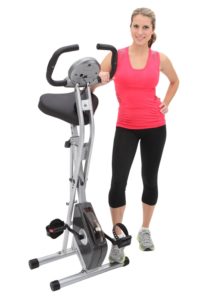 If you are looking to buy an exercise bike that you can use at home, there are several different types that you can buy.
For example, you can buy a recumbent bike, an upright bike or an indoor cycling / spin bike. You can also buy a mini exercise bike that just has the pedal mechanism if you want to save yourself some money.
However in this article I want to discuss folding exercise bikes in particular because there are now lots of these machines that you can buy online and in stores, and I specifically want to highlight some of the main pros and cons of these machines.
Pros
Space-Saving
The most obvious benefit is that they can be folded away really easily when you have finished using them. Subsequently they will take up very little space in your home if you don't want them to. Indeed this is why many people who live in small apartments decide to buy a folding bike instead of a non-folding machine.
Low Cost
Another reason why you might want to consider buying a folding exercise bicycle is because they tend to be a lot cheaper to buy than a standard upright or recumbent bike. You will generally find that these folding bikes tend to have relatively small lightweight frames, and are therefore cheap to make, and cheap to supply to the end users.
Portable
Following on from the last point, these folding exercise bikes are also one of the most portable cardio machines that you can buy for your home. For example, they can easily be moved from one room to another without any fuss, or moved in front of the TV because they are easy to fold away and light enough to carry. Plus in some cases you may be able to fold them up and take them on holiday if you want to keep fit on vacation, for instance.
Easy To Assemble
As you may have already discovered for yourself, some of the modern exercise machines can easily take 2-3 hours to assemble. However the good thing about these folding bikes is that you can easily assemble them in a fraction of this time because there are limited parts and components to put together, and the instructions are usually easy to follow.
Keep Fit And Lose Weight
Of course the final benefit of this type of exercise bike is that they will help you to keep fit and lose weight, just like any other exercise bike. These machines tend to have at least 8 levels of resistance and are pretty intense at the higher levels, so they can be just as effective as some of the standard upright bikes that cost a lot more money.
Cons
Basic Features
The first thing to say with regards to the drawbacks of these folding machines is that they generally tend to have fairly basic features. Although they will often have at least 8 magnetic resistance levels, the LCD display is usually small and simple, and there are rarely any kind of extra features such as workout programs or fitness apps, for instance.
Low Weight Capacity
Another drawback is that because of their lightweight folding frame, the weight capacity of one of these machines is a lot lower than some of the more expensive upright bikes. Therefore they are not really suitable for large overweight men and women who weigh in excess of 250-300 lbs, for example.
Not Suitable For Cyclists
There are certain people who can benefit from using one of these machines, such as elderly men and women and casual users who just want to get fit and lose weight at home. However they are not really suitable for serious cyclists who want to do some indoor cycling training because of their limited resistance levels and workout options. An indoor cycling bike is much better suited for this purpose.
Closing Comments
In summary, you would have to say that folding exercise bikes are ideal for those people who have limited space in their homes, and for people who like to work out in different rooms of the house or in different locations.
They are also ideal for people who don't want to spend a lot of money on a feature-packed upright exercise bicycle with lots of bells and whistles, but would prefer to buy a basic machine that they can use to improve their base level of fitness, increase their activity level and lose some weight.