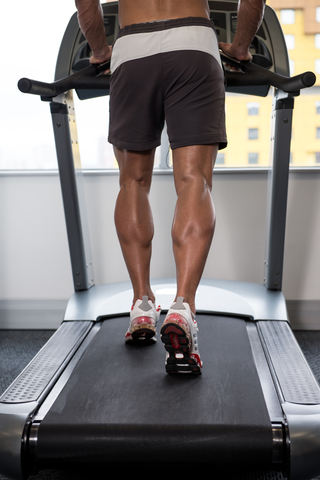 The treadmill is reportedly the one exercise machine in the gym that causes the most injuries, and sends the most people to the hospital every year. Indeed the US Consumer Product Safety Commission found that there are an average of 24,400 treadmill-related injuries in the United States each year, which is a very large number.
Although it is essentially just a moving belt that people can use to improve their fitness, tone up their legs and maybe lose a few pounds from their waistline, there are many different ways you can injure yourself, even if you are simply walking on a treadmill to increase your activity level and stay healthy.
So with that in mind, I have listed below some of the most common treadmill-related injuries that you can experience, and have also listed a number of tips that will help you to stay safe when using this machine:
Foot Injuries
It will come as no surprise that a foot injury is one of the most common injuries that you can experience as a result of walking or running on a treadmill.
Some of the best treadmills will do a good job of absorbing the impact of your feet hitting the running track with every stride, but you may still experience common foot problems, such as plantar fasciitis, for example, which is where you get a severe pain in your feet and heels.
Knee Pain
It is also very common to experience knee pain when you are using a treadmill, even if the belt is not as hard as an outdoor surface and absorbs much of the impact.
The fact is that many outdoor runners will experience knee pain at some point, and a treadmill doesn't really solve that problem. Indeed a treadmill can increase the likelihood of developing knee problems if you are consistently running on an incline, running with bad posture or using an unnatural stride pattern.
Hip Pain
Following on from the last point, you can easily experience pain in your hips as well if you are consistently running on a treadmill because running (or walking) on an incline can put stress on your hips, and result in a great deal of pain and discomfort over time.
You may also develop a hip injury if you are not using an unnatural stride pattern when using a treadmill, and maybe overextending your legs too much.
Falls
As well as the injuries caused by the repetitive nature of walking or running on a treadmill, there are also a number of serious accidents every year that are the result of people falling off a treadmill.
There are lots of funny videos on the internet that show people falling off the treadmill, but in some cases it can result in a serious injury or even death. A momentary lack of concentration could easily result in you falling and banging your head, or burning your legs if you land on the running track, for example.
Heart Problems
As with any cardio machine, there is always the risk of experiencing heart problems when you are exercising at a high intensity and pushing yourself to the limit.
This is certainly true of the treadmill because many people are admitted to hospital every year complaining of chest pains when using this machine, and it is not uncommon for people to experience a heart attack whilst performing their workouts, and the risk is obviously greater for older users.
How To Avoid Getting Injured On A Treadmill
Wear Proper Clothes And Footwear
A lot of men will simply throw on an old t-shirt and a pair of track bottoms when they arrive at the gym, but you really need to wear the proper clothes and the proper footwear when using a treadmill.
So in other words, you don't want to be wearing a long pair of track bottoms that are hanging over your shoes because this could potentially cause a trip or a fall, and ideally you want to be wearing a comfortable pair of running shoes that will absorb any impact and help to prevent knee and ankle injuries.
Tie Your Laces
As children we are always told to do up our shoelaces in order to avoid tripping up, and it is just as important to do so when using a treadmill because this can easily cause an accident. So before stepping on to a treadmill, have a quick glance down to make sure that your laces are not undone, and make sure that they are secured tightly so they won't come loose during your workout.
Don't Get On A Moving Treadmill
It sounds like a stupid thing to say, but another thing that you should do when getting on a treadmill is to make sure that it is actually switched off. Although it is very rare, some users will forget to switch off a treadmill when they have finished using it, and it is not always easy to see if the running belt is moving or not. So always exercise caution before stepping on to the running track.
Don't Play With Your Phone
It is common to see people listening to music when running on a treadmill, and I can't say I blame them because treadmill workouts are tedious and boring if you don't have any way to entertain yourself.
However you really don't want to be playing with your phone when using a treadmill, whether you are choosing your favorite tracks or messaging your friends, for instance, because this can distract you from your workout and potentially result in a stumble or fall.
Make A Note Of Where The Safety Key Is
All modern treadmills will come with some kind of safety switch-off device that you can use to switch off the machine in the event of an emergency. In the majority of cases this takes the form of a safety key, so it is always a good idea to attach this key to your shorts, or at least locate this key before you step on a machine so that you instantly know where it is if you happen to fall off.
Use The Hand Rails If Required
If you are running at a high intensity, then you obviously won't be holding on to the hand rails because this will result in an unnatural running action. However if you are walking on one of these machines and don't feel particularly comfortable walking at a rapid pace without holding on the rails, please hold on to them to prevent you from losing your balance and falling over.
Avoid Talking To Friends
It is very common for people to go the gym with a friend nowadays because this makes a treadmill workout a lot more enjoyable and a lot less boring.
However whilst there is nothing wrong with working out together, it is not a good idea to talk to each other (and turn your head to face your friend) when running on a treadmill because this will affect your running action and could easily result in an accident.
Avoid Watching Wall-Mounted TV Screens
Many commercial treadmills now have TV screens built into the console that you can use to watch TV programs whilst you are working out. These aren't necessarily a problem because they are generally located at eye-level, and don't require you to tilt your head upwards or downwards whilst you are exercising.
It is the wall-mounted TV monitors that are potentially a problem because these can distract you from your workout and lead to a tilting of the head, which can cause neck pain and may result in a fall in some instances.
Don't Do Any Fancy Moves
It may sound obvious, but a treadmill is designed to be used for walking, jogging and running. It should not be used for any other form of exercise.
I'm sure we have all seen funny videos of people trying out some fancy dance moves on a treadmill, and seen men attempting to walk on a treadmill in a pair of high heels, but if you want to stay out of the emergency ward at your local hospital, it is a good idea to avoid such activities.
Dancing along to Uptown Funk is not recommended:
And it is certainly not a good idea to run in heels:
Don't Adjust Your Running Action
For those people who are used to running outdoors, it can feel a little unnatural when you first start using a treadmill, but nevertheless it is still a good idea to maintain your natural running position because running with bad posture or overextending yourself with every stride can easily lead to injuries in your knees or hips, for example.
Listen To Your Body
As you are probably aware, you can burn a lot more calories on the treadmill by increasing the speed setting and increasing the incline setting. However if you are pushing yourself too hard, you may find yourself struggling to keep up, thereby increasing the likelihood of falling off, or you may end up putting too much strain on your joints, in which case you are more likely to injure yourself.