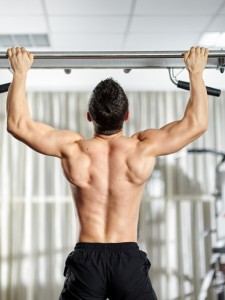 Pull-ups are one of the most popular (and most effective) exercises you can do because they will strengthen your arms, shoulders and back, whilst also engaging your core abdominal muscles as well.
However it is also one of those exercises that can easily lead to injury. This is particularly true when you don't perform this exercise correctly, but it can also happen even if you use correct form.
So in this article I want to briefly discuss some of the most common pull-up injuries that you are likely to experience:
Shoulder Injuries
Pull-ups can be classified as a high intensity exercise, and you will find that it is your shoulders that seem to take a great deal of strain.
Subsequently shoulder injuries, particularly rotator cuff injuries, are very common when performing pull-ups, and are one of the reasons why many people are forced to stop doing pull-ups at some point.
Of course if you can do quite a lot of pull-ups without any problems and use perfect technique, then you are far less likely to suffer any shoulder injuries, but if you are pushing yourself to do 5-10 reps, for example, and find this exercise to be really difficult, you are far more likely to do some damage.
Elbow Injuries
As well as experiencing some shoulder pain, it is also very common to experience some elbow pain at some point if you do pull-ups on a regular basis.
Once again, this is far more likely if you are not performing this exercise correctly, but you will find that you can still experience elbow pain even if you use correct form.
That's because you are placing a lot of strain on your elbows when you are lifting yourself up to the pull-up bar, particularly if you have a large, muscular physique because you are obviously lifting your whole body up with every rep.
Bicep And Tricep Injuries
In my experience it is the shoulders and elbows that are most likely to get injured during or after pull-ups, but it is not uncommon to experience pain in either your biceps or your triceps.
That's because these muscle groups are both worked pretty hard during this exercise. Therefore it is really easy to overwork them and to do some damage if you are not careful.
These injuries are generally not as serious and will clear up fairly quickly with rest, but it is still something to bear in mind.
Neck Injuries
Neck injuries are actually quite rare when doing pull-ups, but if your head is not aligned with your spine, then it can be very easy to strain your neck and cause a minor injury.
This is particularly true if you are in the gym, for example, because it is very easy to become distracted by other people, and subsequently to find yourself looking to your left or right when pulling your body upwards.
It may only take one single rep where your head is turned slightly to the left or the right to put your neck out and cause some severe pain and discomfort. So once again, correct form is essential with every rep.
Final Comments
If you do experience any of these injuries, the worst thing you can do is to ignore the pain and continue to do your pull-ups as usual. This will only exacerbate the pain and do even more damage in the long run.
The important thing is to rest and recuperate, and wait for your injuries to heal before resuming your pull-up program. You should only continue performing these exercises on a regular basis when you are completely free of injury.
If you never get to this point, then you should simply replace this exercise with other exercises because there are many different ways to work your arms, shoulders and back without placing so much strain on each of these muscle groups.