Exercise bikes offer a very effective cardio workout and can help you burn several hundred calories each time you use them. Plus they are generally considered to be totally safe for people of all ages to use because they offer a gentle, low-impact workout that is easy on the joints.
Nevertheless it is still possible to experience a variety of different aches and pains when using one of these indoor bicycles, whether it's a recumbent bike, an indoor cycling / spin bike or a traditional upright stationary bike.
So in this article I thought it would be a good idea to discuss some of the most common exercise bike injuries, and explain how you can prevent them from occurring: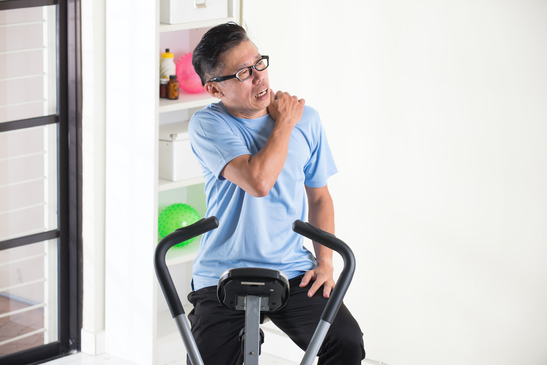 Back Pain
One of the most common problems amongst exercise bike users is back pain, particularly for those people who own a stationary or spin bike, for example.
Users of recumbent cycles have a back rest for added support but when you are using one of the other types of exercise bicycle, you are obviously leaning forward for most of your workout, which will often strain your back slightly. This is more noticeable on a spin bike where you will often be leaning forward a lot more.
The easy solution to this problem is to invest in a recumbent machine, or try to raise the handlebars up or bring them forward so that you are leaning forward a lot less, paying special attention to your posture throughout your workout.
Knee Pain
I have been using an exercise bike on a regular basis for about 20 years now and rarely have any aches or pains. However I do sometimes experience a bit of knee pain for a day or two whenever I cycle on a high resistance level for long periods of time. I have found that this can also occur whenever I have taken a break from exercise for a week or two, and try to do the exact same workout as before.
The solution, therefore, is to lower the resistance if your knees start to hurt during a workout, and start off on a much lower resistance (or cycle for a shorter period of time) whenever you are resuming your training after a few weeks rest. It is also a good idea to have the seat at the correct height so that you have a slight bend in your knee at the bottom of your pedal motion.
Saddle Sores
Saddle sores are a common problem amongst cyclists and exercise bike users because the constant friction of the seat rubbing against your skin can cause a lot of pain and discomfort. The fact that many of these saddles are thin and rock hard doesn't exactly help either.
There are a few ways you can remedy this problem, however. You can either invest in a pair of cycling shorts, which will offer more protection in the form of padding, or buy a gel seat cover that will instantly make your seat a lot more comfortable. Lowering the seat can sometimes help as well.
Neck And Shoulder Pain
It is not common to experience a lot of pain in your upper body when using an exercise bicycle (other than your back), but you can still experience neck and shoulder pain if you are hunching your shoulders a lot.
The easy way to rectify this problem, therefore, is to once again focus on maintaining your posture, and maybe consider working out in front of a mirror so that you can watch yourself and make sure that you don't start to tense your shoulders at any point.
Wrist Pain
You are unlikely to have any wrist pain from using a recumbent or upright bicycle, but if you are constantly leaning forward in a racing position whilst performing spinning routines on an indoor cycling bike, for example, then you are much more likely to experience a small amount of pain.
The best solution here is to reduce the length of your workout, or try to do fewer intervals where you are leaning forward and putting a lot of pressure on your wrists. It is also a good idea not to grip the handlebars too tightly either.
Hip Pain
Some people will often experience some pain in their hips when using an upright bike or an indoor cycle, and it is often because of a thin racing seat putting to much pressure on their joints or because of poor posture.
So therefore buying a wider and more comfortable seat can often help, as can maintaining proper posture throughout your workout. This is best achieved on a recumbent machine because the back rest will support your body and you won't have to worry about your posture.
Ankle And Foot Pain
Exercise bike pedals can differ quite a lot because some will enable you to essentially attach your feet to the pedals, whilst others will simply have toe cages or adjustable straps to hold your feet in place.
If you find that your feet or ankles are hurting, it maybe because your feet are strapped in too much and are too tight. In which case loosening them slightly will probably solve this problem.
Final Thoughts
To sum up this article, if you want to minimize pain and avoid suffering from any injuries on an exercise bike, you should do the following things:
maintain your posture throughout your workout
avoid leaning forward too heavily on the handlebars
adjust the seat to the correct height
change to a more comfortable seat if necessary
use padded shorts to avoid chafing
avoid strapping your feet into the pedals too tightly
consider using a recumbent bike