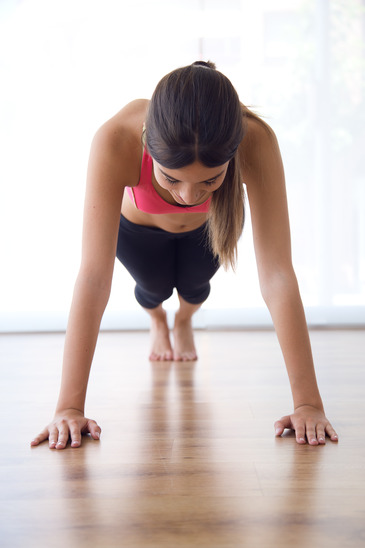 If you buy a lot of fitness DVDs or watch a lot of workout videos on YouTube, for example, you will know that a lot of them are based on High Intensity Interval Training, or HIIT for short, which involves a series of short, but intense exercises with plenty of brief rest periods in between each one.
So in this article I thought it would be a good idea to list some of the key benefits of HIIT workouts in order to highlight why you should consider doing one of these workouts yourself.
Promotes Fat-Burning
One of the main reasons why many people perform one of these HIIT workouts two or three times a week (or more) is because they are extremely effective at burning fat. Whilst you are not doing long and arduous workouts, you are doing plenty of short, intense exercises which really seem to promote fat-burning.
To demonstrate this point, clinical studies such as this one, for instance, found that "twelve weeks of HIIE (high intensity intermittent exercise) resulted in significant reductions in total, abdominal, trunk and visceral fat and significant increases in fat free mass and aerobic power."
Increases Aerobic Power
As you can see from the clinical study cited above, high intensity interval training, or high intensity intermittent exercise as it is referred to here, also boosts aerobic power as well.
Therefore it is a really effective form of exercise if you are looking to boost your overall fitness level and build a stronger, healthier heart.
Tones And Strengthens Your Muscles
A lot of HIIT workouts don't actually involve using any kind of weights at all, but that doesn't necessarily mean that you won't be able to tone up and strengthen many different muscle groups.
Popular HIIT exercises such as lunges and squats, for instance, will help to tone up your legs, whilst push-ups will tone up your chest muscles and triceps and sit-ups will help to reveal your abdominal muscles.
Can Be Performed At Home Without Any Equipment
A lot of people are so busy nowadays that they simply do not have the time to travel to the gym, perform their workout, shower and return back home again.
However the great thing about HIIT workouts is that they can easily be performed at home in as little as 10-30 minutes. Plus you will find that many of these workouts require no equipment at all other than a towel or exercise mat, and maybe a small set of dumbbells in some instances.
Inexpensive Form Of Exercise
Following on from the last point, because you can perform many of these HIIT workouts at home, you will save a lot of money because you can improve your fitness and lose weight without having to pay expensive gym membership fees every month. Even if you invest in a few fitness videos, you are only going to end up paying around $15-$20 for each one.
Lots Of Different Workout Possibilities
If you keep performing the same old workout routines, they can quickly become boring, and you can easily find yourself becoming demotivated as a result.
However the good thing about HIIT workouts is that there are hundreds of different HIIT routines on YouTube and other similar sites. Plus because there are so many different bodyweight exercises that can be included in one of these workouts, you can even customize your own exercise routine if you so wish.
So it really is worth considering doing a few of these high intensity interval training workouts whenever possible because this is a low-cost and convenient form of exercise that will increase your overall fitness level and really help you to get in shape.