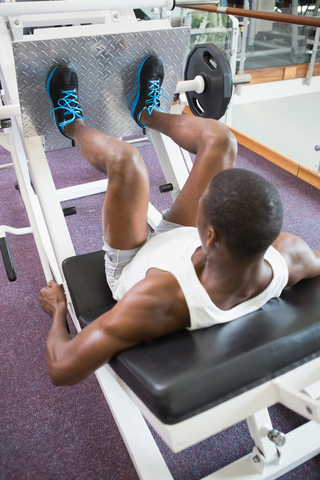 Many people would agree that the best exercises that you can do if you want to increase muscle mass in your legs are squats, deadlifts and lunges. However some people still prefer to use machines to work the same muscle groups.
One of the most popular machines to use in the gym is of course the leg press machine because this will really work your quadriceps in particular, as well as your glutes and hamstrings.
There are actually two types of leg press machine – the seated (horizontal) leg press and the incline leg press – but the point is that you really need to be careful whichever one you use because it is very easy to injure yourself if you don't perform this exercise with correct form at all times.
Here are two of the most common injuries that can occur as a result of using the leg press machine:
Lower Back Injuries
If you are using an incline leg press machine, for example, where you are sitting close to the floor with your back supported by a back rest, you may automatically assume that you couldn't possibly suffer any kind of back injury.
However it is actually very easy to damage your lower back performing this exercise. Indeed problems may arise simply as a result of not having the seat in the correct position to fully support your back.
Most problems occur because users allow the weight plate to come down too far with each repetition, which exerts a lot of pressure on the lower back.
Problems can also occur as a result of loading the weight plate with too much weight because this can force people to over-arch their backs and adopt unnatural body positions in order to complete each rep.
Knee Injuries
The leg press machine can easily cause lower back injuries when it is used incorrectly, but it can also injure your knees as well if you are not careful.
Fully locking out your knees is one rookie mistake that can result in injury because this puts a lot of stress on the knee joints instead of the quads.
Another potentially dangerous mistake is to allow your knees to come together because you really don't want to have a large amount of weight pressing down on your legs when your knees are pointing inwards in an unnatural and unstable position.
Final Thoughts
I don't want to put people off using the leg press machine because although it has its detractors, it can help you build some massive quads if used correctly.
The key is to press your lower back into the seat and not allow the angle of your knees to drop below 90 degrees because this can put too much pressure on both your back and your knees. You should also make sure that you don't fully lock out your knees or allow them to cave inwards.
If you can follow this advice, you should be able to use the leg press machine safely and effectively without experiencing any kind of injuries.