Introduction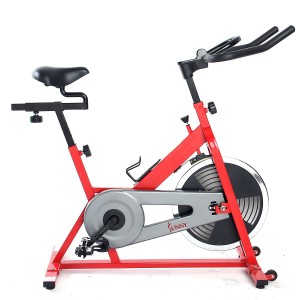 One of the most popular indoor cycling bikes right now is the Sunny Health & Fitness Pro Indoor Cycling Bike, which we have already named as one of the best low-cost indoor cycles currently on the market.
However it is worth pointing out there is a cheaper model from Sunny Health & Fitness that has also been receiving some favorable reviews and that's the Sunny SF-B1001 Indoor Cycling Bike, which is another that is ideal for home use.
So today I thought I would review this particular model to see how it measures up against some of the more expensive indoor cycling bikes that you can buy.
Key Features And Benefits
30 pound flywheel
adjustable resistance
fully adjustable seat and handlebars
heavy duty crank
solid steel frame
smooth and quiet chain drive mechanism
includes transportation wheels
accommodates users up to 220 pounds
available in red or silver
easy to assemble
Positives
The Sunny SF-B1001 may be one of the least expensive spinning bikes you can buy, but it still has a lot of things going for it, as evidenced by the fact that it has a huge number of positive customer reviews if you do a search online.
For a start, although it is not as heavy as some models, it is still a strong and very sturdy machine that can accommodate anyone up to 220 pounds. Therefore it should last you many years without any problems, and you shouldn't notice any movement even when standing up and pedalling away at full power.
Secondly, although not the quietest bike on the market due to the fact that it has a chain drive (just like an ordinary road bike), it is still reasonably quiet when being used, and certainly quiet enough to listen to music or watch TV at the same time.
Another good thing about this particular model from Sunny Health & Fitness is that it has an adjustable resistance knob so that you can vary the intensity of your workouts, and has a wide range of resistance to challenge people of all fitness levels.
Plus you should be able to find a really comfortable riding position because the seat and handlebars are fully adjustable.
Negatives
It is worth pointing out that the Sunny SF-B1001 Indoor Cycling Bike is a low-cost entry-level machine. Therefore it doesn't come with an LCD display, for example, which isn't essential on an indoor cycling bike, but is something that some people would prefer to have.
Indeed other than a water bottle holder, there are none of the extra features that you might find on some of the more expensive bikes, such as an MP3 port, a reading rack / media tray, a cooling fan and speakers, for instance.
In addition, it could be argued that this bike is better suited to short people rather than tall people who are over 6 feet tall because it is a little smaller than most other models.
Finally, although many people have no complaints about the seat, a few people have commented that it is hard and quite uncomfortable. This is a common complaint with a lot of exercise bikes, but it isn't a major issue because you can always buy a gel seat cover to go on top of this seat, and it is worth remembering that you will probably be standing up a lot of the time anyway.
Final Thoughts
Overall this is a top quality indoor cycle that is more than good enough for home use because many people have said that it provides just as good a workout as some of the models that they have used in their local gym.
It is strong and sturdy, it has a wide range of resistance to provide challenging workouts and it is reasonably quiet in operation so as not to annoy other people in your home.
So this is definitely one to consider if you are looking to perform your spinning-type workouts at home, but don't want to spend a huge amount of money on a top-of-the-range model, for example.
Where To Buy The Sunny SF-B1001 Indoor Cycling Bike
If you would like to buy the Sunny SF-B1001 bike, it is available in either red or silver and you should find that there are several sites that sell this particular model, including Amazon.com, where you will also find lots of customer reviews from people who have purchased this machine. Here's the link to the product page:
→ Sunny SF-B1001 Indoor Cycling Bike
Also Worth Considering
If your budget can stretch a little bit further, you might want to consider buying the Sunny Health & Fitness Pro Indoor Cycling Bike because this has a larger 40 pound flywheel, and is also more suitable if you are quite a tall person because it is slightly bigger in size.