Introduction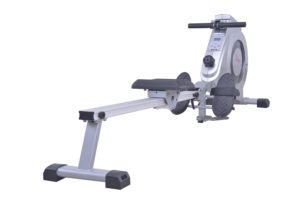 It is rare to come across a rowing machine that is capable of giving you a good muscle-building workout in addition to a standard rowing workout, but that's exactly what the Sunny Health & Fitness SF-RW5612 Magnetic Rowing Machine offers.
This dual function rowing machine has magnetic resistance to deliver a smooth and efficient workout, but also allows you to work your arms and shoulders with standing bicep curls, shoulder raises and upright rows, for example.
Plus it is priced low enough to be classified as a low-cost rower, which means that it should appeal to a lot of home users. So let me tell you more about this machine, starting with some of the main features and benefits.
Features And Benefits
8 magnetic resistance levels
large dual function foot plates
perform a range of muscle-building exercises
multi-function LCD display
track time, strokes, total strokes and calories
fully padded seat
non-slip handle grips
built-in transport wheels
easy to assemble
suitable for anyone up to 300 pounds
Product Dimensions / Weight
This new rowing machine is quite compact with dimensions (in inches) of 86 (L) x 19 (W) x 28 (H), and is not overly heavy either with a total weight of 59.5 pounds. Nevertheless it is still a strong robust machine because it has a total weight capacity of 300 pounds.
Positives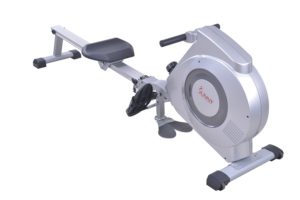 I should start off by saying that there is obviously one feature that makes this Sunny SF-RW5612 Rower stand out from many of the others, and that's the option to perform a range of arm and shoulder exercises on this machine.
A conventional rowing workout will tone up your arms and shoulders to some degree (along with your legs and back), but you can actually stand up, place your feet on the foot plates and perform a number of different exercises using the cable on this particular machine.
For instance, you can do standing (and seated) bicep curls, you can do upright and bent over rows or you can do shoulder raises, and because there are 8 levels of resistance, you can really work your muscles hard on the higher settings.
Apart from this, there are all the standard features that you might expect to find on a rowing machine in this price range.
For example, there is a magnetic tension system that delivers a smooth and efficient workout, and unlike many of the cheaper hydraulic rowers that have the resistance dial hidden underneath the frame, the resistance dial is right in front of you, which makes it easy to adjust the tension during your workout.
There is also an electronic LCD display that will help you track your time, strokes, total strokes (during the lifetime of the machine) and calories burned.
You will also get a comfortable workout on this machine, which is equally as important, because there is a large padded seat and non-slip handlebars, as well as oversized foot plates with adjustable foot straps to accommodate both men and women with different sized feet.
Indeed this machine has a weight capacity of 300 pounds to ensure that the vast majority of men and women can use this rower without any problems.
Finally, people have reported that this new rower from Sunny Health & Fitness was very easy to assemble, and took no longer than about 10 minutes, which cannot be said about many other rowing machines.
Negatives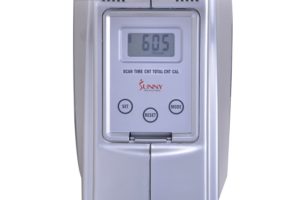 With regards to some of the negative aspects of this particular rowing machine, the only real issue is that the LCD display is very basic.
Although it is conveniently located right in front of you, the data is displayed on a tiny window and it only indicates time, strokes, total strokes, calories burned and scan. It doesn't tell you your speed or the distance that you have covered. Furthermore, only one of these readings appears on the screen at any one time, which some people may find quite annoying.
Otherwise, it would of course be nice if this machine had a few workout programs, but a lot of machines in this price range don't have any kind of programs or fitness apps in all fairness.
Final Thoughts
Overall despite having a mediocre LCD display, this Sunny Health & Fitness SF-RW5612 Rower is strong and stable with a weight capacity of 300 pounds, and delivers a smooth and comfortable workout.
It also has a good quality magnetic tension system with a choice of 8 resistance settings, and is one of the few rowing machines that enables you to perform additional muscle-building exercises for your arms and shoulders if you so wish.
So it should be a good choice for anyone who is looking for an affordable magnetic rower for their home, or indeed anyone who wants to enjoy all of the toning, fitness and weight loss benefits of rowing with the additional option of getting a decent strength training workout as well.
→ Click here to buy the Sunny SF-RW5612 Magnetic Rowing Machine