Introduction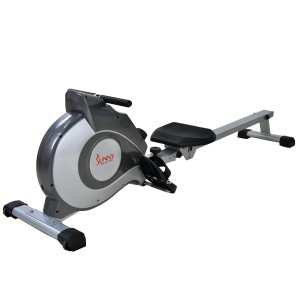 Sunny Health & Fitness have produced a number of good quality rowing machines over the years, particularly for those people who are on a budget, but their latest model appears to be one of their best ones yet.
That's because whilst many of their previous models have generally been fairly basic hydraulic rowers, this latest model is a magnetic rowing machine, which means that it should hopefully last a lot longer, and will inevitably provide you with a much smoother and quieter workout.
So in this article I thought it would be a good idea to review this Sunny Health & Fitness SF-RW5515 Magnetic Rowing Machine to see how it compares with some of the other low-cost rowers that are available.
Features And Benefits
8 magnetic resistance levels
smooth and quiet in operation
electronic LCD console
track time, calories, stroke count and total strokes
fully padded seat
large non-slip foot pedals
heavy duty steel frame
suitable for anyone up to 250 pounds
folds away for easy storage
Product Dimensions / Weight
The good thing about this particular machine is that it can be folded away for easy storage and comes with transport wheels that will make it easier to move around. However to give you an idea of the actual size and weight of this particular rower, it is 82" (L) x 19" (W) x 23" (H), and weighs 59 pounds when fully assembled.
Positives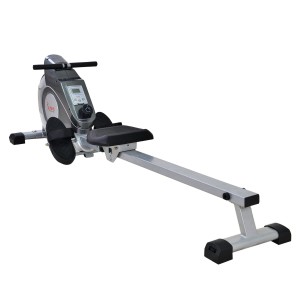 As I mentioned earlier, this new SF-RW5515 model has a magnetic tension system instead of hydraulic resistance. Therefore it is smoother and quieter than previous models, and will of course be less susceptible to wear and tear because hydraulic resistance rowers don't tend to last very long in my experience.
This new model also has a heavy duty steel frame that can accommodate anyone up to 250 pounds. So although it is not as strong as some of the more expensive models, it can still be used by the vast majority of men and women.
With regards to the resistance, there are 8 resistance levels in total, and the tension level can be adjusted using the dial, which is located just below the LCD display directly in front of you.
Talking of which, you will find that the electronic display unit indicates the time, calories burned and stroke count for each of your workouts, as well as the total number of strokes recorded during the lifetime of the machine.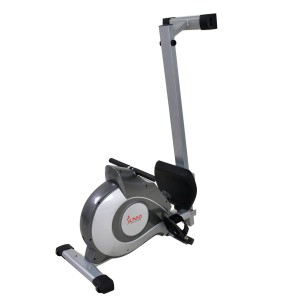 The workout itself is intended to be as comfortable as possible because this new Sunny Health & Fitness Magnetic Rower has a fully padded seat and large non-slip foot pedals with adjustable straps to keep your feet securely in place. It also has non-slip handlebars that will prevent your hands from flying off during your workout.
Finally, it should be pointed out that this machine is ideal for home use because it has transport wheels attached to the bottom for easy transportation, and is capable of folding in two (as shown in the photo) should you wish to place it against your wall, for example, so that it takes up less space.
Negatives
As with any low-cost rowing machine, there are of course a few negatives that are worth highlighting.
For a start, there are no workout programs available with this machine and there are no pulse meters built into the handlebars either. So you will have to buy your own chest strap heart monitor if you wish to record your pulse rate during your workouts.
In addition, the LCD display is fairly basic and has quite a small readout window compared to some other rowing machines, but that's generally the case with these low-cost rowing machines and is not that big an issue in all fairness because you should still be able to read it without any problems.
The only other thing that I would say is that this SF-RW5515 Magnetic Rowing Machine is not ideal if you are really big and muscular, or if you are currently overweight because the weight capacity is only 250 pounds. So you should probably look for an alternative machine if you weigh more than this.
Final Thoughts
This is a fairly new rowing machine that has only recently gone on sale, so there are not that many customer reviews so far (although the early customer reviews have been very positive).
Nevertheless this appears to be one of the best rowing machines that Sunny Health & Fitness have produced so far in terms of strength and performance because it offers magnetic resistance instead of hydraulic resistance, has a solid steel frame and provides users with a smooth, efficient and challenging workout.
Of course if you are particularly heavy, you might want to pay more for a larger machine that has a bigger weight capacity, and you might want to consider buying a mid-range or commercial-grade machine if you are a seasoned athlete who needs multiple resistance levels and workout programs, for example.
However, this is a strong well-made machine that should be more than capable of meeting most people's needs, and should therefore be suitable for many people who are simply looking to buy a good quality low-cost rowing machine for their home.
→ Click here to buy the SF-RW5515 Magnetic Rowing Machine