Introduction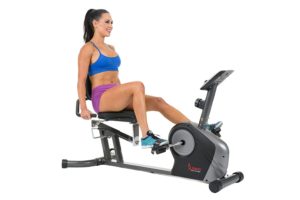 If you have already read our review of the SF-RB4601 Recumbent Exercise Bike from Sunny Health & Fitness, you will already be aware that the SF-RB4601 and SF-RB4602 models are both very similar.
Nevertheless I thought it would be a good idea to review the Sunny Health & Fitness SF-RB4602 Recumbent Bike separately because this particular model is a slight improvement on the SF-RB4601 model, and is actually a very good machine in its own right.
It should be pointed out that this recumbent bike is not necessarily a gym-standard machine that is loaded with extra features, but it is ideal for home use because it delivers a comfortable workout and has enough resistance levels for most users, and is also strong enough to accommodate both men and women without any problems.
Features And Benefits
8 magnetic tension levels
very quiet in operation
easily adjustable seat mechanism
cushioned back rest and seat
includes large LCD display
track speed, distance, time, calories and pulse
built-in pulse sensors
non-slip pedals with adjustable straps
walk-through design for easy access
suitable for users up to 350 pounds
Product Dimensions / Weight
This recumbent exercise bike has exact dimensions ( in inches) of 61 (L) x 27 (W) x 37 (H) when it is fully assembled, and although it is not particularly heavy at just 60 pounds, it does have an extended weight capacity of 350 pounds.
Positives
The key benefit of this SF-RB4602 exercise bike, as I have mentioned above, is that this particular model can accommodate users up to 350 pounds, which is 50 pounds more than the slightly cheaper SF-RB4601 model.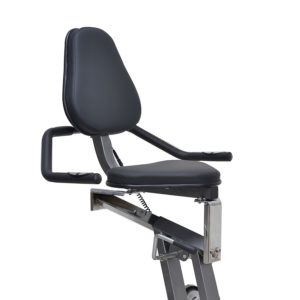 Therefore it is clearly a very strong well-built machine that the whole family can use for fitness and toning purposes (as long as they are under 350 pounds), particularly as it has plenty of legroom for even the tallest of people.
You will find that the whole seat can be adjusted forwards and backwards to help you find the most comfortable riding position, and features a cushioned seat and a cushioned back support for extra comfort. It also has handles that you can grip on to at the sides, which is where you will find the hand grip pulse sensors.
If you place your hands on these sensors, your pulse rate will be displayed on the LCD display (which is larger than the one on the SF-RB4601 model), along with other data, such as time, speed, distance and calories burned. So it is very easy to track your performance.
With regards to the intensity of the actual workouts, you have a choice of 8 magnetic resistance levels, which go from very easy to very difficult. These can be adjusted using the resistance knob just below the LCD display.
This Sunny Health & Fitness bike has a quiet belt drive transmission system, so your workouts will always be very quiet, and has a walk-through design that makes it very easy to get on and off, making it ideal for anybody who has any kind of mobility problems, for instance.
Finally, it is worth making the point that this machine is very easy to assemble and takes around 30-60 minutes, according to many people who have purchased this bike. So you can start using this bike fairly quickly, and don't have to worry about the complexity of having to put lots of different parts together.
Negatives
With regards to the negatives, one of the main drawbacks that I can see is that it only seems to come with a 3-month warranty, which is not particularly reassuring.
Another slight issue is that the pulse readings don't seem to be particularly accurate, but to be fair, you could say the same about any exercise bike that has hand grip pulse sensors because none of them are as accurate as chest strap monitors.
Otherwise the only other thing to say is that there are no extra features to get excited about. For instance, there are no workout programs that you can use to vary your routines, and there are no speakers or a fan, for example. It doesn't even come with a water bottle holder, which is a common feature found on most exercise bikes these days.
Final Thoughts
Despite the lack of extra features, it is fair to say that both the SF-RB4601 and SF-RB4602 models are pretty good value for money when you consider the quality of construction and the high weight capacity of 300 and 350 pounds respectively.
They both offer 8 levels of magnetic resistance and as well as being easy to assemble, they both seem to deliver a comfortable and quiet workout experience for people of all shapes and sizes.
However if you are prepared to pay a little bit more, this SF-RB4602 model is probably the one to go for because as well as having a slightly higher weight capacity, it also has a larger LCD display that is easier to read.
→ Click here to buy the Sunny Health & Fitness SF-RB4602 Recumbent Bike