Introduction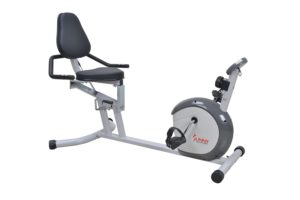 Sunny Health & Fitness have produced some top quality upright bikes and indoor cycling bikes over the years, but they have recently developed two brand new recumbent bikes for 2016.
Both of these new models – the SF-RB4601 and SF-RB4602 – are designed for people on a budget, but in this article I want to review the cheaper of the two – the Sunny Health & Fitness SF-RB4601 Recumbent Bike.
This is very much an entry-level recumbent bike that is designed for home use, but it is already starting to receive a number of positive customer reviews. So let's take a look at this particular machine in more detail.
Features And Benefits
8 magnetic resistance levels
LCD display monitor
track time, speed, distance, calories and pulse
quiet belt drive system
large cushioned seat and back support
hand grip pulse sensors
ideal for fitness, toning and weight loss
easy to assemble
suitable for anyone up to 300 pounds
Product Dimensions / Weight
The exact dimensions of this bike (in inches) are 56 (L) x 28.5 (W) x 43 (H), and it has a total weight of around 65 pounds. There are no transport wheels attached, but it is still said to be easy enough to move around if you want to move it from one room to another.
Positives
As is the case with all recumbent exercises bikes, the major benefit of this Sunny SF-RB4601 bike is that it allows you to work out in a reclined position and has a back support to provide you with a much more comfortable workout experience.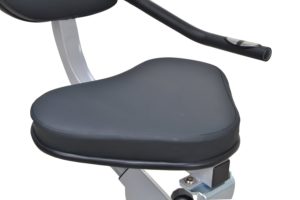 Indeed this particular machine comes with a large cushioned seat that can be adjusted forwards and backwards really easily using the handle at the side, and has a nice cushioned back support as well.
It is also worth pointing out that although this is a low-cost recumbent bike, it is still a really strong machine because it has an extended weight capacity of 300 pounds. Therefore it can easily be used by both men and women without any problems.
Plus it is not hard to assemble either because many people have commented that it was a fairly easy job that didn't take very long at all.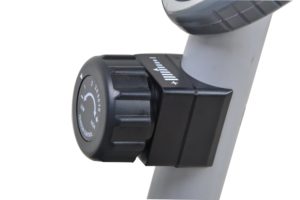 Of course this is not a top-end recumbent bike that has lots of workout programs and resistance levels, but it does have a magnetic resistance system with 8 adjustable resistance levels in total, and has a quiet belt drive transmission system that delivers a smooth workout.
It also has a small LCD display that indicates time, speed, distance and calories burned, and if you place your hands on the pulse monitors on the side handlebars, it will also tell you your pulse rate as well.
Finally, it has a walk-through design that makes it very easy for people with mobility problems to get on and off, and because it is quite low, it enables you to watch TV at the same time if you so wish.
Negatives
As I mentioned above, there are no workout programs included with this SF-RB4601 recumbent exercise bike, but that applies to all of the entry-level recumbent bikes in this price range.
In addition, although the LCD display provides you with some useful performance data, it is quite small and is not backlit, which may make it a little hard to read in dark conditions.
Otherwise there don't appear to be any other obvious flaws with this new recumbent exercise bike from Sunny Health & Fitness.
Final Thoughts
There are lots of good quality recumbent bikes that you can buy nowadays, but this new machine from Sunny Health & Fitness seems to be an ideal choice for people on a budget.
That's because there are no major issues that could potentially put you off buying this machine, such as low quality parts or an uncomfortable seat, for example.
This bike will give you a good quality workout with its 8 levels of resistance, is comfortable to sit on with its cushioned seat and back support and has an LCD display console that helps you monitor your performance, even if it is fairly basic. Plus it is strong to enough to support anyone up to 300 pounds, so it is not a cheap, flimsy machine that is going to fall apart after a few months.
→ Click here to buy the Sunny Health & Fitness SF-RB4601 Recumbent Bike
Also Available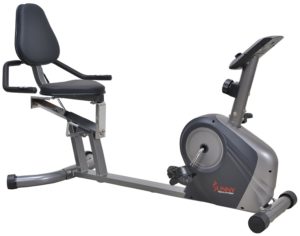 In addition to the model above, Sunny Health & Fitness have also produced another new recumbent bike for 2016 – the SF-RB4602 Recumbent Bike.
This bike is similar in appearance and shares many of the same features, but is slightly more expensive to buy because it features a much larger display and has a larger weight capacity of 350 pounds.
So if you weigh between 300 and 350 pounds, or if you would prefer a larger display console, you might want to consider buying this particular model instead of the SF-RB4601 model.