Introduction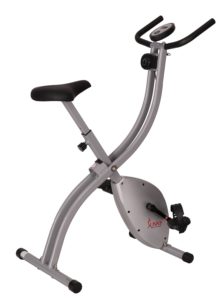 Exercise bikes have become more and more affordable over the years, and you will also find that they don't necessarily have to take up a lot of room in your home because there are now lots of folding bikes available that are easy to store away once you have completed your workout.
These folding bikes are obviously not as strong as a gym bike, and don't have much in the way of extra features, but they are ideal for older people and people who just want to lose weight and improve their fitness without having to join a gym.
So with that in mind, I thought it would be a good idea to review the SF-B2605 Folding Magnetic Exercise Bike because this is a new model for 2016 from Sunny Health & Fitness.
Features And Benefits
8 magnetic resistance levels
includes basic LCD display
track time, speed, distance and calories
large cushioned seat
easy to assemble
light and easy to fold away
smooth and quiet in operation
suitable for anyone up to 220 pounds
Product Dimensions / Weight
The exact dimensions of this particular upright bike (in inches) are 34 (L) x 17 (W) x 43 (H) when it is fully assembled, and it can be folded to a size of 13 (L) x 21 (W) x 53 (H) when it is not being used. The total weight of this machine is around 33 pounds.
Positives

One of the main reasons why you should consider buying this Sunny SF-B2605 bike is because it is fairly strong and sturdy (with a reasonable weight capacity of 220 pounds) and can be folded away for storage when you have finished using it.
Indeed it can fold flat like an ironing board (as you can see from the photo) so it won't take up very much room at all, and you can easily store it against a wall or behind your sofa, for example.
In addition, it is also said to be really easy to assemble, with many people reporting that it was a fairly simple job that took them no longer than about 30 minutes.
With regards to the actual workout, this bike uses a magnetic tension system with a total of 8 resistance levels, which you can adjust really easily using the knob that is located directly in front of you.
The LCD display is fairly basic, but it displays key performance data such as time, speed, distance covered and calories burned, which is fairly standard for a bike in this price range.
There is no flywheel as such, but many people have reported that this bike delivers a smooth and quiet workout and is comfortable enough to sit on thanks to the large cushioned seat.
Negatives
Of course with such a low price tag, there are inevitably a few drawbacks that need to be highlighted.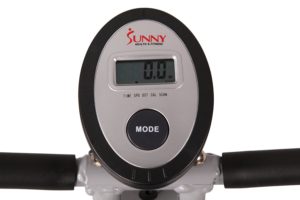 For a start, despite the fact that some product descriptions state that the display will track your pulse, this doesn't seem to be the case because it is not actually listed on the display console and doesn't seem to have any hand grip sensors on the handlebars to record your pulse.
Secondly, it would appear that the resistance could be a little more challenging because the lowest resistance setting offers hardly any resistance at all, and the highest setting is maybe not as hard as it could be.
So whilst this bike will be more than sufficient for seniors and occasional users, for example, it might not be sufficient for those people who are already in good shape and want to push themselves hard.
Finally, although many people will be able to use this machine without any problems, it might be a little unstable and potentially dangerous if anyone above 220 pounds attempts to use this bike because this is the maximum weight limit.
Final Thoughts
The one thing to say about this Sunny Health & Fitness SF-B2605 Folding Magnetic Bike is that it has obviously been developed by Sunny Health & Fitness, who have a reputation for producing good quality affordable exercise machines for the home.
So this is one reason why you might want to consider buying this model instead of some of the other folding bikes that are available.
However it is also comfortable to use thanks to its cushioned seat and is quiet enough for you to watch TV at the same time.
Yes it would be nice if it had a pulse monitor and had a more challenging range of resistance, but unless you are a serious fitness fanatic, you may well find that these resistance levels are more than adequate.
→ Click here to buy the Sunny SF-B2605 Folding Upright Bike
Also Worth Considering
If you are concerned about the relatively modest weight limit of 220 pounds, you might want to consider buying this Exerpeutic bike instead because this has a much higher weight limit of 300 pounds.
Similarly, if you would like to track your pulse rate and would maybe like to perform your workouts with some support for your back, you might want to think about buying the new bike from Best Choice Products instead because this has elements of an upright bike and a recumbent bike, and can still be folded away for storage.