Introduction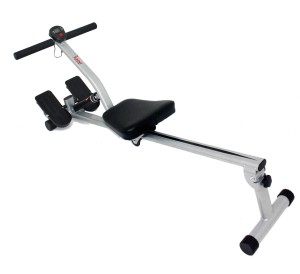 There are lots of really good rowing machines that you can buy if you have a budget of $500 – $1000 (or more), but today I want to review the Sunny Health and Fitness Rowing Machine because this appears to be a good alternative for those people who want to buy a much cheaper machine.
Of course it's never going to come close to the Concept 2 rowers or the WaterRowers in terms of features and performance, but it doesn't claim to be.
This one is aimed solely at those people who want to enjoy all of the health and fitness benefits of rowing without spending a great deal of money.
Features And Benefits
lightweight and portable
comes with 12 resistance settings
includes electronic display unit
track time, strokes, calories, etc
comfortable padded seat
oversized foot plates
suitable for anyone up to 220 pounds
Dimensions / Weight
One of the benefits of buying one of these cheaper models is that they are generally small and compact and easy to move around, and that certainly applies to this model because it only weighs 21 pounds and has dimensions (in inches) of 53 (L) x 20 (W) x 22 (H).
Positives
The Sunny Health and Fitness rower may be one of the cheapest rowing machines on the market, but it is one that has received a lot of positive customer reviews, with many people reporting that they were pleasantly surprised at the quality of this machine.
For a start, this is a very light machine that is easy to move around from room to room and doesn't take up a lot of space in your home, which is one of the main selling points, but it also has a solid steel frame that is strong and sturdy enough to accommodate anyone up to 220 pounds. Therefore it is not a flimsy machine like some of the others in this price range.
It also gives you a pretty good workout because it has 12 hydraulic resistance levels that basically go from really easy to almost impossible. So you can push yourself as much as you like on this machine.
You will also find that it comes with an LCD display that gives you key performance data such as time, number of strokes and calories burned.
Finally, the workout itself is said to be pretty comfortable because it comes with a padded seat and has oversized foot plates with adjustable straps that will hold your feet firmly in place.
So these are some of the best features of this Sunny Health and Fitness Rowing Machine.
Negatives
In order to provide a balanced review, I should of course discuss some of the negative points as well.
I guess the main downfall is that this is a hydraulic rower, which is probably my least favorite type of rowing machine because these are noisier and more prone to wear and tear than the magnetic and air resistance machines, for example.
In addition, there are no workout programs and no pulse monitor, and even though it's nice to have an LCD display included with this machine, it is very basic and a little on the small side.
Final Thoughts
If you are new to rowing and just want a decent low-cost machine that will help you lose weight, get in shape and tone up your arms, legs and core muscles, then this machine should meet all of your basic requirements.
→ Click here to buy the Sunny Health and Fitness Rowing Machine
If, however, you would like a machine that has more features and offers a smoother and quieter workout, then you might want to think about buying a rowing machine that has air, magnetic or water resistance. These tend to be a lot more expensive, but they will generally last a lot longer.