Introduction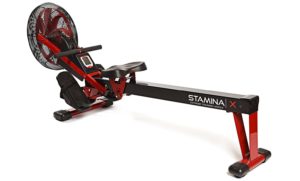 Stamina have produced a number of low-cost rowing machines for people who want to work out at home, but there is one relatively new model that seems to be proving popular with home users – the Stamina X Air Rower (35-1412 model).
Rowing machines that employ an air / wind resistance system can be quite expensive, but this particular model, which has a very distinctive red and black design, is one of the more affordable ones that you can buy right now.
So in this article I want to review this rower in more detail, and give you a full run-down of some of the main pros and cons of this machine.
Features And Benefits
provides full-body cardio and toning workout
smooth air resistance system
multi-function electronic display
track speed, time, distance, calories and strokes
comfortable molded seat
large pivoting foot plates
padded hand grips
durable rowing chain
includes floor protectors and transport wheels
easy to assemble
can be folded away for easy storage
suitable for anyone up to 250 pounds
Product Dimensions / Weight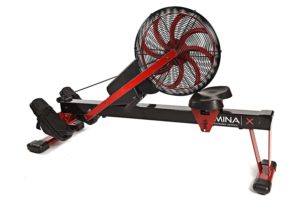 This particular rowing machine has dimensions (in inches) of 78.5 (L) x 18 (W) x 29 (H) when it is fully assembled, but if you don't want it taking up space in your home all the time, you can fold it away really easily so that it is only around 52 inches in length (as show in the photo).
This machine comes with its own transport wheels if you would like to move it from one room to another, but with a total weight of 63 pounds, it is not really that heavy anyway.
Positives
Although it cannot be compared to some of the very best rowing machines, there are several reasons why you might want to consider buying this Stamina X rowing machine.
For a start, this is an affordable rower that is a step up from all of the hydraulic rowing machines that are available.
That's because this machine uses air resistance (also referred to as wind resistance) that is smooth and efficient, and responds to your every stroke.
There are no fixed resistance levels. You simply increase the intensity of your rowing stroke if you want to increase the resistance, and ease off if you want to lower the resistance.
With regards to some of the other benefits, there is very little in the way of extra features.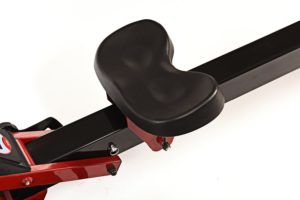 However this Air X rowing machine does have a padded handle and a molded seat for extra comfort, as well as large pivoting foot plates to provide a wider range of motion and prevent any ankle pain. It also has a really strong rowing chain that is strong and durable, and designed to last a long time.
As well as this, it also comes with an electronic monitor that indicates speed, distance, time, calories burned, strokes per minute and total strokes so that it is easy to track your performance.
So there is everything you need to get a really effective cardio and toning workout that will work your upper and lower body, and one final thing to say is that this machine can be folded away for storage really easily if you are not going to be using it all the time.
Negatives
One of the main drawbacks of any wind resistance rowing machine is that they can generate a reasonable amount of noise, and that applies to this Stamina X Air Rowing Machine as well.
It is not an ear-shattering noise by any means, but it is loud enough to be slightly annoying if you are trying to watch TV at the same time, for example.
A few people have also pointed out that the seat is quite hard and not that comfortable when you are using this machine for long periods, but most people don't seem to have any complaints with the seat to be fair.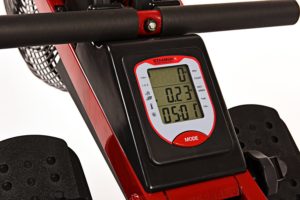 Another slight drawback is that the LCD display is small and fairly basic. Although there are six readouts in total, which is more than adequate, it doesn't display your pulse because there are no pulse sensors of any description.
Indeed unlike some of the more advanced machines, there are no speakers or workout programs built into the console, and no fitness apps either.
However it is worth remembering that this machine is one of the most affordable air resistance rowers, and would probably be a lot more expensive if it had some of these extra features.
Final Thoughts
Overall I think it is fair to say that this Stamina X rowing machine is not exactly a fancy machine that is loaded with extra features.
Indeed this is certainly not the machine to buy if you want workout programs, fitness apps, built-in speakers and a tablet holder, for example, because the console is fairly basic with only six standard readouts (time, speed, distance, calories, total strokes and strokes per minute).
However it does appear to be a good quality machine for the money because it has a smooth and efficient air resistance system that responds to your every stroke, and has lots of nice touches that help to make your workout as comfortable as possible.
So you can still get a really effective workout that can be as intense or as easy as you want it to be, which is the most important thing.
You just need to decide whether you can live without these extra features, or whether it is worth paying a bit more for a mid-range model that will have these kind of features as standard.
→ Click here to buy the Stamina X Air Rower