Introduction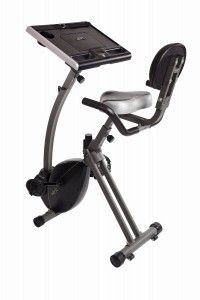 Many people struggle to find time to exercise during the week because of their hectic work schedules. So if this applies to you, you may be interested to know that you can now buy exercise bicycles that come with their own work desks so that you can exercise and work at the same time.
One of the best machines that offers this facility is the FitDesk bike, particularly the latest v2.0 model.
However in this article I want to review the Stamina Wirk Ride Cycling Workstation because this is a slightly more affordable machine that is also very highly rated.
Features And Benefits
comes with 17.25" x 10" work surface
ideal for tablets, laptops, books and documents
padded seat and backrest
foam hand grips
standing and seated desktop position
includes multi-function LCD display
adjustable levels of resistance
suitable for anyone up to 300 pounds
Product Dimensions / Weight
When this machine is fully assembled, it has dimensions (in inches) of 37.25 (L) x 25.5 (W) x 45.5 (H) and weighs approximately 45 pounds. Therefore it is not a particularly heavy machine, but is still strong enough to accommodate anyone up to 300 pounds.
Also as mentioned above, it has a workstation that measures 17.25″ x 10″ that is easily big enough to hold most people's laptops, and has a strap that will keep it firmly in place.
Positives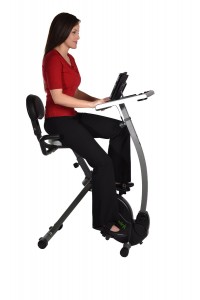 The biggest benefit of this Stamina Wirk Ride machine is of course the fact that it comes with a built-in desk so that you can write documents or do some work on your laptop, for example, whilst keeping fit and active at the same time.
However you could also use this desk for entertainment purposes as well because it has an adjustable holder for your tablet device if you want to watch movies or listen to music, for example, and can also hold books in place without any problems should you wish to do some reading whilst working out.
This machine has a cup / glass holder so that you can make yourself a cup of tea of coffee or pour yourself a glass of water and keep it on the desk without worrying about it falling over once you start pedalling away.
It is also designed to be as comfortable as possible because it has a padded seat and backrest and has foam hand grips that you can hold on to when pedalling if you so wish.
Indeed the actual exercise bike is pretty good because it has adjustable magnetic resistance so that you can vary the intensity of your workouts, and comes with an LCD display that will help you track your performance because it displays time, speed, distance and the number of calories that you have burned.
Finally, one other feature that I really like about this machine is that you can also use it as a standing desktop if you so wish (as shown below). So if you are worried about the negative health effects of sitting down all day, which have been much publicized in recent years, you can adjust the desk forward and do some work standing up if you prefer.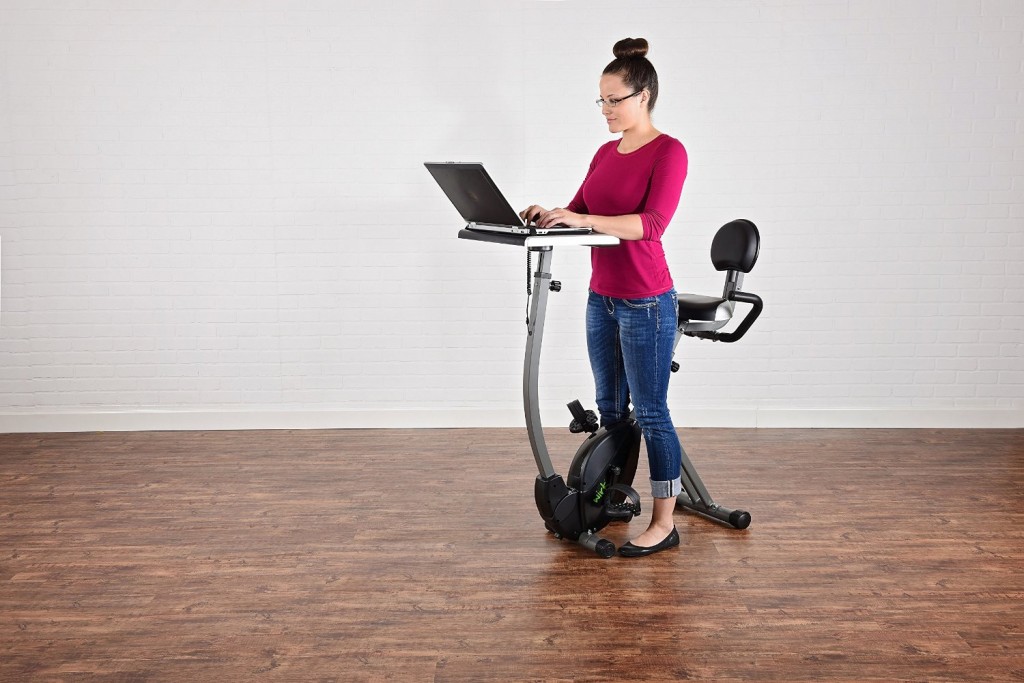 Negatives
As with any bike of this type, you would have to say that it is not going to have as many features or offer the same kind of high-intensity workout as some of the top indoor exercise bikes, for example.
That's because it is designed to be a multi-purpose exercise bike and workstation rather than a top-of-the-range exercise bicycle.
Nevertheless this machine has still received a huge number of positive feedback from people who have tried using this machine at home, with the only real complaint concerning the seat, which some people find to be a little uncomfortable. However you can always buy a gel seat cover if you find this to be a problem yourself.
Final Thoughts
Overall this Stamina Wirk Ride Cycling Workstation is one of the most affordable two-in-one exercise bikes, and is a serious rival to the FitDesk 2.0 bike because it is just as comfortable to use and also offers a varied range of workout options with its adjustable resistance, but is not quite as expensive.
The only thing I would say is that the FitDesk 2.0 model comes with resistance bands so that you can get an upper body workout as well as a lower body workout, and comes with a sliding drawer which I don't think this one does. So it is up to you to decide whether these features justify the extra cost.
This bicycle is probably not suitable for the serious fitness fanatic because it only offers a light to moderate workout, but for home and office workers who simply want to keep active, improve their fitness, tone up their legs and lose weight whilst they work, this is well worth considering.
→ Click here to buy the Stamina Wirk Ride Cycling Workstation