Introduction
If you are looking to buy an indoor exercise bike that is not overly expensive, but is still a cut above most of the low-cost bikes, then you might want to consider buying the Stamina CPS 9300 Indoor Cycle Trainer.
As with all of the models recommended on this site, this machine is very strong and sturdy and manages to offer a very realistic riding experience, whilst enabling you to perform the same kind of exercises that you might do in your group cycling class.
So let's start off by listing some of the main features of this particular model:
Features And Benefits
40-pound flywheel
solid steel frame
Intouch LCD fitness monitor
track time, speed, distance and calories
quiet belt drive operation
full range of adjustable resistance
fully adjustable seat
adjustable non-slip handlebars
adjustable toe cages
includes water bottle holder and bottle
comes with its own transport wheels
accommodates users up to 300 pounds
Dimensions / Weight
This bike has a very solid construction and is very well-made, but is relatively light compared to some of the other indoor bicycles, with an overall weight of around 102 pounds. Therefore it is easy enough to move around, particularly with the help of the transport wheels. With regards to the size of this machine, its exact dimensions (in inches) are 44 (L) x 44 (H) x 19 (W).
Positives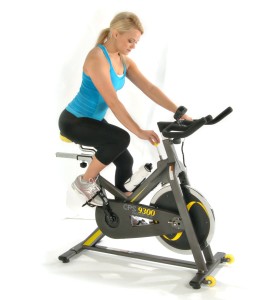 The Stamina CPS 9300 may not be the best indoor cycle on the market (that award goes to the Keiser M3i Cycle), but when you consider the price of this machine, it does still provide you with good value for money.
That's because it delivers a smooth and quiet ride with no movement at all (even in a standing position) thanks to a combination of the large 40-pound flywheel, the belt drive mechanism and the solid build of this machine.
It also offers a comfortable ride as well because you can adjust the seat forwards, backwards, up and down to find the best position, and the handlebars can also be adjusted up and down if necessary. There are also adjustable toe cages that prevent your feet from slipping out during your workout and offer upward and downward resistance.
You also get a varied and challenging workout because there is a resistance knob that you can adjust during your workout to make it as hard or as easy as you like, and to help monitor your performance, there is a basic LCD display that tells you all the essentials such as speed, time, distance and calories burned.
Negatives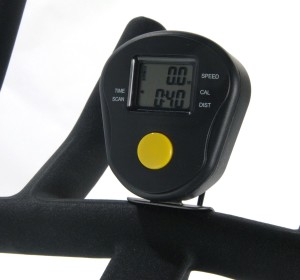 There are, however, a few drawbacks that are worth highlighting. For a start there is no pulse monitor, which you will often find on some of the other bikes in this price range, and as you can see from the photo, the LCD display that is included with this bike is fairly basic.
In addition, there are no workout programs included, which I know some people like to use. However to be fair, even some of the most expensive gym-standard bikes don't include any workout programs either.
Finally, as with virtually every single exercise bicycle, the seat isn't as comfortable as it could be, although this can easily be remedied with a gel seat cover, for example.
User Feedback
This Stamina CPS 9300 indoor exercise bike has certainly had a lot more positive reviews than negative ones since it first went on sale a few years ago.
Based on some of the comments that have been posted online on various websites, it would appear that people of all shapes and sizes (from 5'0 to 6'5) have managed to get a good workout on this particular machine, and have had no problems adjusting the seat and the handlebars to find a comfortable riding position.
Indeed many people have commented on the fact that it offers a realistic riding experience in general, and is largely smooth and quiet in operation, and ideal for indoor road training and for performing indoor cycling HIIT routines.
A few people have complained about the odd noise here and there, and there have been a few issues with damaged parts, but on the whole, most people seem to have been pleased with their purchase because it compares favorably with many gym-standard bikes, but is a lot less expensive.
Demonstration Video
Where To Buy The Stamina CPS 9300 Indoor Cycle Trainer
If you would like to buy the Stamina CPS 9300 Indoor Cycle, it is available from Amazon.com, Walmart and a few other sites, and if you do encounter any problems with this particular machine, it comes with a 3-year warranty on the frame and a 90-day warranty on the parts.
This is an excellent machine for the price, but if your budget can stretch a little further, you might want to consider buying the Sole Fitness SB700, which has a larger 48-pound flywheel and a longer warranty on both the frame and the parts, or the Diamondback 510IC, which offers 16 fixed levels of resistance and comes with 14 workout programs if that is something that you require.