Introduction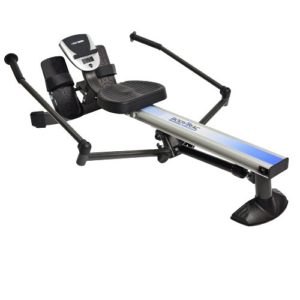 The BodyTrac Glider 1050 has long been one of the top-selling entry level rowing machines, but it does still have its limitations, which is presumably why Stamina have recently developed a new and improved model.
The Stamina BodyTrac Glider 1060 Rowing Machine is very similar in terms of size, appearance and functionality, but crucially the makers of this machine have addressed many of the problems associated with the previous model that people have complained about.
So in this article I want to review this particular rower in more detail, and see how it compares with the BodyTrac Glider 1050 to help you decide which one, if any, you should consider buying yourself.
Features And Benefits
12 hydraulic resistance levels
large electronic monitor with tablet holder
track time, strokes, total strokes and calories
comfortable molded seat
large footplates
padded hand grips
realistic rowing motion
can be stored in upright position
easy to assemble
steel frame construction
suitable for anyone up to 250 pounds
Product Dimensions / Weight
This BodyTrac Gider 1060 Rower is small and compact, just like the previous model, with dimensions in inches of 49.25 (L) x 36 (W) x 20 (H), and is also very light because it only weighs 34 pounds.
Furthermore to take up even less space, you can fold the arms in and stand it on its end when you are not using it.
Positives
One thing that you will immediately notice about this BodyTrac Glider 1060 is that it has rowing arms instead of a bar and cable. This means that you get a much more realistic workout because the rowing motion is similar to rowing in an actual boat.
In addition, you also get a pretty comfortable workout on this machine because there are padded grips on the handlebars, and the footplates come with adjustable straps and are large enough to accommodate feet of all shapes and size without slipping out.
Plus this new model also features a premium molded seat that is a lot more comfortable to sit on than most other indoor rowers.
With regards to the quality of the workout, this machine is designed to improve your cardiovascular fitness and tone up your arms, abs, back, legs and glutes, and it does seem to provide a challenging workout because there are 12 resistance levels in total and the higher levels are said to be pretty intense.
The resistance can be adjusted manually using the dial on the underside of the frame, and although this is not ideal, it is easy enough to adjust the resistance level during your workout.
Another positive feature of this 1060 Rowing Machine is that it has a decent electronic monitor that is large and easy to read.
Plus as well as displaying key data such as time, strokes, calories burned and the total number of strokes that you have completed on this machine, it also comes with a tablet holder so that you can keep yourself entertained during your workout.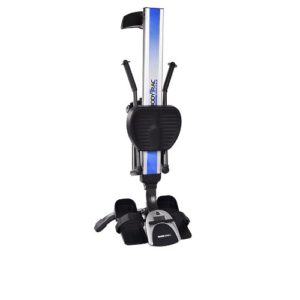 Finally, it is worth making the point that this machine is light and compact and easy to fold away for storage (as shown in the photo), whilst also being strong enough to support anyone up to 250 pounds thanks to its steel frame construction. It is also said to be really easy to assemble, which cannot be said about some of the other rowing machines that are available.
Stamina BodyTrac Glider 1060 v Stamina BodyTrac Glider 1050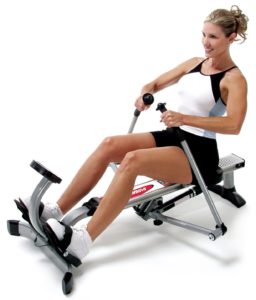 If you are wondering how this upgraded 1060 model compares to the previous 1050 model (pictured right), the Stamina BodyTrac Glider 1060 basically has a deluxe molded seat and larger footplates so that you get a more comfortable workout.
It also has a larger electronic monitor that is clearer and easier to read than the one on the 1050 model, and now features a tablet holder, unlike the previous model.
Negatives
As is the case with all hydraulic rowing machines, the workout on this machine will not be as smooth or as intuitive as a magnetic or an air rowing machine, for example, despite the fact that it has a realistic rowing motion.
Another slight drawback of this machine is that although Stamina have designed a larger electronic monitor that now has a holder for your phone or tablet device, for example, it still only displays a limited amount of performance data, ie time, strokes, total strokes and calories burned.
There are no pulse monitors to record and display your pulse rate, and there is no way of knowing your current speed or the amount of distance that you have covered, for instance.
Finally, a few people have commented that the calorie reading may not be completely accurate, but this can be said about lots of other exercise machines as well because these readings are notoriously inaccurate.
Final Thoughts
Despite still having one or two minor flaws, it has to be said that Stamina seem to have addressed many of the problems associated with the previous 1050 model because this BodyTrac Glider 1060 Rowing Machine has a more comfortable seat, an easier to read console that now includes a tablet holder and larger footplates that will prevent your feet from slipping out during your workout.
So if you are looking to buy a low-cost entry-level rowing machine for your home, this is definitely one to consider, particularly if you are looking to get a realistic rowing workout.
→ Click here to buy the Stamina BodyTrac Glider 1060 Rowing Machine