Introduction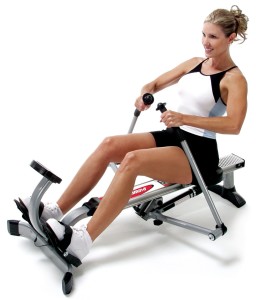 In an ideal world many of us would love to own a Concept 2 rowing machine or a WaterRower, for example, like the one Frank Underwood used in House of Cards.
However a lot of people cannot afford to spend $1000 or more on one of these machines, and some people simply do not have enough room in their home to accommodate one of these machines, which is why low-cost rowers are always very popular.
Of course some of these cheaper models are better than others, but one of the most popular entry-level machines is the Stamina Body Trac Glider 1050, which is the one I want to review today.
Key Features And Benefits
12 levels of resistance
multifunction electronic display
track time, strokes and calories
provides realistic rowing workout
small and compact
can be folded away for easy storage
strong steel frame construction
large padded seat
very easy to assemble
suitable for people up to 250 lbs
1-year frame warranty
90-day parts warranty
Product Dimensions
The Stamina Body Trac Glider 1050 has a very small footprint, and is therefore ideal if space is at a premium, because it is just 46 inches long and 23.5 inches wide. Furthermore, when it is not being used, you can fold it away really easily so that it will take up even less room in your home (as you can see from the photo above).
Pros
One of the biggest selling points of this Stamina Body Trac rower is that it is small and compact, and ideal for small spaces, as I have just alluded to. It is also said to be really easy to assemble straight of the box, which means that you can be up and running in about 15 minutes or so.
However there are several other reasons why this low-cost rower would make quite a good investment.
For a start, you will get a pretty challenging workout on this machine because there are 12 levels of hydraulic resistance, which should be more than enough to satisfy most people's needs. It is also easy to monitor your performance whilst you are working out because the LCD display will tell you how much time has elapsed, how many calories you have burned and how much distance you have covered.
The machine itself is also said to be really strong considering its low price point because it has a sturdy steel frame construction that can accommodate users up to 250 lbs, and is comfortable enough to use for long periods of time because it has a large padded seat for you to sit on.
It is also worth mentioning the actual rowing action because whilst some machines have a simple cable bar that you pull, this one has two arms that essentially act as oars and give the whole workout a more realistic feel.
Cons
This Stamina Body Trac Glider 1050 is essentially an entry-level rowing machine, so it is unlikely to be smooth enough and intuitive enough to satisfy professional rowers, and certainly isn't in the same league as the Concept 2 rowers, for instance, which are more suitable for these elite athletes.
Furthermore, whilst I haven't used this particular machine myself, I have owned a few hydraulic resistance rowers in the past and they never seem to last as long as a magnetic or air resistance rower, which tend to be a lot more expensive and generally provide a much smoother workout with less wear and tear.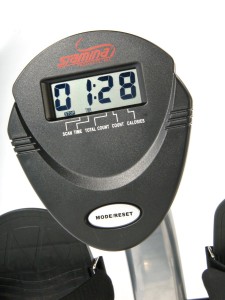 With regards to user feedback, there have been a few complaints online about people's feet slipping out of the footplates from time to time, particularly those with smaller feet, and one or two people have complained that the LCD display is very basic, which is hard to disagree with because there are only three different readouts available (time, strokes and calories burned).
Overall, though, it has to be said that many users seem to be impressed with the overall performance and longevity of this particular machine, and have been happy enough with the quality and intensity of the workout that they have been getting from this small, compact rower.
Final Thoughts
The Body Trac Glider 1050 may only be half the size of some of the gym-standard rowers, but this does mean that it can be used in small spaces and is very easy to fold away, and in terms of value for money, it is pretty hard to beat.
That's because it offers a full range of resistance levels, is very strong and sturdy, and delivers a smooth, comfortable and realistic workout that will target your arms, back, shoulders, abs and legs, and will help to improve your overall fitness levels.
→ Click here to buy the Stamina Body Trac Glider 1050 Rowing Machine
Also Available – The Stamina BodyTrac Glider 1060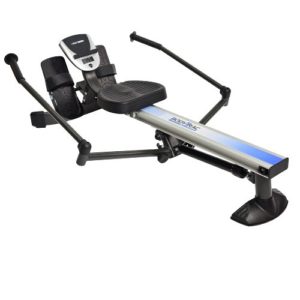 Stamina have recently made improvements to this 1050 model and created this new BodyTrac Glider 1060, which is a little more expensive, but is easily good enough to justify this extra cost. That's because improvements have been made to the seat, footplates and electronic monitor in particular.
Subsequently the seat is more comfortable to sit on, the footplates are larger and more secure and the electronic monitor is larger and easier to read.
Plus you will find that the monitor now comes with a tablet holder just above the screen so that you can watch all of your favorite TV shows and movies whilst you are working out.