Introduction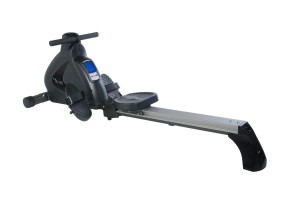 Magnetic rowers are a step-up in quality from hydraulic rowers, but you could argue that they are not quite as good as the top-end air rowers, such as the Concept 2 rowing machines, for example,
That's why they are always quite a popular choice with many home users because they are generally priced somewhere between the two, and are still capable of delivering a really good workout.
This is certainly true of the Stamina Avari Programmable Magnetic Exercise Rower because this is consistently one of the top-selling rowing machines on the market, and is generally considered to be a good quality magnetic rower that is pretty good value for money on the whole.
Key Features And Benefits
12 programmed workouts
electronic In Touch Fitness Monitor
track time, strokes, distance, calories, pulse, etc
comes with chest strap heart monitor
comfortable molded seat
foam padded rowing handle
smooth aluminium beam
adjustable foot straps
folds for easy storage
suitable for people up to 275 pounds
Product Dimensions / Weight
This particular rowing machine has product dimensions (in inches) of 81 (L) x 20 (W) x 24.5 (H) and weighs approximately 80 pounds when fully assembled. However if you are worried that it will take up too much space in your home, it can be folded up for storage fairly easily.
Positives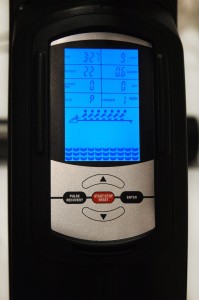 One of the major benefits of this Stamina Avari Rower is that it includes 12 workout programs that can be monitored and controlled using the impressive electronic LCD display unit.
This includes 6 cardio programs, 1 heart rate program, 1 manual program and 4 custom programs, so you will always be able to have a varied and challenging workout.
The magnetic resistance can be adjusted up and down at any time during your workout using the electronic buttons on the display unit, and you will be able to monitor every aspect of your performance because this LCD display has readouts for time, strokes, strokes per minute, distance, calories burned, pulse and watts.
The pulse rate is recorded using the chest strap monitor, which is included free with this machine, and is particularly useful when used during the target heart rate program.
With regards to comfort, this Stamina Avari machine has foam padded handles and a molded seat to provide a comfortable workout experience, as well as large foot plates with adjustable velcro straps to keep your feet securely in place.
In addition, the rowing motion is designed to be as smooth as possible thanks to its extruding aluminium beam, and you will find that this particular machine has a low center of gravity to ensure that there is no movement during your workout.
Finally, unlike some of the heavy-duty magnetic rowers, this one can be folded away for easy storage, and yet is still strong enough to accommodate anyone up to 275 pounds without any problems.
Negatives
With regards to the negative aspects of this Stamina Avari Programmable Magnetic Rower, many people have commented on the comfort on the seat, but some people have still complained that it is uncomfortable to use, and said that it required a gel seat cover or a cushion to make it more comfortable.
The only other issue I could foresee regards the display unit because if anything were to go wrong with this monitor after a certain length of time (and it was out of warranty), you wouldn't be able to adjust the resistance or the workout program, and it would essentially be unusable.
Final Thoughts
Overall this Stamina Avari Rower is a strong and sturdy machine that has a wide range of workout programs, including the ability to create your own custom programs. So you will always be able to have a challenging and demanding workout on this machine.
Furthermore, this particular rowing machine has a very advanced LCD display compared to most other machines in this price range, and offers a smooth, quiet and comfortable workout experience that is sure to help tone up your whole body and improve your cardiovascular fitness.
So it is easy to see why this is mid-range magnetic rower is consistently one of the best-selling indoor rowers on the market.