Introduction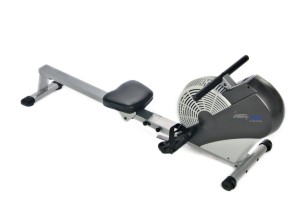 If you are looking to purchase a low-cost rowing machine, there are several hydraulic machines that you can buy for as little as $100 or less that will give you a decent enough workout.
However if you are prepared to pay a little bit more, you might want to consider investing in the Stamina Air Rower because this has air resistance instead of hydraulic resistance, which delivers a smoother and more intuitive workout, and is a lot stronger.
This has received lots of positive customer reviews and continues to be one of the top-selling indoor rowers. So let's check out some of the features of this particular rower and look at some of the main pros and cons:
Key Features
responsive wind resistance system
solid steel construction
smooth and efficient workout
multi-function performance monitor
padded upholstered seat
oversized seat rail
large foot plates
fold-away design (see right)
includes transport wheels
easy to assemble
suitable for users up to 250 lbs
Product Dimensions
This particular machine has dimensions (in inches) of 77 (L) x 18 (W) x 22 (H) when it is fully assembled, and 48 (L) x 18 (W) x 28 (H) when it is folded away. Therefore it will take up less space than some of the top-end rowers, and although it has a sturdy steel construction, it is not that heavy either because it only weighs 54 pounds.
Pros
First of all it is worth mentioning once again that the Stamina ATS Air Rower 1399 is a very strong rowing machine, and is significantly stronger than some of the super-cheap models that cost less than $100. Subsequently it can accommodate users up to 250 pounds without any problems.
It also has a better resistance system than these cheaper models because this one uses wind resistance, which is smooth and efficient and adjusts to the intensity of your rowing stroke.
Therefore instead of having to adjust the resistance manually, you simply row harder if you want to up the resistance and ease up if you want to lower the resistance, just like many of the machines that you will find in your local gym.
The workout that you get on this machine is designed to be as comfortable as possible because it has some large foot plates and an oversized seat rail to accommodate people of all heights, and has a padded upholstered seat to provide extra comfort.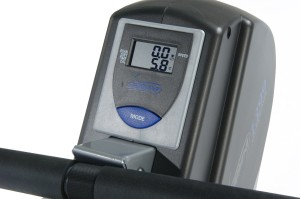 It is easy to track your performance because there is an LCD display monitor attached to this machine that indicates time, speed, distance and calories.
Finally, it is worth noting that you can fold this machine away when you are not using it, which is ideal if you live in a small apartment, for example.
So overall there are a lot of positive features, when you consider the relatively low price of the machine.
Cons
There are no major problems with this particular model, but there are a few minor issues that are worth highlighting.
First of all the electronic display unit is quite small compared to some of the other rowers, and because there are no pulse monitors on this machine, there is obviously no way of measuring your heart rate during your workout.
Plus there are no workout programs included with this machine, and no way of connecting to any third party apps, which are some of the features that you might require if you are a serious rower.
Finally, a few people have commented that this machine is a little noisy, but that's true of all air resistance machines because of the way they operate.
Final Thoughts
If you are a professional rower and are looking for a top quality machine to train on whenever you are away from the water, then you should probably consider investing in a Concept 2 Model D rower because this is a commercial grade machine, and is the same one that many of the elite athletes use.
However if you are looking to buy a good quality rowing machine that will last many years and will give you an excellent cardio workout and tone up both your upper and lower body, then the Stamina Air Rower is one of the best options out all of the cheaper models that are available.
The display monitor is a little basic and there is no pulse monitor included, but overall this is a strong and sturdy machine that has a really good resistance system, and is suitable for people of all fitness levels.