Introduction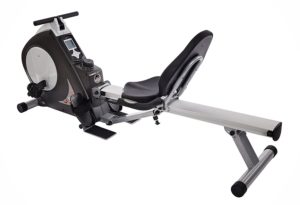 As you may have noticed, there are a few rowers available that will not only give you an effective rowing workout, but will also enable you to get a decent strength training workout as well in order to build and tone your muscles.
One such model is the Kettler Stroker Rower and Multi-Trainer, which comes with its own strength station and enables you to perform up to ten different muscle-building exercises for your arms and upper body.
However in this article I want to tell you about the Stamina 15-9003 Conversion II Recumbent/Rower because this is essentially a rowing machine, a recumbent exercise bike and a strength station all in one. Therefore you can get a full-body toning and cardio workout using a single machine.
Features And Benefits
can be used as a rower or a recumbent bike
top bar can be used for upper body workout
suitable for cardio training and muscle toning
8 magnetic resistance levels
large LCD display
track time, distance, speed, calories and pulse
includes side handles with hand grip pulse sensors
padded seat and back rest
padded rowing handle
pivoting footplates
aluminum seat rail
foldable frame for easy storage
smooth and quiet in operation
sturdy steel construction
accommodates users up to 250 pounds
Product Dimensions / Weight
The exact dimensions of this hybrid exercise machine (in inches) are 75.5 (L) x 20 (W) x 27(H) when it is fully assembled, and it can be folded away for storage to a size of 35.5 (L) x 20 (W) x 56 (H) when it is not being used.
The total weight of this machine is 106 pounds, but there are transport wheels attached that will make it easier to move around, if required.
Demonstration Video
Positives
It goes without saying that the key benefit of this Conversion II machine is that it doubles up as a rowing machine and a recumbent exercise bike. Therefore you can do rowing and cycling on a single machine instead of having to buy two separate machines.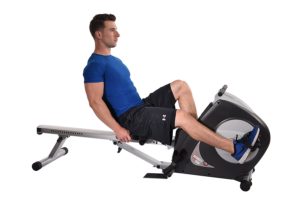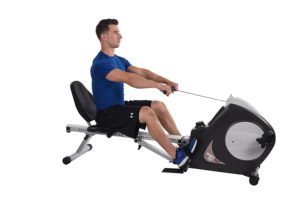 As a result of this, you can improve your cardiovascular fitness and maintain a healthy weight, whilst at the same time toning your arms, shoulders, legs, back and glutes and strengthening your core.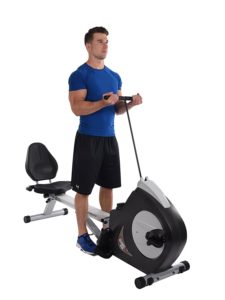 Plus if that wasn't enough, the rowing handle can be used to perform a range of muscle-building exercises for your upper body, such as bicep curls, shoulder raises, tricep extensions and upright rows, for example, and you can even do some leg presses by attaching the cord to the seat hook.
It should be noted that it is very easy to switch from a rowing workout to a cycling workout (and vice versa) because you just have to lock the seat in place using the pin when you want to use the recumbent bike, and unlock the pin when you want to switch back to the rowing machine.
The seat has a back rest to provide support when you are using the recumbent bike, and both the seat and the back support are padded with foam to provide extra comfort.
There is also padding on the actual rowing handle, and you will find that the footplates rotate as you row to prevent any strain or discomfort. In addition, both the footplates and the foot pedals have adjustable straps to keep your feet securely in place.
The seat rail is made from aluminium and glides very smoothly as you row, and the whole machine is very well made, which is why it can accommodate users up to 250 pounds without any problems.
With regards to the actual workouts, there are 8 magnetic resistance levels that you can use for your rowing, cycling and muscle-toning workouts, and you can adjust this resistance very easily by using the tension control knob that is located right in front of you.
There is also an LCD display just above this tension knob that will help you monitor your performance because it will indicate time, speed, distance, calories burned and pulse.
The pulse reading is taken from the sensors on the side handles, so you will only be able to see your pulse rate when you are using the recumbent bike, but the point is that this console still displays all of your key performance data whether you are using the rower or the exercise bike.
It is also worth mentioning that this Stamina 15-9003 machine makes very little noise whichever workout you choose to perform. The rowing machine is inevitably a little noisier due to the additional moving parts, but it is still said to be fairly quiet.
It is also convenient to use because it can be folded away for storage when it is not being used, and has transport wheels attached to the base should you wish to move it around.
Finally, if you do decide to buy this hybrid machine, the good news is that the frame is covered by a 3-year warranty.
Negatives
One slight issue I have with this machine is that the parts are only covered by a 90-day warranty, which isn't exactly ideal if any of the parts develop a fault after this time has elapsed.
In addition, a few people with larger feet have found that their feet can sometimes slip out of the footplates when using the rower. This isn't a major problem, but it may be annoying if you have to interrupt your workouts occasionally to tighten the straps.
Finally, as mentioned above, you can only keep track of your pulse when using the recumbent bike because the sensors are built into the side handles, and as is so often the case with many exercise machines, the calories burned readout is not going to be 100% accurate.
Final Thoughts
The Stamina 15-9003 Deluxe Conversion II Recumbent Bike/Rower may not necessarily be suitable for experienced rowers and cyclists who require intense workouts, advanced fitness tracking statistics and a range of extra features.
However if you are looking to lose weight, improve your fitness level, tone up your entire body and actually build a little muscle, this appears to be a good choice because you can do all this using a single machine.
→ Click here to buy the Stamina 15-9003 Conversion II Recumbent/Rower