Introduction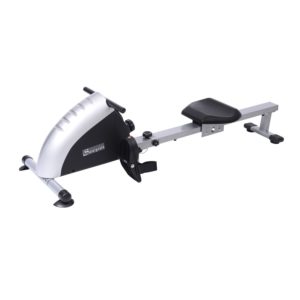 Magnetic rowing machines are a step up from hydraulic rowing machines because they are generally better quality, and tend to be smoother and quieter in operation.
As a result of this, they are often a little more expensive, but it is still possible to buy an affordable magnetic rower for your home.
One model that is proving to be quite popular with home users is the Soozier Magnetic Folding Rowing Machine, which offers 8 levels of magnetic resistance.
This doesn't have a lot of extra features but as I will hopefully demonstrate in the rest of this review, it is not a bad machine if you are looking for a decent entry-level model that you can use for toning and fitness.
Features And Benefits
8 magnetic resistance levels
includes easy-to-read ABS monitor
track time, count, total count and calories
large foot plates with adjustable straps
comes with its own floor protectors
smooth and quiet in operation
strong metal frame construction
compact design
can be stored upright when not being used
suitable for anyone up to 220 pounds
Product Dimensions / Weight
The exact dimensions (in inches) of this Soozier rowing machine are 68 (L) x 21 (W) x 19 (H) when it is fully assembled, so it is quite a small and compact machine.
However it can be folded and stored in an upright position if required (folded dimensions are 29 (L) x 21 (W) x 45 (H)), and is easy enough to move around because it only weighs 42 pounds.
Positives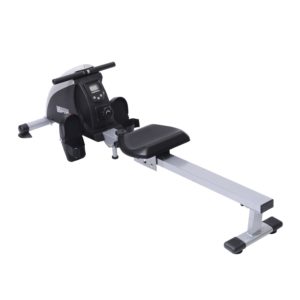 One of the key selling points of this Soozier rower is that it costs about the same as a standard hydraulic rower, but offers a smoother workout with its 8 levels of magnetic resistance, and should last a lot longer as well.
Furthermore this machine is said to be fairly quiet in operation, just like many other magnetic rowers, so it is ideal for home use, particularly as it can be folded into an upright position when it is not being used, and has protectors to protect your floor and prevent any movement during your workouts.
Indeed as I mentioned above, this is a light and compact machine that is very easy to move around if you intend using it in different rooms, for example.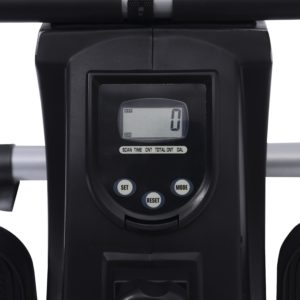 You will find that this machine comes with its own monitor that will help you track your performance by displaying time, calories burned, strokes and total number of strokes (during the lifetime of the machine).
It also has large foot plates to accommodate both men and women, and comes with adjustable straps to keep your feet firmly in place during your workout.
Finally, it should also be mentioned that this folding rower has a strong metal frame construction that can accommodate users up to 220 pounds, and comes with all of the tools that you will need to actually assemble this machine.
Negatives
As with many small and compact rowing machines, this Soozier folding rowing machine is not ideal for taller people because although it may still be usable, you will not necessarily be able to complete a natural rowing action and may feel a little cramped.
In addition, it is not really suitable if you are heavily overweight (or very big and muscular) because it has a maximum weight capacity of 220 pounds, which is lower than many of the other magnetic and hydraulic rowing machines.
Another drawback of this machine is that there are no workout programs or fitness apps, which is understandable considering the low price of this machine, but it doesn't even have any pulse sensors to help you monitor your heart rate.
Furthermore, the display is fairly basic and doesn't display all of the data readings on one screen. Plus it is not backlit either, which means that the numbers may be harder to read in dark conditions.
Final Thoughts
It is safe to say that the Soozier Magnetic Folding Rowing Machine is not a feature-packed machine that is designed for professional rowers. This is very much an entry-level magnetic rower that is suitable for home users who want to tone up and improve their fitness.
The good thing about this machine is that it is smooth and quiet in operation with a durable and easy-to-use resistance system. Plus it is light and compact and easy to fold away when you have finished using it.
So if you are not impressed with many of the hydraulic rowers that are available, or simply want to buy an affordable magnetic rower, this is not a bad choice at all (providing that you are not overly tall and don't weigh more than 220 pounds).
→ Click here to buy the Soozier Magnetic Folding Rowing Machine