Introduction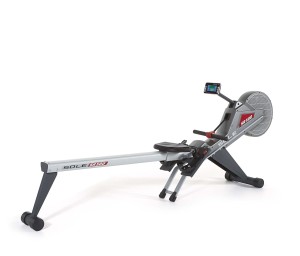 If you are looking to buy a top quality rower that you can use at home, you may well have considered the Concept 2 rowers or the WaterRowers, for instance, because these are all very highly rated machines that should last for many years.
However there is a relatively new rowing machine from Sole Fitness that you might also want to consider because this appears to be a strong, heavy-duty machine that offers an equally good workout.
It's called the Sole SR500 Rower, and although it is relatively expensive, it does have some impressive features that justify this high price tag.
Key Features And Benefits
16 levels of resistance
powerful magnetic/air resistance system
maintenance-free belt drive
10 workout programs
backlit LCD display (pictured right)
built-in heart rate monitor
high seat position
extra long aluminium rail
solid heavy-duty construction
realistic feel
foldaway design
maximum user weight of 515 pounds
lifetime warranty on frame
3-year warranty on electronics and parts
Product Dimensions / Weight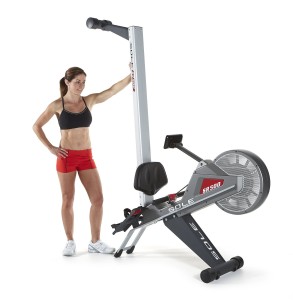 Rowing machines come in all shapes and sizes these days, but this one is definitely at the larger end of the scale because it is similar in size to the heavy-duty machines that you might find in your local gym.
Its exact dimensions (in inches) are 46 (H) x 94 (L) x 18 (W), so even though it can be folded away when you are not using it, it will take up quite a lot of space in your home.
Nevertheless, with an overall weight of 115 pounds, it is clearly a very strong machine, which is why it can accommodate anyone up to 515 lbs and comes with a lifetime warranty on the frame.
Pros
As mentioned above, this Sole SR500 model is clearly a large, well-made machine, and one of the main benefits is that it can accommodate pretty much anyone because it has a large weight capacity of 515 pounds, and has a long aluminium rail that can accommodate people of all heights.
However there are several more reasons why this particular rowing machine might be a good investment.
For example, this Sole SR500 machine uses a powerful eddy current resistance system, which is basically a combination of air and magnetic resistance that ensures that you get a really smooth and realistic workout every time you use it. Plus you will find that this belt drive system requires no maintenance at all.
There are a total of 16 different resistance levels in total, which should be more than enough to provide you with a really challenging workout, and there are also a series of 10 workout programs for you to use, which include 6 standard programs, 2 custom programs and 2 heart programs.
You can monitor your performance using the 5.5-inch backlit LCD display, which is conveniently placed just below eye level, and is attached to the end of an arm so that it is easy for you to read during your workout.
This will indicate your speed, distance, 500m time, total time, strokes per minute, total strokes and calories burned, and it will also tell you your pulse rate because this machine comes with a wireless chest strap that you can use.
Finally, it is worth mentioning that this particular rower is said to be very easy to assemble, and is easy to get on and off because it has a high seating position.
So taking all of these things into consideration, it is easy to see why this Sole SR500 rowing machine has received a number of positive customer reviews so far.
Cons
As with any large item of home fitness equipment, one of the biggest drawbacks of this particular machine is its size because with an overall length of 94 inches, it is just under 9 feet long, and you will obviously require a little more space than this when you are actually using it in order to complete your rowing stroke.
However it can be folded away when it is not being used, which will free up some space, and it does have some wheels at the front if you want to move it to another room, for example.
It is hard to find too many other faults because apart from one or two people complaining that they haven't been able to work out how to fold it away properly, the general consensus is that this machine is easy to assemble and comfortable to use, is very strong and sturdy and has a wide range of workout options.
Where To Buy The Sole SR500 Rower
If you would like to buy this top-end rowing machine from Sole Fitness, it is available to buy from this page at Amazon.com, where you can also read some of the customer reviews that have been posted so far.
It comes with a lifetime warranty on the frame, and if anything does happen to go wrong with some of the individual components, there is a 3-year warranty on parts and electronics and a 1-year labor warranty.
Sole SR500 Vs Concept 2 Rowers
I should finish this review by pointing out some of the key differences between the Sole SR500 Rower and the Concept 2 Rowers, in case you are still undecided about which one you should buy.
One of the main differences is that the Sole SR500 has 16 fixed levels of resistance that you can adjust manually, whereas the Concept 2 rowers have intuitive resistance whereby the resistance automatically adjusts to the intensity of your rowing stroke, and there are no fixed resistance levels as such.
Another key difference is that although this Sole SR500 is a similar size as the Concept 2 models, this one is significantly heavier than both the Model D and Model E indoor rowers. To give you an idea of how strong and sturdy this machine is, this Sole SR500 weighs approximately 115 pounds, whereas the Concept 2 Model D weighs 57 pounds and the Model E weighs 65 pounds.
Finally, a few users have commented that the Sole SR500 seems to be slightly noisier than the Concept 2 machines, but apart from that, though, there is very little to choose between them because they have both received a lot of positive customer reviews, and both seem to deliver a top class workout.