Introduction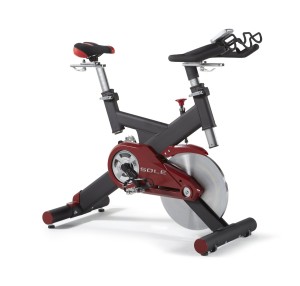 There are lots of low-cost indoor cycling bikes that will give you a pretty good workout, but if you are prepared to pay just a little bit more, you can get yourself a really top quality, gym-standard machine that is just as good as many of the ones that you might find in your group cycling class.
A good example of one such machine is the Sole Fitness SB700 Exercise Bike, which is a popular mid-range exercise bike that is suitable for home use or light commercial use.
Here are some of the main features and benefits of this impressive-looking machine:
Features And Benefits
ideal for both HIIT workouts and indoor road training
knob-turn adjustable resistance
4-way adjustable seat and handlebars
large 48-pound flywheel
blue backlit LCD console
displays speed, time, distance, calories and RPM
compatible with wireless heart rate straps
includes 2 water bottle holders
solid construction
smooth and quiet in operation
accommodates users up to 300 lbs
lifetime warranty on the frame
3 year warranty on parts and electronics
Dimensions / Weight
The dimensions of this indoor bicycle (in inches) are 42 (L) x 21 (W) x 40 (H), which means that it takes up very little space compared to most other exercise bicycles, although as it is really solid and sturdy, it is one of the more heavier bikes with a weight of around 140 lbs. It does, however, come with transport wheels attached, which makes it a lot easier to move around.
Positives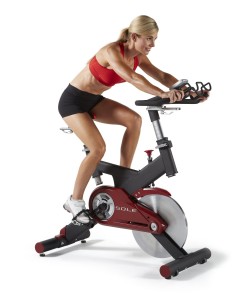 There are a few key factors that give this Sole Fitness SB700 bike the edge over many of the low-cost indoor cycling bikes.
The first is of course the large 48-pound flywheel, which guarantees a silky smooth and exceptionally quiet ride, and the second is the blue backlit LCD display, which is not generally included with the cheaper models, but will help track your progress by displaying your speed, time, distance, calories, RPM and pulse if you hook it up with a wireless chest strap.
Plus unlike some machines where you can only move the seat and the handlebars up and down, this one has fore/aft and up/down adjustments on both the seat and the handlebars so that you can find the perfect riding position. Therefore it can accommodate pretty much anyone, regardless of their height.
With regards to the actual workout, it is smooth and quiet, as mentioned above, but you can also make it as challenging (or as easy) as you like using the adjustable resistance knob. So there are no worries on that score.
As this is an indoor cycling bike, you will find that you can easily pedal away in a standing position if you so wish. Therefore it is ideal if you are looking to recreate your favorite workouts from spin class and perform high intensity interval workouts at home, for example, or if you simply want to cycle indoors without leaving your house.
Finally, it is worth mentioning that this is a really strong and durable machine that could easily be used in a light commercial setting if required, and is certainly strong enough to be used regularly at home.
This bike can support anyone up to 300 pounds, and comes with a lifetime warranty on the frame and a 3-year warranty on parts and electronics, which demonstrates how much confidence Sole Fitness have in their product.
Negatives
With regards to the negatives, there are very few drawbacks at all. One slight issue is that if you want to track your pulse rate, you will have to buy a separate chest strap monitor and connect it up to the console, whereas it would be so much more convenient if there was a pulse monitor built into the handlebars.
It could also be argued that the computer is fairly basic because it doesn't have any kind of workout programs, and doesn't have the ability to connect to any third-party fitness apps.
In addition, this particular machine is pretty heavy and cumbersome, which is not ideal if you are planning to move it around from room to room, but these are all fairly minor complaints to be fair.
Final Thoughts
This Sole Fitness SB700 exercise bike may not have the looks of the Keiser M3i Indoor Cycle, and you probably won't see it in your local gym, but it is fair to say that this is very much a gym-quality bike in terms of the overall build construction and durability, and the smoothness of the actual workout.
This indoor cycling bike is exceptionally well-made and is clearly built to last, and you won't have to worry about disturbing other people because it is really quiet in operation.
Furthermore, the responsiveness and consistency of the adjustable resistance is very impressive, and the range of resistance and the stability of this machine will ensure that you will always be able to get a challenging workout in both a seated and a standing position.
Therefore it is easy to see why many people end up buying this machine instead of one of the top-end commercial models that generally cost a lot more money.