Introduction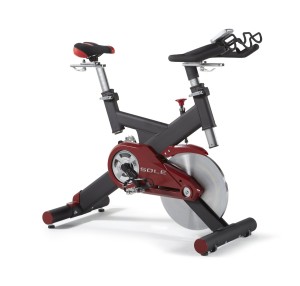 There are lots of low-cost indoor cycling bikes that will give you a pretty good workout, but if you are prepared to pay just a little bit more, you can get yourself a really top quality, gym-standard machine that is just as good as many of the ones that you might find in your group cycling class.
A good example of one such machine is the Sole Fitness SB700 Exercise Bike, which is a popular mid-range exercise bike that is suitable for home use or light commercial use.
Here are some of the main features and benefits of this impressive-looking machine:
Features And Benefits
ideal for both spinning and indoor road training
knob-turn adjustable resistance
4-way adjustable seat and handlebars
large 48-pound flywheel
backlit LCD console
displays speed, time, distance, calories and RPM
compatible with wireless heart rate straps
includes 2 water bottle holders
solid construction
smooth and quiet in operation
accommodates users up to 300 lbs
lifetime warranty on the frame
3 year warranty on parts and electronics
Dimensions / Weight
The dimensions of this indoor bicycle (in inches) are 42 (L) x 21 (W) x 40 (H), which means that it takes up very little space compared to most other exercise bicycles, although as it is really solid and sturdy, it is one of the more heavier bikes with a weight of around 140 lbs. It does, however, come with transport wheels attached, which makes it a lot easier to move around.
Pros And Cons Of The SB700 Exercise Bike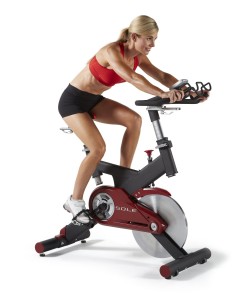 There are a few key factors that give this Sole Fitness SB700 bike the edge over many of the low-cost indoor cycling bikes.
The first is of course the large 48-pound flywheel, which guarantees a silky smooth and exceptionally quiet ride, and the second is the backlit LCD console, which is not generally included with the cheaper models, but will help track your progress by displaying your speed, time, distance, calories, RPM and pulse if you hook it up with a wireless chest strap.
Plus unlike some machines where you can only move the seat and the handlebars up and down, this one has fore/aft and up/down adjustments on both the seat and the handlebars so that you can find the perfect riding position. Therefore it can accommodate pretty much anyone (up to a maximum weight of 300 lbs), regardless of their height.
With regards to the actual workout, it is smooth and quiet, as mentioned above, but you can also make it as challenging (or as easy) as you like using the adjustable resistance knob. So there are no worries on that score.
Indeed there are very few drawbacks at all. One slight issue is that if you want to track your pulse rate, you will have to buy a separate chest strap monitor and connect it up to the console, whereas it would be so much more convenient if there was a pulse monitor built into the handlebars.
It could also be argued that the computer is fairly basic because it doesn't have any kind of workout programs, and doesn't have the ability to connect to any third-party fitness apps.
In addition, this particular machine is pretty heavy and cumbersome, which is not ideal if you are planning to move it around from room to room, but these are minor complaints to be fair.
Customer Reviews
The customer reviews have been very positive on the whole, as you can see for yourself if you read some of these reviews on Amazon.
One or two people have had issues connecting up their own heart rate monitors to the console, and there have been some complaints about how the product was packaged because some parts were damaged during delivery, but this can happen with large, bulky items and hopefully they have now rectified this problem.
Overall, though, most people seem to be very happy with the performance of this Sole Fitness SB700 bike, with some people claiming that this is the best indoor cycling bike that you will find in this price range because of the quality of the overall construction and the smoothness of the actual workout.
In addition, lots of people have commented on how quiet this bike is when it is being used, and have also been impressed by how challenging the workout is, as well as the responsiveness and consistency of the adjustable resistance.
So as I say, the feedback has generally been very good, and there have certainly been more positive reviews than negative ones.
Where To Buy The Sole Fitness SB700 Exercise Bike
If you would like to buy this SB700 indoor cycling bike from Sole Fitness, it is available from Amazon.com, and if you do have issues with damaged parts, like a few people have, their customer service is said to be very good. So you should have no problems getting a replacement.
Furthermore, there is a lifetime warranty on the frame and a 3-year warranty on parts and electronics for added peace of mind.