Introduction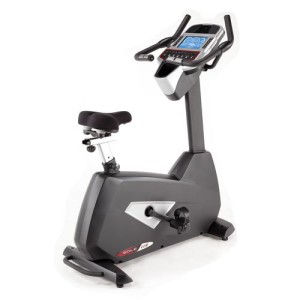 Sole Fitness have produced a number of top quality exercise bikes over the years, but their premier model is the Sole Fitness LCB Light Commercial Upright Bike, which is suitable for light commercial or home use.
As you might expect, this is quite an expensive machine, but if you are looking for a bike that will last you many years and has all of the workout options that you might need, then this one is well worth considering.
Before I discuss some of the pros and cons, let me provide you with a list of some of the main features and benefits of this particular machine to show you what you actually get for this price.
Key Features And Benefits
40 resistance levels
10 workout programs
30-pound flywheel
strong durable frame
self generating power source
9" backlit LCD console display
MP3 / iPod connectivity
built-in cooling fans
fully adjustable cushioned gel seat
oversized cushioned pedals
pulse grip heart monitor
suitable for anyone up to 300 pounds
Product Dimensions / Weight
This Sole Fitness LCB Bike has product dimensions (in inches) of 44 (L) x 23 (W) x 55 (H), so it won't take up a huge amount of space in your home, but with a weight of 132 pounds, it is clearly a solid heavy duty machine.
Positives
The first thing to say about the Sole Fitness Upright Bike is that this is a really strong and sturdy machine because it is designed for light commercial use. Subsequently it is backed up by a lifetime guarantee on the frame, and a 5-year guarantee on parts and electronics (3 years if it is being used in a light commercial environment).
So if you are planning on using this bike at home, you could use it every single day if you wanted to because it should be able to withstand regular use without any problems.
You don't even need to keep it near a wall because this bike is self generating and doesn't require any kind of power source at all.
In addition to being exceptionally well-made, this exercise bike also provides you with a full range of workout options. That's because there are 40 levels of resistance and 10 workout programs for you to use.
Yon could argue that a top-of-the-range bike such as this one should have a lot more workout programs included as standard (the similarly priced LifeCore Fitness 1060UB Bike has 47 workout programs), but with 6 standard workout programs, 2 custom programs and 2 heart rate programs, this should be more than sufficient for most people.
With regards to the quality of the workout, the large 30-pound flywheel ensures that there is a smooth transition between resistance levels, and you will find that this bike comes with a cushioned gel seat to provide extra comfort, and can be adjusted up, down, forwards and backwards to find the perfect riding position. You can also adjust the handlebars if necessary.
This Sole Fitness LCB Bike also comes with some oversized cushioned foot pedals that have a two-degree inward slope to ensure that they are aligned with your body's natural positioning and won't put any stress on your joints. So as you can see, everything is designed with comfort in mind.
Finally, it is worth mentioning the 9-inch LCD display because this is one of the largest and most detailed displays that you find on any upright exercise bike.
This easy-to-read display will give you all of your key performance data, and also has some really nice features because you can change the resistance levels electronically, and you can also plug in your MP3 player or iPod if you want to listen to some music through the sound system. It even has some built-in fans to keep you cool during your workout.
So overall it is clear that this Sole Fitness LCB Upright Bike has a lot of positive features that will give you a comfortable and challenging workout experience.
Negatives
One of the biggest flaws of this particular exercise bike is its weight because at 132 pounds, it is certainly one of the heaviest exercise bikes currently on the market.
This isn't really an issue if you are using it commercially or if you are planning on using it at home and keeping it in the same place all the time, but it could be a problem if you need to move it around from room to room or from one floor to another.
Furthermore, because it has such such a solid frame, you have to say that it will never win any awards for its looks.
Plus as I mentioned earlier, it could possibly benefit from having a few more workout programs considering how expensive this particular machine is.
Final Thoughts
Despite a few minor issues, I would say that this Sole Fitness LCB Light Commercial Upright Bike still justifies its high price tag because you do get a lot for more money.
In addition to being an exceptionally strong machine that should last you for a very long time, it offers 40 levels of resistance, 10 workout programs and a whole host of extra features, including an impressive multifunctional display console. Plus with the cushioned seat and pedals, you are guaranteed a comfortable workout every time.
So in short, you are basically getting a commercial-quality bike without the exorbitant $2000 – $4000 price tag.