Introduction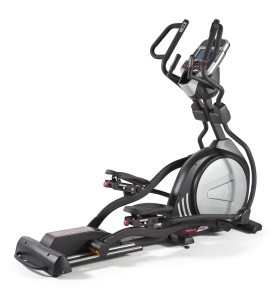 Elliptical machines can provide you with a very effective cardio workout that works both your upper and lower body in many cases, and so although they can take up quite a lot of room in your home, they can still be a great investment.
One of the top-rated elliptical trainers is the Sole Fitness E95 Elliptical Machine, which is deemed to be good enough for commercial use, but is also very popular with home users as well.
So in this article I want to examine this particular machine in more detail and see if it justifies its relatively high price tag.
Features And Benefits
20 ECB resistance levels
10 workout programs
quiet belt drive system
solid steel frame
large 34-pound flywheel
20-22 inch stride length
9-inch LCD display
hand grip pulse sensors and chest strap
built-in cooling fan and speakers
adjustable ergonomic foot pedals
includes moving and stationary handlebars
works upper and lower body
suitable for anyone up to 400 pounds
Product Dimensions / Weight
If you are going to buy a top-of-the-range elliptical, then you would naturally expect it to take up quite a lot of room in your home, and this one is so exception. Its exact dimensions in inches are 83 (L) x 32 (W) x 67 (H) and it has an overall weight of 236 lbs, according to the Sole Fitness website, with a total weight capacity of 400 lbs.
Video Demonstration
Positives
As you can probably tell from the video demonstration and the list of features and benefits above, there are many reasons why you should consider buying this Sole E95 Elliptical.
To begin with, it has far more options than many other elliptical machines with regards to resistance levels and workout programs.
This one has 20 ECB resistance levels and 10 workout programs (including 6 standard programs, 2 custom programs and 2 heart rate programs), and most impressively of all, it also has an adjustable power incline feature that enables you to target different areas of your lower body and push yourself even further.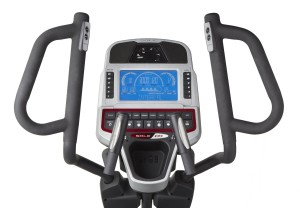 Both the resistance and incline controls are located in the handlebars for added convenience. These outer handlebars move forwards and backwards to deliver a decent upper body workout, but you can also hold on to to the smaller inner handles if you prefer, which is where you will find the hand grip pulse sensors. There is also a chest strap monitor included with this machine, which usually gives a more accurate reading.
You will find that this machine delivers a smooth and quiet workout thanks to the belt drive system, which is capable of moving forwards and backwards, and the large 34-pound flywheel.
Plus another impressive feature of this E95 Elliptical Machine is that it has ergonomically designed 15-inch foot pedals that have a 2 degree inward slant to prevent any stress to your ankles or knees. These pedals are fully adjustable and have a stride length of 20-22 inches to accommodate people of all heights.
With regards to the console, this Sole Fitness elliptical has an impressive 9-inch LCD display that is large and easy to read, and includes plenty of extra features, such as a built-in cooling fan, built-in speakers and a water bottle holder.
Finally, this machine has a solid steel frame that can accommodate anyone up to 400 pounds, making it one of the strongest ellipticals on the market, and if anything does happen to go wrong at any time, there is a lifetime guarantee on the frame, and a 5-year parts and electronics warranty.
Negatives
One feature that a lot of people look for these days is a reading rack or some kind of holder for their book, tablet or iPad device, for example, but if you do place any of these items on the little ledge that forms part of the console, you will end up blocking the display. So your only other option is to use the small water bottle container just underneath the display, but this is only really big enough to hold your phone or iPod.
In addition, it doesn't seem to have any kind of fitness apps, which is another feature that a lot of people expect to be included as standard in this day and age.
Finally, a few people have complained that the speakers are not really that impressive, and the cooling fan is not as effective as it could be.
Final Thoughts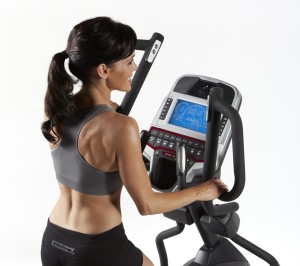 Whilst the Sole Fitness E95 Elliptical Machine has one or two minor flaws, it has received 'Best Buy' awards from many consumer magazines, and is widely considered to be just as good as many of the commercial ellipticals in terms of strength and performance.
It is strong enough and adjustable enough to accommodate people of all shapes and sizes, and has enough workout options to satisfy even the fittest of athletes with its 20 levels of resistance and its adjustable power incline feature.
So if you are looking to buy a top quality elliptical trainer for your home that will provide you with challenging and comfortable cardio workouts for many years, this machine seems to tick all the boxes.