Introduction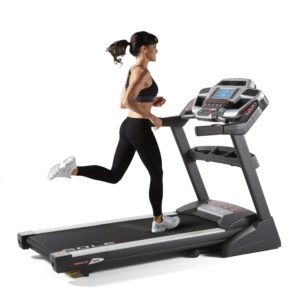 The Sole F80 Treadmill has always been a very popular choice for those people who are looking to buy a commercial-quality treadmill for their home.
However the Sole F85 Treadmill is said to be even better because it has a larger LCD display and a more powerful 4.0 HP motor, as well as a slightly larger weight capacity.
Of course this is reflected in the price because this newer model is more expensive than its predecessor, and costs a lot more than many other home treadmills. However as with anything, you get what you pay for, and in this instance you get a lot for your money.
(The following review is based on the latest 2016 model and may differ in appearance slightly from the one in the photos.)
Features And Benefits
powerful 4.0 HP motor
15 incline levels (up to 15 degrees)
10 workout programs
speed settings up to 12 MPH
10.1" LCD display
extra wide running surface
includes chest strap and pulse grip sensors
includes cooling fans and sound system
bluetooth compatible
can be folded away when not being used
suitable for users up to 400 pounds
lifetime warranty on frame, motor and deck
Product Dimensions / Weight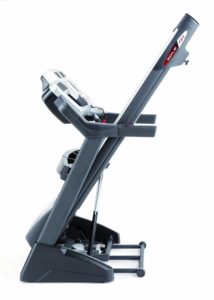 As you might imagine, this top-of-the-range treadmill is a substantial machine with dimensions in inches of 83 (L) x 37 (W) x 57 (H) and a total weight of 301 pounds. So you obviously need to ensure that you have sufficient space in your home to accommodate a machine of this size.
The good news is that if you do have limited space, you can always fold it away when it is not being used, which is a fairly simple task thanks to the rack and pinion design and safety lock. It also has an easy assist folding mechanism that makes it really easy to fold back down when you want to start using it again.
Positives
The first thing to say about this F85 folding treadmill is that this is Sole Fitness' most powerful machine as it comes with a 4.0 Continuous Duty HP motor.
This enables you to walk or run at speeds from 0.5 MPH all the way up to 12 MPH, which makes it suitable for walkers and joggers, as well as serious runners who are looking to get some really intense workouts.
It also has incline settings up to 15 degrees, which is a lot more than many of the cheaper alternatives, and once again ensures that people of all fitness levels can benefit from using this machine.
Plus for those people who want to achieve certain goals and objectives and add some variety to their workouts, there are 10 workout programs in total, which includes 6 auto programs, 2 heart rate programs and 2 programs that you can customize yourself.
All of these settings can be controlled using the one-touch buttons on the control panel, or you can use the speed and incline controls on the arm rests if you prefer.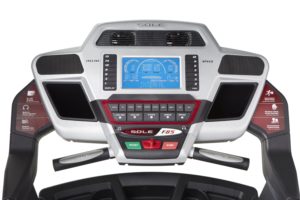 This particular treadmill comes with a 10.1" LCD display that will indicate all of your key performance data such as speed, time, distance, calories, pace and pulse (this machine includes pulse grip sensors and a free chest strap monitor).
It is also bluetooth compatible, which means that you can export your data to the Sole Fitness app or one of the other apps that are compatible with this machine.
Of course these features are worthless if the workout itself causes pain and discomfort, but thankfully the running deck is wide enough and long enough (60 x 22 inches) to accommodate people of all shapes and sizes. Plus it has cushion flex shock absorption to reduce the impact of your running action by up to 40% and prevent any pain in your knees, feet and ankles.
There are also cooling fans to make your workout more tolerable, as well as built-in speakers that can connect to your MP3 player to reduce the boredom of your workout.
Finally, it is worth pointing out that the F85 is a super strong treadmill that can accommodate users up to 400 pounds, and this is reflected in the fact that it comes with a lifetime warranty on the frame, motor and running deck, and a 5-year warranty on electronics and parts.
Negatives
It could be argued that the biggest negative is the price because although it is undoubtedly one of the very best treadmills on the market, it is also one of the most expensive models.
So you really need to be motivated enough and committed enough to use this machine for the foreseeable future in order to get your money's worth. If you are someone who gets bored very easily, you might want to consider buying one of the entry-level models instead so that you don't end up paying a lot of money for a machine that you never use.
Apart from this, a few people have complained about the quality of the customer service from Sole Fitness, but otherwise there are very few complaints about the machine itself, apart from the fact that it is a very heavy machine.
The only other thing I would add is that it would be nice if it had a few more workout programs because the LifeSpan TR4000i has 21 programs, for example, and the ProForm Pro 2000 has 32 built-in workout apps, whereas this one only has 10 programs.
Final Thoughts
It is fair to say that if you are looking to buy a heavy duty treadmill for your home that will last many years and give you all the workout options that you could possibly need, then the Sole Fitness F85 Folding Treadmill ticks all the boxes.
It has a super powerful motor that has speed settings up to 12 MPH, a choice of 10 workout programs and 15 different incline settings to make your workout as easy or as challenging as you like.
It also has an extra large running surface that is cushioned to absorb any impact and comes with a good quality LCD display that has one-touch controls, bluetooth compatibility and built-in speakers.
Plus it is exceptionally well-made and strong enough to support users up to 400 pounds, which means that pretty much anyone can use this machine.
So although it is admittedly fairly expensive and could benefit from having a few more programs, it could still be a great investment if you are serious about keeping fit and healthy, and intend using this machine for many years to come.