Introduction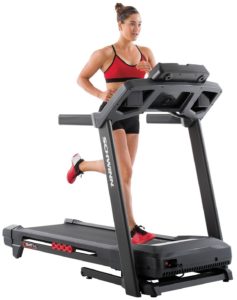 If you looking to buy a good quality treadmill that you can use regularly at home, you don't necessarily need to spend thousands of dollars on a commercial-grade machine.
However it is generally a good idea to steer clear of many of the cheaper models because these tend to have a limited number of incline settings, a relatively low top speed and a small running track.
So it is often a good idea to find a mid-range model that has a decent sized running track and enough workout options to keep you motivated, and is strong enough to last for many years, and one such machine that seems to satisfy all of these criteria is the Schwinn MY16 830 Treadmill.
Features And Benefits
powerful 2.75 CHP motor
22 preset workout programs
incline settings from 0-12%
speed settings from 0-12 MPH
20 x 55-inch running surface
SoftTrak cushioning system
SoftDrop deck folding system
dual-track 2-LCD blue backlit display
track time, distance, calories, pulse, speed, etc
export data to Schwinn Connect and other apps
4 user profiles
USB charging port and MP3 input
built-in speakers
3-speed cooling fan
media shelf
accommodates users up to 300 pounds
10-year frame and motor warranty
Product Dimensions / Weight
This particular treadmill has a total weight of 200 pounds (91 kg) when it is fully assembled, and has dimensions (in inches) of 72.2 (L) x 35.2 (W) x 57.6 (H).
The actual running track on this machine is 20 (W) x 55 (L), which is more than big enough to accommodate the majority of users.
Positives
Schwinn have a reputation for developing exercise machines that are loaded with extra features and provide you with lots of workout options, and this Schwinn 830 treadmill is no exception.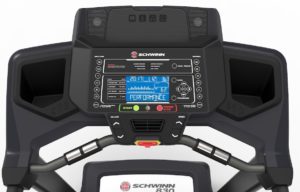 This particular treadmill has 22 preset exercise programs to help add some variety to your workouts and provide different challenges.
These include manual, quick goal, train, weight control, heart health and interval programs, and there are also two custom programs that you can set yourself.
In addition, you will find that this machine also has an adjustable motorized incline from 0-12% should you wish to simulate running up hills to varying degrees, and is powered by a 2.75 CHP motor that offers speed settings from 0-12 MPH, which is significantly more than many of the entry-level treadmills.
Therefore even the fittest of runners will be able to benefit from the high top speed and the numerous different workout options that are available when using this MY16 treadmill, and the good thing is that you can adjust all of these settings electronically using the buttons on the console.
In addition to having a range of controls for the speed, incline and workout programs, this console also has a media tray for your phone or tablet device, an MP3 input with built-in speakers to play all of your favorite music, a USB charging port and a three-speed fan to keep you cool.
It also houses a large 3 x 5-inch blue backlit LCD monitor that will display many different performance metrics, such as speed, time, distance, calories and pulse, as well as goal tracking metrics.
If you want to analyze this data more closely, you can export the data via the USB port to Schwinn Connect or one of the many other tracking apps that are available, such as MyFitnessPal, GoogleFit or Apple Health, for instance.
This console can save user profiles for up to four people, which means the whole family can jump on this machine and start working out using their chosen workout settings, and the treadmill itself is strong enough to support anyone up to 300 pounds.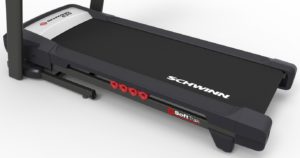 The durable 1.5 mm running belt is 20 x 55 inches, which is easily large enough for people with long running strides to use, and uses a SoftTrak cushioning system to prevent any joint pain.
There are large rollers on the bottom to ensure a smooth and quiet workout, and transport wheels attached should you wish to move it around.
Plus because it has a folding design, it is easy to fold away and store flat if you don't want it taking up valuable space in your home all the time.
Finally, it is worth mentioning that this Schwinn 830 treadmill has a 10-year frame and motor warranty and a 2-year parts and electronics warranty should anything go wrong.
Negatives
One slight negative is that the console on this particular treadmill doesn't have any Bluetooth connectivity like some of the very latest models, but this isn't a major problem because you can still export your data using the USB connection.
Another small product flaw is that the cooling fan isn't really that powerful and won't necessarily provide the kind of breeze that you might like, but it is still better than having no fan at all.
Finally, as this is a large piece of equipment that weighs 200 pounds, you might need to ask someone to help you assemble this treadmill once you are ready to put it together.
Final Thoughts
The Schwinn 830 treadmill has the same top speed as the commercial-grade ProForm Pro 2000 and LifeSpan TR4000i treadmills (12 MPH) and is comparable with many of the more expensive machines, such as the LifeSpan TR1200i, for example, in terms of the console display, the number of incline settings and the range of extra features.
So you don't really need to spend a small fortune on a commercial-grade machine because this strong and sturdy machine has a good quality cushioned running track, and has plenty of workout options to satisfy people of all fitness levels.