Introduction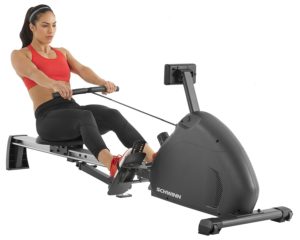 Schwinn are known for producing a range of outdoor bicycles, and a variety of different cardio fitness machines, including recumbent, upright and indoor training bikes as well as elliptical machines and treadmills.
However they have now produced an indoor rowing machine as well that is ideal if you are looking to tone up your muscles and improve your overall fitness level.
The Schwinn Crewmaster Rowing Machine has all of the hallmarks of Schwinn's other cardio machines because it is extremely strong and comfortable to use, and has a large easy-to-read display console that provides you with lots of useful performance data.
Features And Benefits
multiple magnetic resistance levels
large adjustable LCD display console
compatible with telemetric heart rate sensor
track time, distance, strokes, calories, recovery and pulse
large ergonomic padded seat
oversized smooth-glide steel rail
secure stable-row foot plates and straps
durable nylon transmission
smooth and quiet in operation
can be folded away when not being used
accommodates users up to 300 pounds
Product Dimensions / Weight
This magnetic rowing machine has exact dimensions (in inches) of 93.1 (L) x 21.1 (W) x 31.7 (H) when it is fully assembled, and can be folded to a size of 51 (L) x 21.1 (W) x 61 (H) when it is not being used. The total weight of this indoor rower is approximately 90 pounds (40.8 kg).
Positives
The first thing to say about this Schwinn Crewmaster rower is that it is not a cheap entry-level rower that is likely to break after a few workouts, like some of the really basic hydraulic rowers that are available to buy.
As with many Schwinn machines, this one is made from durable components and is strong enough to support anyone up to 300 pounds. Indeed it is backed by a 10-year frame warranty, and comes with a 3-year mechanical and electronics warranty, which is a sign of its overall quality.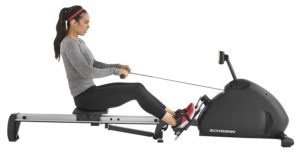 It is also suitable for people of all heights, including tall people over 6 feet, because it has an oversized steel seat rail that will allow anyone to get a full-length extension with every stroke.
With regards to the actual workout, this machine uses magnetic resistance, which is generally a lot smoother than hydraulic resistance, and ensures a really quiet workout experience, particularly as it has a really quiet nylon belt transmission as well.
You can adjust the resistance really easily using the adjustable resistance knob, and you can choose from 10 levels of intensity in total, which makes it ideal for people of all fitness levels.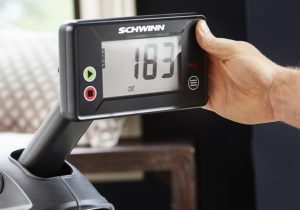 If you like to keep track of your performance, this Crewmaster rower has a large adjustable LCD display close to eye-level that will display time, speed, distance, calories, recovery and pulse (if you use a wireless chest strap receiver).
Finally, it is worth noting that this rower has been designed to be as comfortable as possible because it has a large padded ergonomic seat, as well as large foot plates with straps that will keep your feet firmly in place as you row. So you can easily use this rower for long periods without experiencing any discomfort.
Once you have finished your workout, you can choose to fold it away for storage if you have limited space in your home because this machine has a convenient folding design.
Negatives
This machine is still relatively new, so it hasn't had a lot of reaction amongst the rowing community, but nevertheless there are a few negatives that are worth highlighting.
First of all, it is worth pointing out that although the display console is compatible with a telemetric heart rate monitor and capable of displaying your heart rate, it doesn't actually come with a wireless chest strap as standard.
You will need to purchase a Polar branded uncoded chest strap monitor separately if you want to make use of this feature.
Apart from this, the other other drawback is that the foot pedals cannot be adjusted to different angles, but this shouldn't be a problem for most users in all honesty.
Final Thoughts
If you have a large enough budget, I would always recommend that you buy a Concept 2 rower because these are perfect for both professional rowers and fitness enthusiasts alike, but the Schwinn Crewmaster Rower appears to be a good quality machine if your budget cannot extend this far.
That's because it has a smooth, quiet and consistent magnetic resistance system with a choice of 10 different resistance levels, and is really comfortable to use for long periods thanks to the padded ergonomic seat.
Plus it also has a good quality display console to help you track your performance, and can accommodate many different users thanks to its oversized seat rail and its large weight capacity of 300 pounds.