Introduction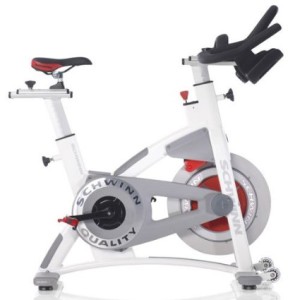 Schwinn have an unparalleled reputation for producing high quality exercise bikes, and so in this article I want to review their top-of-the-range model – the Schwinn AC Performance Plus Indoor Cycling Bike.
They actually produce two versions of this bike – the chain drive and the slightly more expensive carbon blue belt drive.
However because they share all of the same features (apart from the drive system), I thought I would review them both on this page instead of reviewing them separately, and will finish up by comparing the two.
Features And Benefits
maintenance-free 6-magnet brake system
smooth and consistent resistance
strong rust-free aluminium frame
high quality aluminium seat slider
fully adjustable seat and handlebars
double link pedals
available with chain drive or belt drive
suitable for anyone between 4"11 and 6"8
accommodates users up to 350 lbs
Product Dimensions / Weight
The exact dimensions of the Schwinn AC Performance Plus Indoor Cycle are 50" (L) x 21" (W) x 51" (H), and it weighs 112 lbs (51 kg) when it is fully assembled. This applies to both the chain drive and belt drive models.
Positives
The Schwinn AC Performance Plus is a high-end exercise bike that is suitable for home use or commercial use, so it obviously comes with a high price tag to match (even if you go with the slightly cheaper chain drive).
However in terms of build quality and performance, it is easily one of the best indoor cycles on the market because it delivers a comfortable and challenging workout for people of all fitness levels, and is ideal if you want to get fit, lose weight or perform some spinning-type workouts at home, for example.
It also offers a really authentic and realistic ride for the serious cyclist who wants to train indoors during the winter, for example. Indeed the AC in the name actually stands for Authentic Cycling because Schwinn pride themselves on the fact that their bikes feel just like an outdoor bike.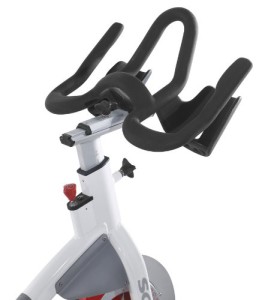 One of the major benefits of this bike is that it is smooth and quiet in operation (although the chain drive model is a little noisier) thanks to the maintenance-free 6-magnet braking system, and is really comfortable to use because the padded seat and the lightweight handlebars are easily adjustable to help you find the perfect position.
In fact you can even tilt the handlebars right up into an upright position if you prefer a more traditional exercise bike workout.
Furthermore the carbon blue belt drive system also has the advantage of being maintenance-free because it requires no lubrication and doesn't need to be adjusted at all, and even the chain drive requires very little maintenance if you decide to go with this particular model.
So when you consider that it has a high weight capacity of 350 lbs and is suitable for both men and women because it can be used by anyone between 4"11 and 6"8, it is easy to see why both versions of this bike are so highly rated.
Negatives
There are no real issues with the performance or build quality of this bike because it is exceptionally strong and sturdy and delivers a silky smooth workout.
The only real problem with this Schwinn AC Performance Plus is that although it is not really needed on an indoor cycling bike, it doesn't come with a computer console as standard. Therefore you will need to buy one separately if you want to monitor your performance.
These are available from Schwinn (or one of their distributors) and cost upwards of $199.
Chain Drive vs Carbon Blue Belt Drive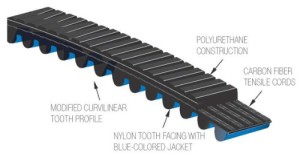 The new enhanced version of the Schwinn AC Performance Plus Indoor Cycle comes with a carbon blue belt drive (pictured right), which is quieter and more durable that a chain drive, and requires less maintenance.
It also has curvilinear teeth and runs at a similar tension to a bike chain, which ensures that you get a much more authentic riding experience.
So if you feel that it is worth paying a little extra for this carbon blue belt drive (and many customers have suggested that it is definitely worth the extra money), you might want to consider buying this Schwinn AC Performance Plus with Carbon Blue Belt Drive.
If, however, you are not too worried about a little bit of extra noise and a tiny bit of ongoing maintenance to keep it running smoothly, then you might want to consider buying the slightly cheaper Schwinn AC Performance Plus with Chain Drive because this is still an outstanding exercise bike in its own right.