Introduction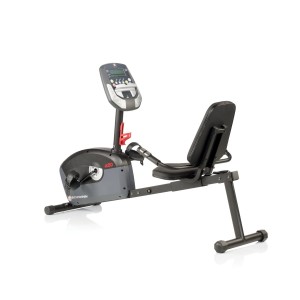 If you are looking to buy an affordable recumbent exercise bike for your home that will help you improve your fitness and maybe lose a few pounds, there are a few models that won't break the bank.
One such model is the Schwinn A20 Recumbent Bike, which continues to be a popular choice for people on a budget, despite the fact that it is a slightly older model that first went on sale back in 2013.
A lot of entry-level bikes are very basic and not particularly well-made, but this one is strong and sturdy and has a lot of extra features that you don't usually find on many machines in this price range.
Features And Benefits
8 magnetic resistance levels
7 workout programs
large LCD display
track time, speed, distance, calories, pulse, etc
hand grip pulse sensors
extra wide adjustable padded seat
includes media tray, fan and speakers
smooth and quiet in operation
accommodates users up to 275 pounds
Product Dimensions / Weight
This particular machine weighs approximately 60 pounds when it is fully assembled, and has dimensions in inches of 61 (L) x 16.5 (W) x 40.5 (H), according to the official Schwinn website. So you should be able to move it around fairly easily, particularly as it has transport wheels attached at the bottom.
Positives
You will find that this A20 machine from Schwinn doesn't have as many resistance levels or workout programs as some of their more expensive models, such as the 270 Recumbent Bike, for example, which has 25 levels of resistance and 29 workout programs.
However it still offers a wide range of resistance with its 8 magnetic resistance levels, and considering that many bikes in this price range don't have any workout programs at all, it is a welcome bonus to have 7 workout programs included with this bike.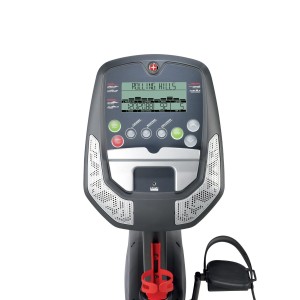 It is also worth mentioning the console unit because this is fairly large, and displays a lot of useful data such as time, speed, distance, calories burned, pulse rate and RPM.
It also has a media tray for your book, phone or tablet device and a sound system that you can connect to your electronic device to listen to your favorite music. Plus there is an integrated fan that is designed to cool you down during your workout.
With regards to the workout itself, this bike is smooth and quiet in operation thanks to the high speed, high inertia perimeter weighted flywheel, and there are oversized levellers fitted to the bike that provided added stability.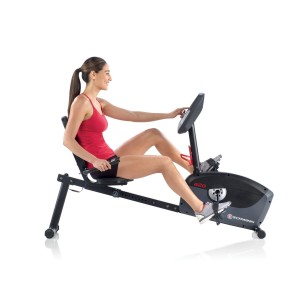 You will find that this bike has an extra wide padded seat that you can slide forwards and backwards to find the most comfortable riding position, and has handlebars by the sides (with built in pulse sensors) so that you can pedal away in a relaxed position.
Finally, it is worth pointing out that the solid build of this bike means that anyone up to 275 pounds can use this machine safely, so it can easily be used by multiple users, particularly as the sliding seat can accommodate users of all heights.
Negatives
There are a few negative points that are worth raising, even though they are not exactly deal-breakers.
For example, the readouts on the display are quite hard to read, even though the console unit itself is quite large.
In addition, if you actually make use of the media tray and watch your favorite TV shows on your iPad or tablet device, for example, you won't be able to read the display because it will be covered up.
You may also be disappointed with the strength of the fan because it is supposedly really weak and makes very little difference during your workout.
These are fairly minor issues to be fair, but it is still worth pointing out these problems nevertheless.
Final Thoughts
The Schwinn A20 Recumbent Bike is quite an old model now, and is very much an entry-level machine. However it is still one of the top recumbent bikes in this price range because it is very solid and sturdy and offers a good workout for people with mobility problems, or people who prefer the extra comfort that a recumbent bike offers.
Serious fitness fanatics may prefer to buy one of Schwinn's more advanced models, such as the 230 or 270 model, for example, because these have a lot more resistance levels and workout programs, but this bike should be sufficient to meet most people's needs.
→ Click here to buy the Schwinn A20 Recumbent Bike
New Updated Model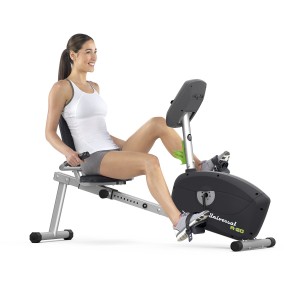 There is now a new updated version of this bike that you might want to consider buying – the Universal R20 recumbent bike.
This bike is made by Universal (who are part of the wider Nautilus group) and seems to be slightly more expensive than the A20 model.
However despite a slightly different appearance, it seems to have exactly the same dimensions and features as far as I can tell. So it is probably best to buy the Schwinn A20 unless of course you prefer the look of this new machine.