Introduction
There are lots of low-cost exercise bicycles that you can buy nowadays, but the Schwinn A10 Upright Bike, which first went on sale back in 2013, is still one of the most popular models.
So in this article I thought it would be a good idea to review this particular exercise bike, and look at some of the pros and cons to help you decide whether or not it is worth buying this bike for your home.
UPDATE: this model is no longer available to buy online or in stores, so you might want to check out the Fitness Reality 210 bicycle, for example, because this is similarly priced and has a lot more resistance levels and workout programs than the discontinued A10 model (24 and 21 respectively).
You might also want to take a look at the latest 130 model and the 170 model from Schwinn because these both have lots of resistance levels and programs, and are loaded with extra features.
Schwinn A10 Features And Benefits
8 magnetic resistance levels
7 workout programs
fully adjustable seat and handlebars
grip heart rate monitor
built-in speakers
large LCD display
track time, speed, distance, calories, pulse, etc
transport wheels
smooth and quiet workout
accommodates users up to 275 lbs
2-year warranty on the frame
6-month warranty on electrical components and parts
Positives
First of all it should be pointed out that this is obviously not the best upright exercise bike on the market.
Indeed it is not even the best exercise bike in the Schwinn range because the Schwinn 130 and the Schwinn 170 models, for example, have a lot more resistance levels and many more workout programs, and come with goal-tracking facilities and a few more extra features, such as a a USB port and a cooling fan, for example.
However if you don't really need some of these extra features, or if you just want to buy a low-cost bike for your home that will provide you with a decent workout, then the Schwinn A10 is still an excellent choice because it will definitely satisfy these criteria.
That's because there are 8 levels of magnetic resistance there will be more than sufficient for most people, and 7 workout programs that will add variation to your workouts.
Plus this model still has a few really useful features, such as a grip heart rate monitor and built-in speakers, for instance, which you don't generally get with many other bicycles in this price range.
User Feedback
The comments that have been posted online on various different sites have been very positive on the whole.
Despite only having 8 levels of resistance, it still seems to deliver quite an intense workout, particularly when combined with some of the various different workout programs that are available.
The Schwinn A10 is also supposedly very easy to assemble, which cannot be said about most of the exercise bikes that you can buy nowadays, which can easily take 1-2 hours to put together.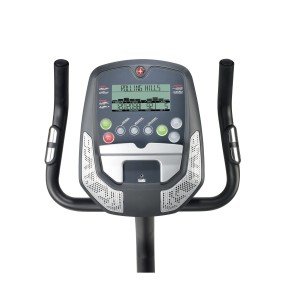 People also seem to like the built-in heart rate monitor, the impressive LCD display (pictured right) and the extra features that are included, such as the water bottle holder, the speakers on the display unit that can connect to your MP3 player and the media tray that you can use to place your books, magazines or iPad on, for example.
It has also received praise because of the fact that it can accommodate pretty much anyone from 5′ or less right the way up to around 6'5, thanks to the height adjustable seat, and is very strong and sturdy. Many users have also pointed out that it delivers a smooth and very quiet workout, which is another very important factor.
Negatives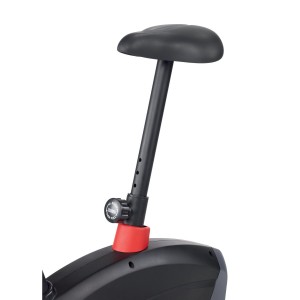 It seems that Schwinn and other companies continue to neglect the importance of a comfortable seat because as with many other home exercise bikes, this one also appears to have quite an uncomfortable seat.
This isn't a major concern because you can easily buy a replacement seat if you so wish, but it would be nice if every exercise bicycle included a really comfortable padded seat as standard.
Overall, though, this is a minor complaint, and the truth is that this particular machine has a lot more positives than negatives.
Where To Buy The Schwinn A10 Upright Bike
As mentioned earlier, this particular model has been discontinued, so you can no longer buy it online or in stores.
There are other upright bikes available from Schwinn, however, that have a lot more workout options and a lot more extra features than this one, and are not that much more expensive.