Introduction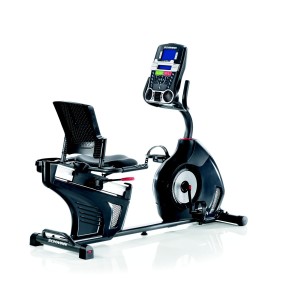 The Schwinn 270 recumbent exercise bike first went on sale back in 2013, but it is still one of the most popular recumbent bikes on the market, and is undoubtedly even better than the 240 and 250 models which came before it.
This particular recumbent bicycle continues to receive lots of positive customer reviews, and based on some of the features and specifications, the Schwinn 270 appears to be a very impressive bike on the whole.
Features And Benefits
25 different resistance levels
29 workout programs and 4 user settings
Schwinn DualTrack two-window LCD display
13 different display feedbacks
Goal tracking and data export to monitor your progress
Heart rate monitor built into the handlebars
Includes USB port, speakers, 3-speed fan and water bottle holder
Large seat back that offers full lumbar support
Padded seat bottom with leg support
Smooth and quiet in operation
Accommodates users up to 300 lbs
10 year warranty on frame
2 year mechanical warranty / 1 year electrical warranty
Product Dimensions And Weight
When fully assembled, the Schwinn 270 weighs 101 pounds, which means that it is lighter than some of the other recumbent bikes that are available, but still heavy enough to provide a lot of stability. If you wondering how big it is, it's exact dimensions are 64 (L) x 50 (H) x 27 inches (W).
Positives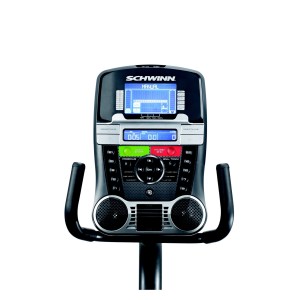 This latest Schwinn 270 model provides you with pretty much everything you could possibly want from a recumbent exercise bike.
It has 25 resistance levels, so the workouts are never going to become too easy, and 29 different programs that enable you to vary your workouts as much as you like. It also has goal tracking capabilities on the LCD display so that you can constantly keep track of your progress.
Talking of the LCD display, this one (pictured right) appears to be so much better than the one included with previous models because it can display 13 different pieces of information, including time, RPM, speed, distance, pulse, calories burned, resistance level, profile, % complete indicator, HR zone indicator, etc.
Plus the console itself even comes with a 3-speed fan to keep you cool, as well as some built-in acoustic speakers so that you can listen to your favorite music. There is also a media tray for your phone, Kindle or iPad, for instance, which you may also find useful.
The Schwinn 270 bike also provides you with a smooth and very quiet workout, and allows you to exercise in comfort because the padded seat provides you with both leg and back support. It can also be adjusted to accommodate people of all heights.
Negatives
As with most exercise machines, there is some assembly required when you take delivery of this item. However this is a fairly straight-forward job that should take you no longer than an hour or so.
Apart from this, another slight drawback is that the LCD display on this machine is a little bright, and it could therefore take a while for your eyes to adjust to it.
The only other negative concerns the heart rate monitor because a few people have complained that it doesn't work properly, but you can always buy your own pulse monitor if this happens to you, or contact the manufacturer if it stops working during the warranty period.
Customer Reviews
As I mentioned above, this bike has received a lot of positive customer reviews so far. You can see this for yourself if you check out the latest reviews on Amazon because it is clear that the positive reviews far outweigh the negative ones.
Many people have pointed out that it was very easy to assemble and once set up, was very smooth and quiet when it was actually being used, with no side to side movement like you get on some of the cheaper exercise bikes. Plus unlike many of the bikes you can buy nowadays, the seat is actually very comfortable.
In addition, people also seem to like the range of resistance levels and workout programs that are available with this Schwinn 270 machine, and like the fact that the resistance levels are easy to change with the up/down button.
People also seem to like the speakers and the fan that are included on the console, and are happy with the overall build of this machine.
As mentioned above, the main thing that a few people have complained about is the heart rate monitor because this doesn't always work properly. However most users haven't had any kind of issues after many months of use, and seem to be delighted with their purchase.
Where To Buy The Schwinn 270 Recumbent Exercise Bike
If you would like to buy this new Schwinn 270 recumbent exercise bike, it is available to buy from Amazon.com, where you can also read some of the customer reviews that have been posted so far and watch a short demonstration video. Here's the link:
→ Schwinn 270 Recumbent Exercise Bike
Now Available With Protective Floor Mat
If you click on the link above, you will see that you now have the option of paying a little extra for a complimentary bike mat to protect your floor. This mat is big enough to accommodate this Schwinn 270 bike without any problems, and is something that you might want to consider if you are worried about damaging your floor or leaving indentations in your carpet, for instance.