Introduction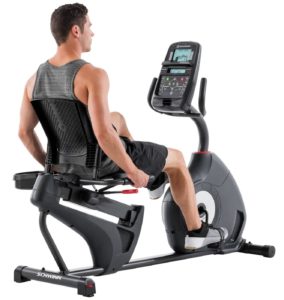 If you want to buy yourself a recumbent exercise bike, but are not too impressed with the really cheap models, you might want to consider buying the Schwinn 230 Recumbent Bike because you really do get a lot for your money.
Unlike some of the entry-level models that have no workout programs at all and a limited number of resistance levels, this very affordable bike has 22 workout programs and 20 levels of resistance.
Plus in addition to having lots of workout options, it has a number of extra features that you don't normally find on a bike in this price range.
So in the remainder of this article I want to list some of the main features and benefits of this machine, discuss some of the main pros and cons and see how it compares with the more expensive 270 model.
Features And Benefits
20 eddy current resistance levels
22 workout programs
large dual-window LCD display
displays 13 different readouts
built-in pulse sensors
goal tracking and data export facility
vented and contoured seat with back support
high speed high inertia flywheel
charging USB port
built-in speakers
three-speed fan
media tray
includes levelers and transport wheels
smooth and quiet in operation
easy to assemble
suitable for anyone up to 300 pounds
Product Dimensions / Weight
This particular exercise bike has dimensions (in inches) of 64 (L) x 27.7 (W) x 49.9 (H) and weighs 81.6 pounds when it is fully assembled. So as it is quite a large bike, it makes sense to assemble it in the same place as you will be using it, whilst also keeping it near a wall socket to power the display console.
Positives
As I have already mentioned, one of the main benefits of this Schwinn 230 bike is that it comes fully loaded with lots of resistance levels and workout programs.
There are 20 resistance levels in total and you can adjust the resistance very easily by pressing one of the numbered resistance levels on the console or using the resistance up/down button. Furthermore this machine uses eddy resistance, which is said to be the smoothest and quietest form of resistance available.
If you want to vary your workouts even more and make them more interesting, you can use one of the 22 different workout programs. These can also be controlled using the console, and include 9 profile programs, 8 heart rate programs, 2 fitness tests, 2 custom programs and a quick start program.
The flywheel on this machine is concealed within the casing, but you will find that it is a high speed high inertia perimeter weighted flywheel that again delivers a smooth and quiet workout.
Another of the most impressive features of this bike is the LCD display and console because the screen consists of two large windows that display 13 different pieces of information (time, speed, distance, calories, pulse etc) and the console has lots of extra features built in.
For instance, there is a 3-speed cooling fan that will keep you cool during your workout, as well as two small speakers that can hook up to one of your electronic devices so that you can listen to all of your favorite music. There is also a media tray on top of the console that can hold your phone or tablet device.
Plus if you want to track your performance over time, you can export your data to Schwinn Connect or the Myfitnesspal app using the USB port.
It is also worth mentioning the seat because both the seat and the back support are vented to allow more air flow, and the seat itself is contoured so that it doesn't hurt your legs. It can also slide forwards and backwards to create the most comfortable position for different users.
Finally, as with most recumbent machines, this one has a large weight capacity (300 pounds), and to demonstrate its overall strength, it comes with a 10 year guarantee on the frame. It is also said to be extremely easy to assemble.
Negatives
There are a few negative aspects of this Schwinn 230 recumbent bike that are worth mentioning.
For example, one of its limitations is that it can only store user profiles for two people. Therefore it is not ideal if it is going to be used by multiple people.
In addition, although the seat is contoured and vented, it is still made from plastic, which is obviously not ideal if you are going to be sat on this bike for long periods. The solution is to use some cushions or some kind of padding, but it would be nice if this machine came with a padded seat to begin with (like the more expensive 270 model which I have discussed below).
Finally, you will find that the display is not backlit, which obviously makes it a little difficult to read in darkened rooms.
Demonstration Video
Final Thoughts
This recumbent exercise bike could benefit from having a more comfortable padded seat, but otherwise it is a good quality bike that is pretty good value for money on the whole.
When you consider the number of resistance levels and workout programs that are included, as well as the number of extra features, it is hard to find a better recumbent bike in this price range.
→ Click here to buy the Schwinn 230 Recumbent Bike
Schwinn 230 v Schwinn 270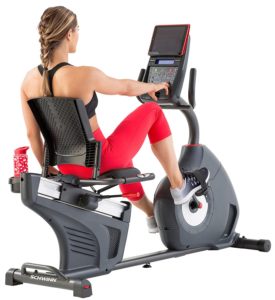 If your budget allows, you might also want to think about buying the Schwinn 270 model instead of the 230 model because this one has more resistance levels and workout programs (25 and 29 respectively) and has the ability to store user profiles for four people instead of two.
It also has a backlit display so that it is a lot easier to read than the display on the 230, which as I have already mentioned, is quite to read in darkened rooms.
Crucially, this machine also has a padded seat, unlike the 230 model. Therefore it should be a lot more comfortable to use for long periods, which alone may be worth the extra cost.