Introduction
There are lots of mid-priced exercises bikes that you can buy nowadays, but in this article I want to review one of the most popular Reebok models – the Reebok 510 Indoor Cycle.
This particular indoor cycling bike first went on sale back in 2013, and can be used for indoor road training during the winter, for example, and for performing a range of different cycling workouts.
Alternatively, you could just use it to perform a basic workout in front of the TV in order to lose weight and get fit because it's suitable for people of all fitness levels.
Key Features And Benefits
48 lb flywheel
adjustable resistance knob
chain drive mechanism
quick stop braking
smooth and realistic riding experience
large window LCD display
track speed, time, distance, pulse, calories
adjustable padded seat and handlebars
includes wireless chest pulse strap
comes with its own water bottle holder
accommodates users up to 300 lbs
Product Dimensions And Weight
This Reebok 510 exercise bike has an overall weight of 130 lbs, so it's clearly a strong and solid machine, and has product dimensions of 55 (H) x 20 (W) x 47 (L) inches.
Positives
Whilst this bike may not be in the same league as the Keiser M3i Bike, for example, which is approximately 3 times more expensive, this Reebok 510 bike is still a good quality mid-range exercise bike that is easy to assemble and set up, and will easily satisfy most people's needs.
I like the fact that it has a heavy 48-pound flywheel and a chain drive system that delivers a smooth workout, whilst also providing a padded seat and non-slip handlebars that can both be adjusted in order to accommodate people of all shapes and sizes (up to a maximum of 300 lbs).
I also like the fact that it perfectly replicates the feel of outdoor road cycling, and is challenging enough to test even the fittest of athletes because the resistance can be adjusted upwards and downwards at any time using the adjustable resistance knob.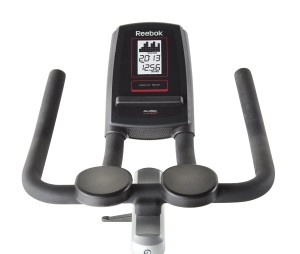 It is also worth mentioning the LCD display because whilst this might not be the most comprehensive display unit, it does still provide you with all the key data such as speed, time, distance and calories, and will also tell you your pulse rate because it connects up to the wireless chest pulse strap, which is included free with this bike.
Finally with regards to extras, the Reebok 510 Indoor Cycle comes with its own water bottle holder so that you can stay refreshed during your workout, and includes transport wheels so that you can easily move it around if necessary.
Negatives
With regards to the negatives, there are no major issues, but there are a few slight drawbacks associated with this particular exercise bike.
For example, although you can vary the resistance as much as you like, there are no fixed settings on the actual resistance knob, as is the case with most indoor cycling bikes. However I think this would only be a problem if you intend to change the resistance quite a lot during each workout, and would ideally like to do exactly the same workout each time.
Finally, there are also no workout programs included with this machine either, which means that you will have to create your own workouts or follow along to a DVD or an online workout video if you want to perform some high intensity indoor cycling workouts, for example, but it would be unrealistic to expect this kind of feature from a mid-range bike such as this one. At least with this bike you have the option of riding in both a seated and standing position if you want to, unlike a stationary bike.
Final Thoughts
When you bear in mind that this bike comes with a heavy flywheel that delivers a smooth workout, offers a comfortable and realistic riding experience, delivers a challenging workout for people of all fitness levels and is a very strong, well-made machine, the Reebok 510 Indoor Cycle is clearly a good quality mid-priced exercise bicycle.
UPDATE: Unfortunately this bike seems to have been discontinued because it is not listed for sale on the Reebok website, or indeed any other online retailer.
Other Bikes In This Price Range
This was a good quality exercise bike for the home, but there are still a few other similarly-priced indoor cycling bikes that you might want to consider buying for your home.
For example, if your budget can stretch a little further, you might want to consider buying the SB700 exercise bike from Sole Fitness because this is a gym-standard bike that many people consider to be the best mid-range model.
You will find that it has the same kind of features, such as a 48-pound flywheel, for example, but takes up less room in your home and is a very smooth and quiet machine that is clearly built to last.
Alternatively, you might want to buy an authentic spin bike that is specifically designed for high intensity spinning / indoor cycling workouts, such as the Spinner Sprint bike or the more affordable S3 model, for example, both of which come with 4 free workout DVDs.