Introduction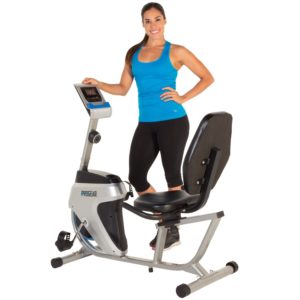 Recumbent bikes can be a little more expensive than a traditional upright bike, but I have just discovered a really affordable recumbent model that is ideal for small spaces because of its compact design.
This bike has been developed by ProGear Fitness, who specialize in producing low-cost exercise machines and equipment for the home, and the model I am talking about is the ProGear 555LXT Magnetic Tension Recumbent Bike, which is new for 2016.
Apparently this bike is suitable for anyone up to 250 pounds, and anyone up to 6'3 in height. So this low-cost machine should be ideal for both men and women, but let me tell you about all of the features and benefits, and discuss some of the main pros and cons to help you decide whether or not it is worth buying this particular bike.
Features And Benefits
strong steel frame construction
quiet belt drive system
'step thru' design for easy access
14 magnetic resistance levels
wide screen LCD panel
track time, speed, distance, RPM and calories
3 workout goal settings for time, distance and calories
oversized pedals with secure foot straps
soft grip handlebars
adjustable cushioned seat
includes tablet holder and water bottle holder
suitable for men and women up to 6'3
suitable for anyone up to 250 pounds
Product Dimensions / Weight
One of the key features of this machine is that it is light and compact, and to demonstrate this point, the total weight of this machine is just 60 pounds, and the exact dimensions (in inches) are 49 (L) x 22 (W) x 43 (H).
If you do want to move it around from one room to another, there are transport wheels attached that will make this job very easy.
Positives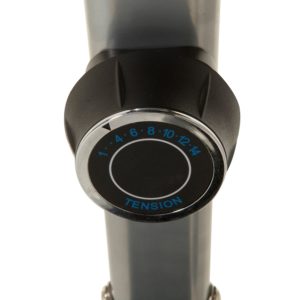 As I have just mentioned, this ProGear recumbent bike is light and compact, which is one reason why you might want to think about buying this machine, particularly if you have limited space in your home.
However there are many other reasons why this could be a good investment.
For a start, you will find that this 555LXT bike has 14 levels of magnetic tension, which is a lot more than most other entry-level bikes because many of them only tend to have 8 levels of resistance.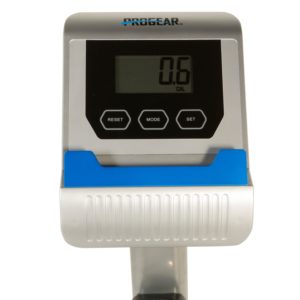 In addition, this is one of the few bikes in this price range to have a programmable computer. So as well as having a wide screen LCD display that will indicate time, speed, distance, RPM, calories and odometer, you can also set yourself goals based on time, distance or calories.
Plus there is even a holder for your smartphone or tablet device on this control panel so that you can keep yourself entertained during your workout, as well as a conveniently placed water bottle holder that makes it easy to keep yourself refreshed during your workout.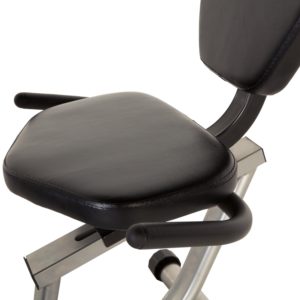 With regards to comfort, this ProGear bike has a step-thru design that means that it is very easy to get on and off, and comes with an extended cushioned seat that can easily be adjusted forwards and backwards to find the most comfortable riding position. Indeed this adjustability means that it can accommodate anybody between 5'0 and 6'3.
As well as this, there are also oversized pedals with secure foot straps to keep your feet in place, as well as soft grip handlebars at the sides to prevent any discomfort.
Finally, it is also worth mentioning that this ProGear bike has a durable steel frame construction that can accommodate users up to 250 pounds without any problems, and is driven by a quiet belt drive system. So you can easily watch TV at the same time, and won't have to worry about upsetting the other people in your home because it is very quiet in operation.
Negatives
One thing to point out is that if you are exceptionally tall (over 6'3) or exceptionally short (under 5'0), you may have difficulty using this bike comfortably.
This bike is also not ideal if you are someone who likes to monitor your pulse rate because there are no pulse sensors at all, and because there are no fitness apps and no wireless compatibility, it is not ideal if you like to monitor every aspect of your performance over time.
Other than this, a few people have commented that the resistance could be even more challenging at the higher tension levels, although many people appear to be happy with the range of resistance on this machine to be fair.
Finally, if you do intend placing your iPad or smartphone on the tablet holder, or maybe placing a book or a magazine on there, there is a chance that it may block part or all of the LCD display. Therefore you won't be able to monitor your performance during your workout.
Final Thoughts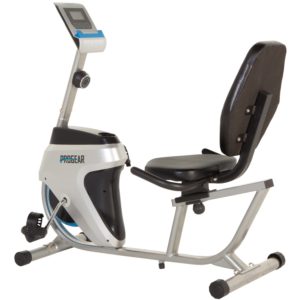 Considering that this ProGear 555LXT recumbent bike is considerably cheaper than many of the other entry-level machines, it does have a lot of positive features and very few faults.
All of the faults listed above are all fairly minor in all honesty, and the pros definitely outweigh the cons because this is a very strong machine that is quiet in operation and very comfortable to use.
Plus it has a wide range of resistance to satisfy people of all fitness levels, and is adjustable enough to be used by both men and women.
So although this is still a fairly new model, this appears to be a pretty good choice if you are looking for a light and compact exercise bike that you can use at home to lose some weight, improve your fitness and tone up your legs.
→ Click here to buy the ProGear 555LXT Magnetic Tension Recumbent Bike