Introduction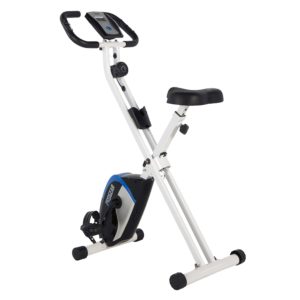 ProGear are a relatively new name that many people won't have heard of before, but they are slowly establishing themselves as a producer of good quality fitness equipment for the home.
Whilst they don't necessarily produce commercial-grade exercise machines, they have developed their own range of treadmills, ellipticals and exercise bikes that are more suitable for people on a budget.
I have already reviewed their 100S indoor training cycle (a popular low-cost indoor cycling bike) and their 555LXT machine (a good quality recumbent exercise bike), but in this article I want to take a closer look at one of their latest upright bikes – the ProGear 225 Foldable Magnetic Upright Bike – because this has also been getting some good reviews.
Features And Benefits
compact folding design
8 magnetic resistance levels
dual transmission flywheel
hand grip pulse sensors
easy-to-read LCD display
track time, speed, distance, calories and pulse
ergonomic cushioned seat
transportation wheels
adjustable leg stabilizers
smooth and quiet in operation
suitable for users between 5'1 and 6'0
accommodates users up to 220 pounds
Product Dimensions / Weight
The exact dimensions (in inches) of this ProGear 225 upright bike are 32 (L) x 17.5 (W) x 46 (H), but one of the best features of this particular machine is that it can be folded away really easy so that it takes up approximately half as much space in your home.
The folded dimensions are 19 (L) x 17.5 (W) x 53 (H), and with a total weight of about 35 pounds, it is also a fairly light machine that is really easy to move around.
Positives
Apart from having a small and compact folding design that makes it ideal for apartments and small spaces, this ProGear 225 bike has many other positive features.
For a start, it has 8 magnetic resistance settings that will give you a range of workout options. You will find that levels 1 and 2 will be really easy and won't offer too much resistance, but because it has a dual transmission flywheel, it is capable of delivering high intensity workouts on the higher settings, ie levels 7 and 8.
In addition, it has a 3-piece cranking system that helps to deliver a smooth and consistent pedal motion with virtually no noise at all, which cannot be said about some of the other low-cost upright bikes.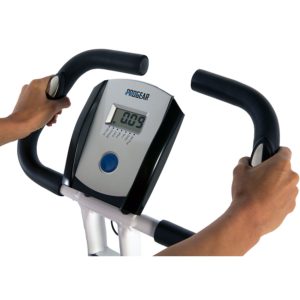 If you want to monitor your performance, there is a basic LCD display that will indicate time, speed, distance and calories, and if you place your hands on the pulse sensors (which are built into the handlebars), it will also display your heart rate as well.
With regards to comfort, this 225 model comes with a contoured cushioned seat that has been ergonomically designed to be as comfortable as possible, and to prevent any knee pain or discomfort, it can be adjusted upwards and downwards to accommodate users between 5'1 and 6'0.
It also has large pedals with adjustable straps that will keep your feet firmly in place and prevent them from slipping out during your workouts.
As with many other upright bikes, this machine has leg stabilizers that will prevent the bike from slipping or moving around, and has transportation wheels attached that make it easy to move around. Plus it has a small accessory holder for your phone, should you wish to listen to music through your headphones, for instance.
Finally, despite being a light and compact folding bike, this ProGear 225 machine is strong enough to support anyone up to 220 pounds.
Negatives
As with any low-cost exercise machine, there are always going to be a few negatives, and that applies to this ProGear 225 bike as well.
For a start, the LCD display is fairly basic in all honesty. Although it displays time, speed, distance, calories and pulse, it can only display one of these readings at any one time, which could become a little annoying because it means you have to keep pressing the button to scan through the different readouts.
In addition, there are no workout programs or fitness apps, which can be said about most other bikes in this price range to be fair, and no holder for your tablet device. There is just a small accessory holder that is only big enough to place your phone in, and unfortunately this is not positioned high enough to enable you to watch any TV shows or movies, for example.
The biggest drawback, however, is that because it is a fairly light and compact machine, it is not really suitable for those people who are shorter than 5'1 or taller than 6'0, and is not really suitable for those people who weigh more than 220 pounds either.
Final Thoughts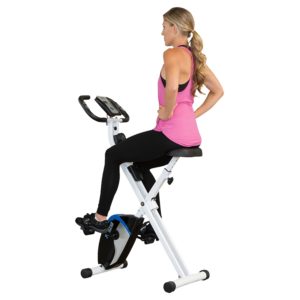 If you are looking for a light and compact exercise bike that will give you an intense workout if required, and can be folded away really easily when you have finished using it, the ProGear 225 Magnetic Upright Bike is more than adequate.
It is comfortable enough to be used for long workouts, has a good range of resistance settings for people of all fitness levels and is light enough to move around, even when it is not folded away.
Is it the best folding upright bike on the market? Probably not because there are other entry-level machines that have a tablet holder and a larger weight capacity, but if you don't really need a tablet holder and already weigh less than 220 pounds, you should still be able to get some decent workouts on this machine to help improve your fitness and stay in shape.
Plus from a cost point of view, you will find that it is currently one of the most affordable options on the market if you are looking for a folding upright bike for your home.