Introduction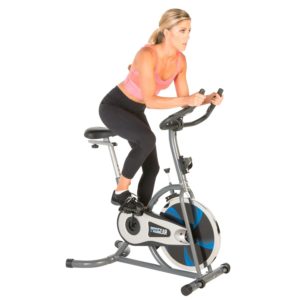 If you are looking to buy an entry-level indoor cycling bike for your home that feels just like a road bike, you can generally expect to pay at least $250 – $350 for a decent model.
However ProGear have developed an indoor exercise bike that is even more affordable – the ProGear 100S Indoor Training Cycle – which is set to rival some of the more established models that are available from the likes of Sunny Health & Fitness, for example.
This is quite a basic model, but it appears to be quite a solid machine that you can use for indoor cycling training and for interval workouts because you can cycle in both a seated and a standing position without any problems.
Features And Benefits
chain drive system
feels like an outdoor road bike
quiet in operation
suitable for interval workouts and indoor cycling training
adjustable resistance knob
4-way adjustable ergonomic seat
smooth and consistent 22-pound flywheel
includes LCD computer and pulse sensors
track time, speed, distance, calories and pulse
forward and reverse pedaling
includes water bottle holder and transport wheels
can be used by anyone between 5'1 and 6'2
suitable for anyone up to 250 pounds
Product Dimensions / Weight
The exact dimensions (in inches) of this entry-level indoor cycling bike are 40 (L) x 22 (W) x 46 (H) and it has a total weight of 59.7 pounds. So it is not very heavy at all, but it does have transport wheels attached if you do want to move it to another room, for example.
Positives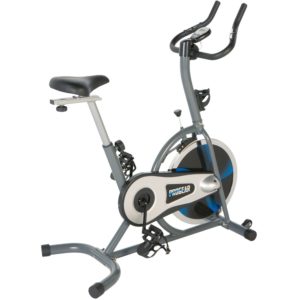 The first thing to say about this ProGear 100S bike is that this is not a typical upright stationary bike. This is an indoor cycling bike that looks and feels more like an outdoor road bike because of its chain drive system and the positioning of the handlebars.
Therefore because you can pedal in both a seated and a standing position, you can do a variety of interval workouts (like the ones you might perform in a group cycling class) and you can train indoors when it is too cold or too wet to cycle outside.
This bike has an adjustable resistance knob that makes it easy to increase or decrease the resistance during your workout, and has a cast iron inertia driven 22-pound flywheel that delivers a smooth and consistent workout. It also has toe cages that will enable you to accelerate at high speeds during the more intense periods of your workouts.
Another benefit is that it is also said to be quiet in operation, which is always an important factor to consider when buying a home exercise bike.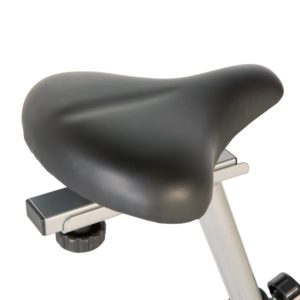 In addition to this, you should find that this ProGear bike is comfortable to use because it has a cushioned ergonomic seat that can be adjusted forwards and backwards, as well as upwards and downwards to help you find the most comfortable riding position.
Indeed it is actually suitable for anyone between 5'1 and 6'2 because of the level of adjustability, and can therefore be used by both men and women (up to a maximum of 250 pounds, which is the stated weight capacity).
One final thing to mention is that this indoor cycle comes with its own LCD display that will indicate time, speed, distance, calories and pulse (if you place your hands on the built-in sensors on the handlebars). Therefore it is easy to monitor your performance during your workout.
Negatives
You have to remember that this is an entry-level machine, which means that there are no workout programs or fitness apps included with this particular model. In addition, the display is not backlit, which may make the numbers hard to read in poorly lit rooms. However many indoor cycles in this price range don't even include a console at all, so it is hard to complain too much about this.
Another minor flaw is that although this machine has a four-way adjustable seat, the handlebars are fixed in place, which means that you may have to adjust your riding position ever so slightly to compensate for this.
The only other thing I would say is that there are no fixed resistance levels, which means that it is harder to perform exactly the same workouts each time because you will have to estimate the level of resistance when turning the resistance knob.
Final Thoughts
This ProGear 100S exercise bike only has a 22-pound flywheel, and comes with a chain drive instead of a belt drive. Plus it has fixed handlebars that cannot be adjusted.
So it doesn't really compare to this machine from Sunny Health & Fitness, for example, which has adjustable handlebars and a really smooth and quiet belt drive system, as well as a high performance 49-pound flywheel that is ideal for serious fitness enthusiasts.
However if you are looking for a small and compact indoor cycling bike that is really cheap to buy, this is definitely one to consider because it has a durable steel frame that can accommodate users up to 250 pounds, and can easily be used for indoor road training and for interval training workouts because it is designed to be used in both a seated and a standing position.
Indeed it is ideal if you are looking for a basic entry-level exercise bike that you can use for fitness, toning and weight loss because this machine will still give you an intense workout at the higher resistance settings, and is still fairly quiet in operation despite having a chain drive system.