Introduction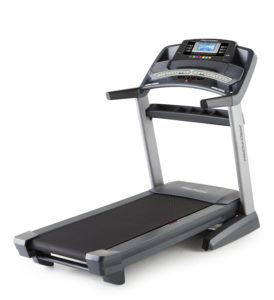 ProForm have produced a number of top quality treadmills over the years, but their most popular model is undoubtedly the ProForm Pro 2000 Treadmill.
This machine has been rated a 'best buy' by a leading consumer magazine, and has received a number of positive customer reviews, and it is easy to see why because this is a strong and durable treadmill that offers multiple workout options and includes lots of extra features.
So let's take a closer look at this machine to see exactly what you are getting for your money, and to find out why this is such a popular choice for home users.
Features And Benefits
powerful 3.5 CHP Commercial Pro Motor
incline settings up to 15%
decline settings up to -3% for race training
large running track
ProShox Cushioning to prevent joint pain
backlit 7-inch LCD display
one-touch speed controls from 1-12 MPH
32 built-in workout programs
compatible with iFit Live
includes wireless chest strap and fan
can be folded away when not being used
suitable for anyone up to 350 pounds
Product Dimensions / Weight
This home treadmill has an overall footprint (in inches) of 80 (L) x 39.5 (W) x 63 (H), and comes with a large running track that measures 60 x 22 inches. This running deck can be lifted really easily and folded in an upright position if you are worried about it taking up too much space in your home.
It is also an exceptionally strong and stable machine because it weighs around 291 pounds, according to the ProForm website, and has a total weight capacity of 350 pounds.
Positives
The first thing to say about this ProForm 2000 treadmill is that it has a powerful high-performance 3.5 continuous horse power motor, which is self-cooling and suitable for both runners and walkers.
One of the main selling points, however, is the range of workout options that are available to you once you buy this machine.
You will find that you can adjust the incline anywhere from 0 to 15% (which will burn twice as many calories) just by hitting one of the buttons on the console or by pressing the up/down button, and if you are a keen race runner, you can even do some downhill training by adjusting the decline up to a maximum of -3%.
Indeed this machine is perfect for the serious runner because it can reach speeds of up to 12 MPH, and once again you can adjust the speed really easily because there are one-touch buttons on the console unit, as well as up/down buttons.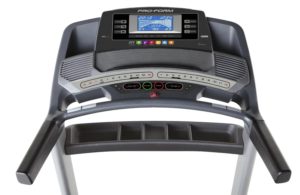 Talking of which, this console unit has a large 7-inch display screen that is backlit to make it easier to read, and will give you readouts such as time, distance, calories burned and speed. There is also a hand grip pulse sensor and a wireless chest strap included to help you record your pulse, as well as a two-speed fan to help cool you down.
This console also has a built-in tablet holder as well as some built-in speakers and an audio jack. Therefore it is really easy to connect your iPod and play all of your favorite music whilst you exercise if you so wish.
More importantly, it can connect to iFit, which will open up a world of possibilities because you will have many more tracking tools and will be able to use Google Maps and Google Street View to run real routes with genuine outdoor terrains, and will have access to lots of different workout programs.
Plus if that wasn't enough, there are also 32 built-in workout programs that you can use, which include incline, speed, calorie, intensity and mixed programs.
Of course, these features are all well and good, but the comfort of the actual workout is also vitally important, and in that respect this ProForm Pro 2000 Treadmill also scores highly.
That's because as well as having four shock absorbers, it also has a large 60 inch x 22 inch running track that uses ProShox Cushioning to reduce the impact of your walking or running action, and prevent any joint pain.
Finally, it is worth mentioning that this machine has a solid steel frame, which comes with a lifetime warranty, and is backed by a 5-year parts warranty and a 2-year labor warranty if anything happens to go wrong with this particular treadmill.
Negatives
The first minor issue is actually a design flaw because as several people have pointed out, if you place your phone or tablet device on the tablet holder, it will cover some of the controls and block part of the screen.
It is also worth pointing out that although it is not too difficult to assemble this machine, it definitely helps if you have two people because this is a very heavy machine that is not easy for one person to move around.
Finally, whilst it is great to have the ability to connect to iFit, you should bear in mind that this is not a free service. You will have to pay a monthly membership fee if you want to use all of the tools and features that iFit has to offer, or purchase the iFit wireless module separately to use these advanced features.
Final Thoughts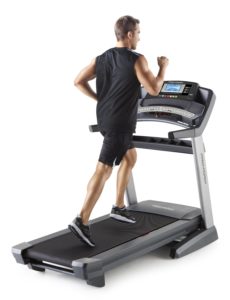 If you are looking to pay a little more for a good quality treadmill that is strong enough and sturdy enough to withstand regular workouts, and has enough workout options to keep you motivated, this ProForm Pro 2000 Treadmill is well worth considering.
That's because it has incline settings up to 15% and speed settings up to 12 MPH to challenge people of all fitness levels, as well as a decline setting up to -3% that professional runners can use for training purposes.
It also has 32 individual workout programs, and can connect to iFit to provide lots more workout options and deliver a more interactive walking or running experience using Google Maps and Google Street View.
So overall I think it is easy to see why this premium treadmill continues to be one of the most popular treadmills on the market, despite having a higher price tag than many of the entry-level and mid-range models.