Introduction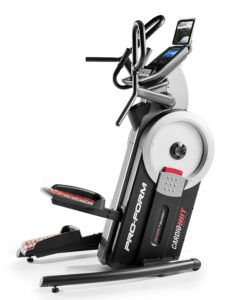 An elliptical trainer can be a great investment if you are looking to burn calories, lose weight and tone up your lower body, but you can now buy an elliptical machine that will give you an intense full body workout and burn even more calories.
The ProForm Cardio HIIT Elliptical Trainer is new for 2017, and is essentially a stair climber and an elliptical trainer all in one.
Suitable for regular workouts or high intensity interval training (HIIT) workouts, this machine will activate more muscles than a conventional elliptical machine because you will essentially be stepping and boxing at the same time.
So in this article I want to review this impressive-looking machine, starting with some of the main features and benefits.
Features And Benefits
works your arms, shoulders, back, core and legs
10-inch vertical elliptical path
5-inch horizontal elliptical path
28-pound inertia enhanced flywheel
24 digital resistance levels
32 workout apps
large 7-inch LCD display
track time, speed, distance and calories
compatible with iFit Coach
integrated tablet holder
hand grip pulse sensors
built-in cooling fan
iPod-compatible sound system
oversized cushioned foot pedals
water bottle holder
transport wheels and leveling feet
commercial-grade steel frame construction
suitable for anyone up to 350 pounds
lifetime frame warranty / 3-year parts warranty
Product Dimensions / Weight
If you are thinking about buying this machine for your home, one of the key benefits is that it will take up approximately half the space of a conventional elliptical because of the vertical elliptical path.
Subsequently it has an overall footprint (in inches) of 66.7 (H) x 29.25 (W) x 52 (L), with a total weight of 180 pounds.
It is obviously quite a heavy machine, but if you want to move it from one room to another, there are transport wheels attached that will make this a lot easier.
Positives
One of the main benefits of this ProForm Elliptical is that it gives you a much more intense workout than a standard elliptical machine.
That's because it has a 10-inch vertical path and a 5-inch horizontal path that makes it feel more like a stair climber than a standard elliptical, and gives you a more challenging workout as it engages more muscles.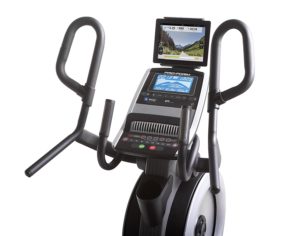 It also works your upper body a lot more because unlike the moving arms on a conventional elliptical, the ones on this machine will enable you to do boxing-style motions (with adjustable resistance) that will really work your arms, shoulders and back, whilst also strengthening your core at the same time. Plus there are different hand grips that you can use to help target different muscle groups.
So you can get a full-body workout with this Cardio HIIT Elliptical Trainer to help tone many different muscle groups, but as the name suggests, it is also ideal if you are looking to lose weight because you can easily do fat-burning HIIT workouts on this machine with short bursts of intense exercise and intermittent rest periods.
Indeed you will find that there are 32 professional workout programs that you can use to give yourself different challenges, but if you prefer not to use any set programs, there are 24 resistance levels that will make your workouts as challenging or as easy as you like.
In relation to the quality of the workout, this machine has a 28-pound inertia enhanced flywheel that is smooth and exceptionally quiet in operation, and helps to deliver a natural striding experience that is easy on the joints.
The foot plates are large enough to accommodate feet of all sizes, and are cushioned to provide extra comfort.
You won't experience any movement either because there are leveling feet on the bottom that are designed to keep it stable.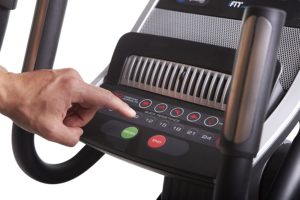 With regards to extra features, this Cardio HIIT Elliptical has a 7-inch backlit LCD display that indicates time, speed, distance and calories burned, with one-touch controls on the console that make it very easy to adjust the resistance and the training program. There are also some controls on the handles that you can use if you prefer, where you will also find some built-in pulse sensors.
This machine also has a built-in fan with two speed settings and a built-in sound system that can connect to your iPod in order to play all of your favorite music. Plus there is a conveniently placed water bottle holder and an integrated tablet holder for your phone or tablet device to help keep you entertained during your workouts.
Indeed you can really bring your workouts to life by using iFit Coach because this is powered by Google Maps and will therefore enable you to do your workouts on real-life routes from all over the world with automated resistance adjustments. It also has some HIIT workouts that have been specifically designed for this particular HIIT trainer.
Finally, it is worth noting that this is a very strong machine because it has a commercial-grade solid steel frame that can support users up to 350 pounds, and is backed by a lifetime warranty on the frame, a 3-year warranty on the parts and a 1-year labor warranty. It is also half the size of a standard elliptical, which is another key benefit worth considering.
Negatives
This ProForm Cardio HIIT Elliptical is a very quiet machine on the whole, but a few people have pointed out that it is the fan that makes the most noise. So although it is nice to have a two-speed cooling fan, it might be a little annoying if you use this fan regularly.
Another slight issue is that the stride length on this elliptical machine cannot be adjusted. This shouldn't be an issue for most users, but it may not be ideal if you have particularly short legs or particularly long legs.
Finally, although this is quite an expensive elliptical trainer, it only has hand grip pulse sensors, which are not generally as accurate as a wireless chest strap monitor (which is included free with the more expensive HIIT Trainer Pro model). So you may have to purchase one of these chest straps if you require a more a accurate reading.
Final Thoughts
The Cardio HIIT Elliptical appears to be a top quality machine because the early customer reviews have all been very positive, and it doesn't seem to have any major faults.
It has a very strong steel frame that is built to last, it delivers a smooth and quiet workout experience and it is comfortable to use with its cushioned foot plates and its natural elliptical path.
It also has enough workout options to ensure that you will never get bored using this machine because there are 24 resistance levels and 32 workout programs, and it is fully compatible with iFit Coach to give you some additional fat-burning HIIT workouts and to enable you to exercise on real-life routes from anywhere in the world.
So if you are looking to tone up and lose weight, this machine is ideal because it is easy on your joints and will work both your upper body and your lower body in equal measure.
→ Click here to buy the ProForm Cardio HIIT Elliptical Trainer