Introduction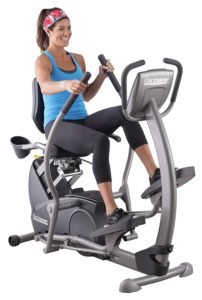 It is normal to see exercise bikes that have a recumbent-style design with a back support and a more comfortable reclining position, but you don't see many elliptical machines that have the same design.
Indeed there are very few elliptical machines that have any kind of seat at all, let alone a seat that has a comfortable back support.
However there is one really impressive-looking machine that does enable you to tone up your lower body, improve your overall fitness and increase your activity level whilst sitting in a comfortable position, and that's the Octane Fitness XR4X Elliptical Trainer.
This seated elliptical provides a full-body workout, and actually burns 23% more calories and activates three times more muscles than a recumbent bike.
Features And Benefits
recumbent design
works the whole body
more effective than a recumbent bike
20 resistance levels
6 workout programs
3 workout boosters for HIIT-style workouts
PowerStroke technology
optimal leg extension
moving arms for upper body workout
fully adjustable seat
built-in pulse sensors
large display console
track time, calories, distance, speed and pulse
lifetime frame warranty
suitable for users up to 300 pounds
Product Dimensions / Weight
The exact dimensions (in inches) of this recumbent elliptical trainer are 53 (L) x 35 (W), so you will find that it is not as long as many of the other ellipticals that are available, and will subsequently take up less space in your home.
The total weight of this machine is 196 pounds (89 kg) when it is fully assembled.
Positives
One of the main selling points of this XR4X elliptical is of course the recumbent design because this ensures that you can get a full-body toning and fitness workout whilst sitting in a comfortable relaxed position.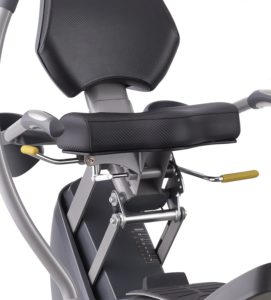 The cushioned seat has a back rest for greater support and is fully adjustable to help you find the most comfortable position because there are 15 seat height positions and 5 tilt settings. It is also set at a 45-degree angle to open up the hip flexors and reduce stress on the lower back.
Once you are seated, you just need to move the arms forwards and backwards to work your upper body (if you want to), and move your feet forwards and backwards on the foot pedals to tone your lower body.
This machine has been designed to give you optimal leg extension and engage more muscles thanks to its 16" PowerStroke technology.
Indeed studies have found that this elliptical produces 22% more mechanical power, generates 343% more activity in your glutes and activates three times more muscles than a standard recumbent bike, and burns 23% more calories at the same level of exertion. So you really are getting a very effective workout.
There are 20 resistance levels that will enable you to make your workouts as easy or as challenging as you want them to be, and 6 individual workout programs to add some variety to your routines.
Plus there are also three workout boosters that will enable you to do HIIT-style workouts on this machine if you so wish:
X Mode – random intervals directed by built-in personal trainer
Chest Press – focused intervals for toning arms, shoulders and chest
Leg Press – challenging intervals for powerful toned legs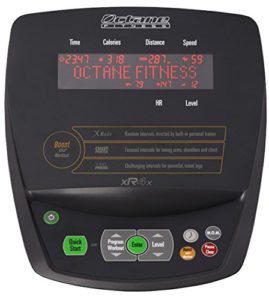 You can adjust all of these settings using the buttons on the console, which has a large display screen to help monitor your performance. The numbers are clear and easy to read, and you will see time, calories, distance, speed and heart rate all on one screen (the pulse readout is taken from the built-in pulse sensors located on the side handles).
Finally, it is worth highlighting the fact that this is a really strong well-made machine that can support anyone up to 300 pounds, and is backed by a lifetime warranty on the frame. It is also smaller and more compact than many other ellipticals, which may be a factor if you have limited space in your home.
Negatives
With regards to the negatives, one slight drawback is that the console doesn't have Bluetooth connectivity, like some of the other elliptical machines that are available, and doesn't have any kind of apps to monitor your performance over time.
In addition, it doesn't have some of the power incline settings that many of the standard ellipticals have, and doesn't have an adjustable stride length.
However you will find that this doesn't really matter because there are still more than enough resistance levels and training options to push yourself as hard as you like, and more than enough adjustments that you can make to the seat to make your workouts as comfortable as possible, regardless of your size.
Final Thoughts
The XR4X Elliptical Trainer from Octane Fitness is undoubtedly a fairly expensive machine, but you have to remember that this is a commercial-grade machine that is strong and durable enough to be used in a gym, if required. Therefore it should last many years without any problems.
The great thing about this elliptical is that it has a recumbent design, so it is ideal for anyone with any kind of mobility issues, and for those people who are simply looking for a more comfortable workout experience.
The range of workout options guarantees that you are never likely to outgrow this machine, and the inclusion of three workout boosters will help you to work on certain areas of your body if you so wish, and benefit from high intensity interval training.
So when you consider that this X4RX elliptical burns more calories and activates more muscles than a standard recumbent bike, this would appear to be a great investment if you are looking to lose weight, tone up your upper and lower body and improve your fitness.
→ Click here to buy the Octane Fitness XR4X Elliptical Trainer