Introduction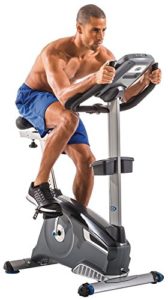 Nautilus have developed a new line of exercise machines in time for 2017, which includes a new recumbent bike, a new treadmill and a new elliptical.
However in this article I want to review the Nautilus U618 Upright Bike, which is their latest upright exercise bike that is designed for home use.
This particular model is a mid-range machine that is intended to be even better than all of their previous models, such as the U614 and U616 models, for example, and although the difference is not huge, this particular exercise bike appears to be a very strong and comfortable machine that you can use to get a decent cardio workout at home.
Features And Benefits
25 magnetic resistance levels
29 training programs
tilting console with blue backlit LCD display
Bluetooth and fitness app compatibility
comfortable gel cushioned seat
adjustable multi-position handlebars
smooth and quiet 30-pound flywheel
3-speed cooling fan
built-in speakers
free chest strap heart rate monitor
includes water bottle holder and media tray
suitable for anyone up to 325 pounds
15-year frame warranty
3-year mechanical and electrical warranty
Product Dimensions / Weight
This upright exercise bike has exact dimensions (in inches) of 38.5 (L) x 24 (W) x 58.7 (H) when it is fully assembled.
I haven't yet been able to find out what the exact weight of this machine is, but I do know that it is strong enough to support anyone up to 325 pounds, which makes it stronger than their previous models that had a weight capacity of 300 pounds.
Positives
As mentioned above, one of the main benefits of this Nautilus U618 bike is that it has a higher weight capacity than the previous U614 and U616 models, and is undoubtedly an extremely strong and sturdy machine with a weight capacity of 325 pounds.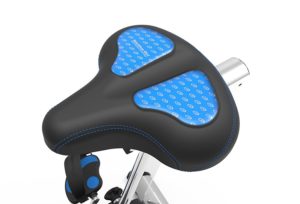 However another positive feature of this latest model is that it comes with a much better seat than the previous models.
You will find that this one has a specially designed gel seat instead of the rock hard seat that you will commonly find on most other upright exercise bikes. Therefore your workouts are guaranteed to be a lot more comfortable (and less painful), and for extra comfort, you can also adjust the seat upwards and downwards, as well as forwards and backwards.
In addition, you can also adjust the handlebars into multiple positions, and there are extra wide elbow rests to help you adopt a comfortable riding position.
With regards to your workout options, it is fair to say that there are more than enough resistance levels and training programs to challenge people of all fitness levels.
This machine has 25 magnetic resistance levels in total, and there are also 29 workout programs that you can use for heart rate training, interval training and weight loss. Plus you can also customize your own training programs if you so wish.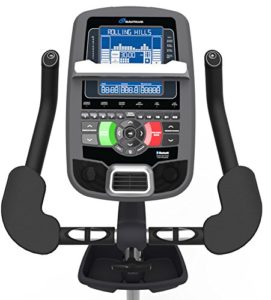 It is also really easy to monitor your performance data because as well as displaying all of the key data on the blue backlit two-window display (which you can tilt to make it easier to read), it has full Bluetooth connectivity so that you can transfer this data to your devices. You can either connect to the Nautilus Connect app or you can connect to any of the other fitness apps that are supported.
If you want to keep yourself entertained during your workouts, this machine has a USB port and charger, and has built-in speakers so that you can play all of your favorite music. There is also a 3-speed cooling fan to keep you cool.
With regards to some of the other features, it is worth mentioning that this U618 bike has a high-speed high-inertia 30-pound flywheel that delivers a smooth and quiet workout experience, and as well as having grip pulse sensors, it also comes with a free chest strap heart rate monitor so that you can monitor your pulse with more accuracy.
Finally, there are also transport wheels attached should you wish to move it around, and if anything does happen to go wrong, it comes with a very generous 15-year frame warranty and a 3-year warranty that covers mechanical and electrical faults.
Negatives
If you were being hyper critical, you could say that despite the difference in price, the new U618 model isn't a huge improvement on the previous U616 model.
Yes it does have a much more comfortable gel cushioned seat, which does make a huge difference, and a slightly higher weight capacity, but I'm not sure this is enough to justify the significantly higher price tag because it still has many of the same features and specifications.
Final Thoughts
Overall the Nautilus U618 still appears to be a good quality machine for the price because it has a very solid frame that can support users up to 325 pounds, and provides you with endless workout opportunities with its 25 levels of resistance and 29 training programs.
It also has a gel seat to reduce soreness and provide a lot more comfort, and has a high performance flywheel that delivers a smooth and quiet workout.
Also, as with all Schwinn and Nautilus bikes, it comes with lots of extra features that will make your workouts more pleasurable, such as a media tray for your iPad, phone or tablet, built-in speakers to play your favorite music and a 3-speed cooling fan to keep you cool.
Plus it makes full use of the latest Bluetooth technology to help you track your performance over time using Nautilus Connect or one of the other fitness apps.
So if you are looking to buy an upright bike that has lots of workout options and extra features, I would say that this appears to be a very good option.