Introduction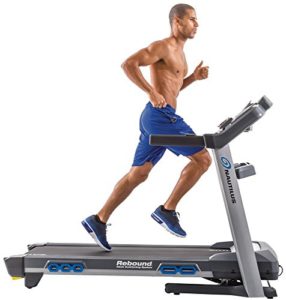 Nautilus have produced a number of treadmills for the home, including the popular T614 and T616 models. However they have now developed the T618 model, which has a higher weight capacity than these previous models, as well as a few improved features.
One of the most exciting developments is that the Nautilus T618 Treadmill is now integrated with the RunSocial app and thanks to its Bluetooth connectivity, enables you to run real-life routes (in real-time) with friends, family and random people from all over the world.
Therefore your workouts are guaranteed to be a lot less boring than a standard workout that you would normally get on a treadmill.
Of course this T618 model is a little more expensive than the previous models, but it is worth discussing all of the features and benefits, as well as the main pros and cons, because you do seem to get a lot for your money.
Features And Benefits
powerful 3.5 CHP motor
26 training programs
speed settings from 0-12 MPH
incline settings up to 15 degrees
rebound cushioning system
blue backlit 2-window tilting display
full Bluetooth connectivity
integrated with RunSocial app
export performance data to external apps
includes 3-speed fan, USB port and speakers
comes with free chest strap pulse monitor
strong 2.75-inch rollers
60 x 20-inch running track
suitable for anyone up to 350 pounds
15-year frame warranty
5-year parts and electronics warranty
Product Dimensions / Weight
This particular treadmill has exact dimensions (in inches) of 72.44 (L) x 35.24 (W) x 57.68 (H) when it is fully assembled, with a good sized running track that measures 60 x 20 inches.
The total weight of this machine is approximately 288 pounds, which is an indication of its strength and durability, but it does have transport wheels attached should you wish to move it around, and can be folded away when you are not using it thanks to the SoftDrop deck folding system.
Positives
As with all of the Nautilus treadmills, this T618 treadmill has lots of extra features that you may find useful.
For example, it has a USB port and charger as well as some built-in speakers so that you can play all of your favorite music. It also has a three-speed fan to cool you down, a chest strap heart monitor to help you monitor your pulse rate with greater accuracy, a media tray to enable you to watch TV shows on your phone or tablet and a water bottle holder.
However there are many other reasons why this Nautilus T618 could be a good investment if you are planning on using it at home.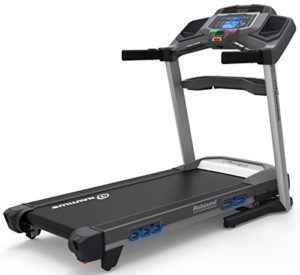 For a start it has a 3.5 continuous horse power motor that is more powerful than previous models, and extremely quiet in operation.
It also has a large 60 x 20-inch running track that is slightly thicker than its predecessors (2.5 mm) with increased traction and durability thanks to its 3-ply belt and its strong 2.75-inch rollers.
In addition, you will find that this belt uses an exclusive rebound cushioning system to reduce the impact on your joints and prevent injury. So it is very comfortable to walk or run on for long periods.
Another good thing about this machine is that it makes full use of Bluetooth technology to give you a much better workout experience.
As mentioned earlier, this machine is fully integrated with the RunSocial app to enable you to run on real roads from all over the world, and race against your friends and other people who happen to be using this app, which will make your workouts much more enjoyable.
Plus if you want to monitor your performance over time, you can also export your data to the Nautilus Trainer app or transfer your data to any of the other fitness apps that are supported.
The real selling point of this treadmill, however, is that it gives you so many different workout options.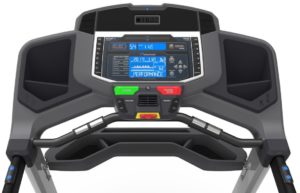 As well as having speed settings up to 12 MPH and incline settings up to 15 degrees, it also comes with 26 built-in training programs.
This includes interval, heart rate and weight loss programs, and there is also the option to customize your own programs if you wish to vary your workouts even more or challenge yourself in different ways.
All of these settings can be adjusted on the large console, which includes two blue backlit windows and can be tilted forwards and backwards to make it easier to read. There are also incline and speed controls on the handlebars that you can use if you prefer.
Finally, it is worth mentioning that this treadmill is exceptionally strong with a weight capacity of 350 pounds, and if anything does go wrong with this machine, it comes with a generous 15-year frame warranty and a 5-year warranty that covers parts and electrical faults.
Negatives
This product has only recently gone on sale, so it is too early to gauge customer opinion, but if you were to try to find fault with this treadmill, you would have to say that this machine is significantly more expensive than the previous T616 model.
Yes it is a stronger machine with a more powerful motor, a slightly better running track and a few more improved features, but whether this justifies the higher price is open to debate.
Final Thoughts
The Nautilus T618 is currently the best treadmill that Nautilus have produced in terms of features and workout options. It has enough training programs and enough speed and incline settings to satisfy people of all fitness levels, and because it has user profiles for up to four people, it can easily be used by the whole family.
What really sets this apart from the previous models, however, is the quality and durability of the running track (which now uses a rebound cushioning system for extra comfort), and the strength of the actual frame (which can now support users up to 350 pounds).
So when you consider that this treadmill has a good quality display console and is compatible with RunSocial and a number of fitness tracking apps, this appears to be a top quality treadmill that is ideal for home use.