Introduction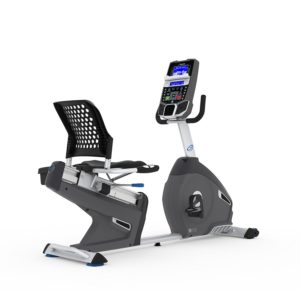 A lot of people prefer to use a recumbent bike instead of an upright bike or an indoor cycling bike because they are easier on your back and are generally more comfortable overall.
Subsequently, the recumbent models that are available from the likes of Schwinn and Nautilus are always very popular because they have lots of resistance levels, workout programs and extra features, and are still very reasonably priced.
The Nautilus R614 is a low-cost entry-level model that has been named as one of the top mid-range recumbent bicycles because it is a solid machine that has 20 levels of resistance and 22 workout programs, but the Nautilus R616 Recumbent Bike is an even more advanced model that you might also want to consider buying.
Features And Benefits
25 resistance levels
29 workout programs
user profiles for up to 4 people
Bluetooth connectivity
sync data with Nautilus Connect / MyFitnessPal
charging USB port
blue backlit dual-window LCD displays
in-console speakers
3-speed cooling fan
hand grip pulse sensors
telemetry enabled for chest strap
contoured padded seat
ventilated back support
high-speed high-inertia flywheel
oversized foot pedals
includes media tray and water bottle holder
accommodates users up to 300 pounds
Product Dimensions / Weight
The exact dimensions of this particular recumbent bike (in inches) are 65.3 (L ) x 28.3 (W) x 49.6 (H), according to the official Nautilus website, and it has a total weight of 91.9 pounds (41.7 kg).
Subsequently it is quite a strong, well-made machine that can accommodate anyone up to 300 pounds.
Positives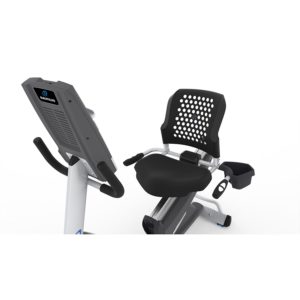 One of the first things to say about this Nautilus R616 bike is that it has been designed to be even more comfortable than the previous R614 model.
Therefore, as well as having a ventilated back support, it also has a contoured seat that is padded to make it more comfortable when working out for long periods.
Furthermore, it also has oversized deluxe foot pedals with adjustable straps to keep your feet in place.
In addition, improvements have also been made to the console as well because it now has Bluetooth connectivity, unlike the previous model, which makes it very easy to sync your performance data to Nautilus Connect and MyFitnessPal.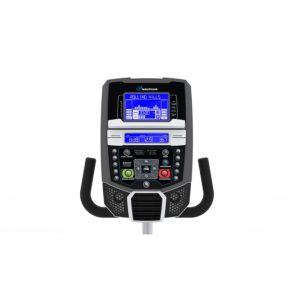 The console also has two blue backlit LCD displays that make it very easy to read all of your performance data, and if you decide to use the media tray to place your phone or tablet device, you can still use the lower of the two displays to monitor your performance.
You will also see that the console has a three-speed cooling fan to keep you cool during your workouts, and also has built-in speakers (and an MP3 input port) that enables you to listen to your favorite music.
Plus with regards to the workout options, there are now 25 level of resistance (instead of 22) and 29 individual workout programs (instead of 22) – 12 profile, 9 heart rate, 2 fitness tests, a recovery test a quick start program and 4 custom programs that you can set yourself.
So you will never be bored of working out on this machine because there will always be ways to mix up your workouts. Indeed a few people have pointed out that there are so many programs to choose from, you probably won't even bother using many of them.
This exercise bike still has a high-speed high-inertia perimeter weighted flywheel that delivers a smooth and consistent workout, but it is more suitable for the whole family to use (as long as they are all under 300 pounds) because it can now store user profile settings for four people instead of two.
Other than this, it is worth pointing out that as well as having hand grip pulse sensors, this machine is now telemetry enabled should you wish to use a more accurate wireless chest strap to track your heart rate, and now has an aluminium sliding seat rail that locks in place really easily and is easy to adjust.
Negatives
It is fair to say that the positives definitely outweigh the negatives, but it has been reported that the speakers are not the best quality and sound a little cheap. So you may have to plug in your earphones if this is a problem.
Otherwise, the only other issue is the back support because although Nautilus have added padding to the actual seat, it still has a plastic back rest. Once again, this isn't a major problem because it is not that uncomfortable, but it would be nice to have a padded back rest as well.
Final Thoughts
Overall the Nautilus R616 recumbent bike is still a decent enough machine because it has a ton of workout options, and delivers a smooth, quiet and comfortable workout experience.
Indeed some people have pointed out online that it is equally as good as many of the recumbent bikes that they have used in their local gym in terms of the number of workout options and the overall level of comfort.
Yes the speakers are still a little underwhelming, but apart from this, the improvements that have been made to the previous R614 model makes this is a worthy addition to anybody's home gym, and will certainly help you achieve your health and fitness goals if it is used regularly.