Introduction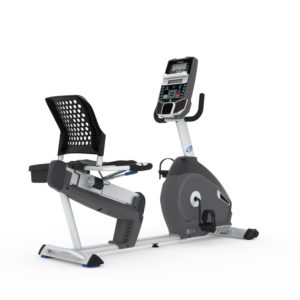 If you are interested in buying a good quality recumbent bike for your home, there are quite a few models to choose from in every price category.
The commercial-grade machines obviously tend to be a lot better than the cheaper machines, but it is still possible to buy a decent recumbent bike that has lots of resistance levels and workout programs (as well as lots of extra features) without spending a great deal of money.
One such model is the Nautilus R614 Recumbent Bike, which is basically a new version of the Schwinn 230 Recumbent Bike that has almost identical features and specifications, but with a more modern looking appearance.
Features And Benefits
20 levels of resistance
22 workout programs
dual track LCD display with two monitors
compatible with Nautilus Connect and Myfitnesspal
stores user profiles for two people
in-console speakers
grip heart rate sensors
vented seat and back support
high speed high inertia drive system
includes media tray and cooling fan
accommodates users up to 300 pounds
Product Dimensions / Weight
If you are wondering how much space this machine will take up in your home, its exact dimensions (in inches) are 65.3 (L) x 28.3 (W) x 49.6 (H) and it weighs approximately 84 pounds when it is fully assembled.
Positives
One of the main reasons why you should consider buying this R614 bike is because it has a lot of resistance levels and workout programs.
With 20 magnetic resistance levels and 22 workout programs, you are unlikely to become bored of doing the same old routines because you will always have the option of upping the resistance or trying out a different program.
Indeed as well as a quickstart program, there are 9 profile programs, 8 heart rate programs and 2 fitness tests, and you can also save user profiles for two people.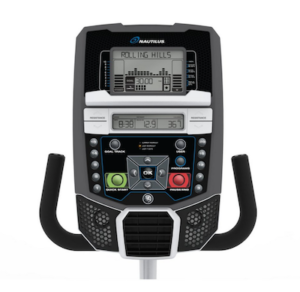 These settings can all be adjusted during your workout using the large dual window console, which is one of the most impressive consoles that you will find in this price range.
Although it is not a backlit display, it does provide you with lots of performance data such as speed, time, distance, calories burned, pulse rate and RPM. Plus it can connect to fitness apps such as Nautilus Connect and Myfitnesspal should you wish to monitor and track your performance in more detail.
It is also worth mentioning that this console also has built-in speakers and a media tray for your phone or tablet to make your workouts less monotonous, and a 3-speed fan to keep you cool.
With regards to the comfort of the actual workout, this bike has a high speed high inertia drive system with a perimeter weighted flywheel to ensure a smooth and quiet riding experience.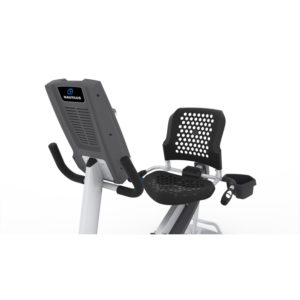 It also has a sliding seat that can be adjusted forwards and backwards to accommodate people of all heights. Plus both the seat and the back support are vented so that they don't get too hot during your workout.
Finally, as well as being adjustable enough to accommodate people of all heights, it is also a very strong machine that can support any user up to 300 pounds, and if anything does go wrong, there is a 10-year warranty on the frame.
Negatives
As with many other exercise bikes, the seat on this R614 bike is comfortable enough to sit on but it could do with some padding (instead of hard plastic) just to make it a little more comfortable.
In addition, whilst it is great to have a cooling fan built into the console, many people have reported that this fan is not very powerful and doesn't really cool you down all that much.
One other slight flaw concerns the pedals because whilst the slightly more expensive R616 model has oversized foot pedals, these ones are fairly small and may not be ideal for people with larger feet.
Finally, although the console unit is very impressive with its 13 different readouts and its extra features, the actual display can be quite hard to read at times because it is not backlit.
Final Thoughts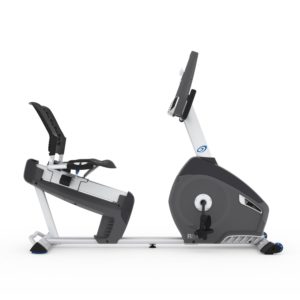 Despite having a few minor flaws, the Nautilus R614 Recumbent Bike is still quite an impressive machine because it has lots of workout options that will benefit people of all fitness levels, and is loaded with extra features that you don't generally find on some of the more expensive models.
This machine is easy to assemble and smooth and quiet in operation, and it is very easy to monitor your performance thanks to the 13 different readouts and the ability to connect to external fitness apps.
It would be nice to have a backlit display and a slightly more comfortable seat for longer workouts, but otherwise it is a pretty good machine for the price.